Scoop is trying to play peacemaker in the Celebrity Big Brother house and has urged Bobby Davro to apologise to Jenna Jameson for his impression of her.
A recent task saw Bobby and the rest of the housemates showing off a talent. Bobby chose to do impressions of housemates including Jenna, stuffing a pillow down his trousers to give himself an enormous rear end.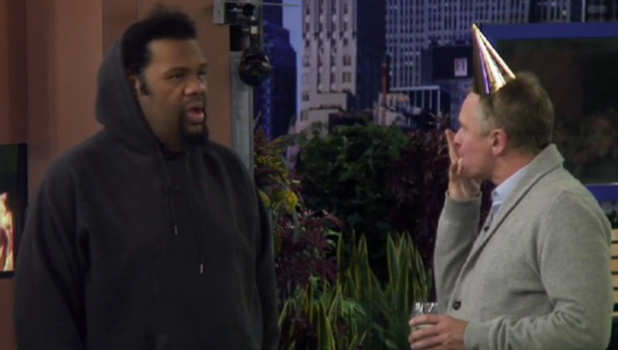 What he didn't know was that Jenna – and Farrah – were watching from a secret area of the house and Jenna was very angry and upset. Last night,
Jenna and Farrah re-entered the CBB house after their fake eviction,
and came face to face with the housemates. Rows started almost immediately and Scoop wasn't happy.
He took Bobby to one side and pleaded with him to clear the air.
"Jenna was upset," said Scoop. "There is a very famous comedian called Kevin Hart. I asked her if Kevin Hart had done the impression would you be mad? She said she wouldn't. But that if she'd spent two weeks with Kevin Hart then she would be. She is upset about it.
"Just go to her and be like, 'I know you may be upset about it but it's a joke. It wasn't anything but a joke.' And listen, I told her: you can look bad or look good right now. I'm working it out with them. I'm going to do my best to do the right thing."
Bobby didn't seem too convinced. He replied: "You're the peace keeper. I know I am guilty of taking the piss but it's what I am. If I have to take the piss out of you I will do it. You are different to Jenna and Farrah and you would accept it and embrace it for what it is.
"We all know how we feel about everybody. We have been here 18 days. I know how I feel about you, Stevi, Chloe, each individual here. I have made up my mind. They all represent something. I don't like Farrah and I'm not keen on Jenna. That's what life is, you can't like everybody."
Scoop said: "Do you want 12 or 15 more days of nonsense? We can make good TV and have fun. Or do you want a bunch of war?"
"Do you think I want war?" said Bobby.
"No," replied Scoop.
"Well, there you go. That's why we click. We are batting from the same bat."
Are you a fan of CBB's Farrah Abraham? Answer in our poll!
NO. WAY. She's too much!
76.86%
YES! She's making great telly!
18.70%
Hmmm..I can't decide if I like her or not
4.43%