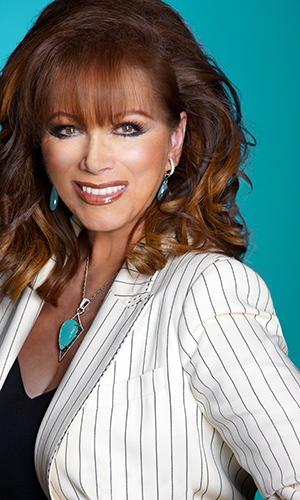 Jackie Collins creates kickass, powerful, clever and amazing female characters. Fact. None more so than the dangerously intelligent, alluring and frankly incredible Lucky Santangelo, who is back in our lives in Jackie's latest book, The Santangelos.
If, like us, you're a long-time Jackie fan you'll know and adore Lucky having followed her adventures since she was a teen. If you're a newcomer, you'll fall in love with her. Trust us.
In
The Santangelos
, the feisty Lucky is back again and life is going great. She's got her own thriving business empire, a handsome movie star husband, a daughter on the cusp of becoming the next Cara Delevingne, a son who runs a successful club business.
Life is great... until an unthinkable bombshell from the blue turns her life upside down and sets a story of vengeance in place.
This particular bombshell massively shocked us - the sudden and brutal demise of a fan-favourite character. But Jackie laughs when we say this and replies: "What was I going to do with him? He was never going to go peacefully and it gave Lucky a good reason to take her revenge, so to speak."
It's been two years since the last Santangelo family book,
Confessions of a Wild Child
. Two years too long for most people! "Everybody keeps on asking me about Lucky," says Jackie. "It's so funny how much people love this book. They all say to me on Twitter (
@JackieJCollins
), 'We absolutely loved it, we just finished it, when is the next one about Lucky?' I'm like, 'I don't know!' Maybe I will write about Max and Bobby in a future book, but right now I'm writing a sequel to
The Power Trip
, which is all about Flynn, who I love. He's just really hot and sexy and edgy."
We so agree.
The Power Trip is one of this writer's favourite book
s. It came out three years ago and revolved around an eclectic group including celebrities, politicians and sports stars partying together on a yacht in a deserted part of the world.
"That was one of my favourites to write," says Jackie. "I just had so much fun writing it. It was completely different to anything I've done before."
The heartthrob and protagonist of that book was Flynn, a journalist whose charm, ruggedness and devilish handsomeness just oozed from the pages. In the sequel, he's swapped the waters of paradise for Afghanistan, where he meets a feisty female to keep him on his toes.
"Flynn meets this incredible woman, my new heroine. She's called Maggie. She's half Native American and half Italian and she's going to be my new Lucky. I love her. She is just kind of wild. She was raised on a reservation in Oregon and then she travels the world and ends up in Afghanistan. She is one of those women who will screw a guy and then say, 'Don't call me, I'll call you.'
"We are going from Afghanistan to Hollywood with this book. Quite a mix! Only I would write that!"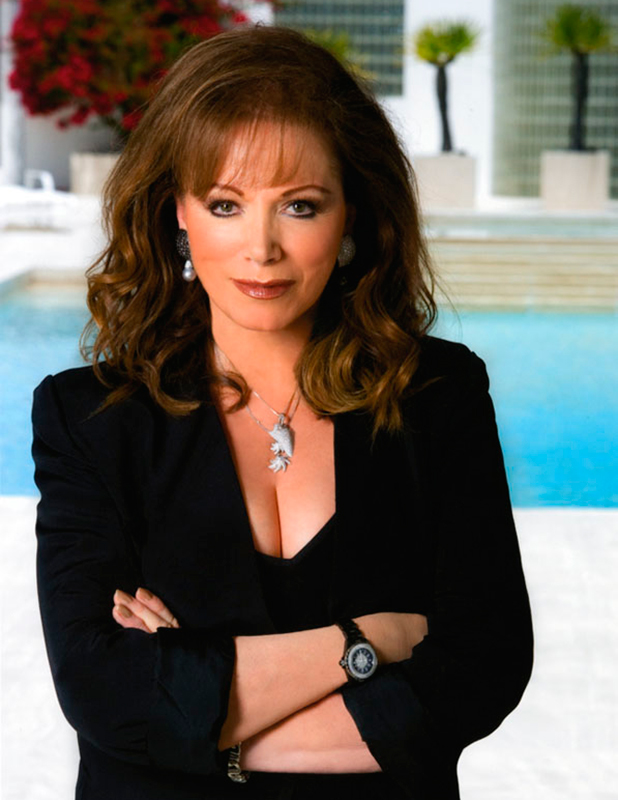 Jackie's books are filled with strong female characters like Lucky, Maggie and attorney Denver Jones, who also returns for
The Santangelos
. "I love bringing my characters back," she tells us. "And the readers love when I do. They all want Nick Angel to come back, and the two characters from
Lovers & Gamblers
, which is a really old book. And the characters from
Hollywood Wives
. It becomes a little daunting."
She's the undisputed queen of racy reads and Hollywood glamour, so we had to ask what she thinks of the current crop of Hollywood stars and celebrities making the headlines. "There is still a mystique about Hollywood. People come here and get stoned, get laid. It's like musical beds, everyone is sleeping with everyone else! It's always fascinating to read the tabloids and see what's going on. I do think singers at the moment have taken over. They are the huge stars. Reality TV stars and singers are the whole big thing now and movie stars have been pushed into the background."
Those of us who follow Jackie on Twitter know that she's a big reality TV fan, watching everything from
The Real Housewives
franchise ("it's always interesting to watch women screaming at each other like a bunch of banshees") to our very own
Geordie Shore
!
"Oh my God, last time I was in London and put on late night TV and there was
Geordie
something on. Oh my God, it is so funny! It's like (in a Geordie accent), 'I'm going out tonight, like, and I'll get my leg over and have a shag.' You're like What?! Oh my God, it's crazy!
"We also have one here called
The Ladies of London
, which is hilarious. This one has a couple of American people in it, who are always talking about The Queen or going to the palace for tea, which you just think can't happen. They are hilarious, all those shows."
Aside from reality TV, she's just a big TV fan in general, telling us it's her way of switching off and relaxing after a day of writing. "I just let everything go and become immersed in the characters I am watching. I like
Ray Donovan
- Liev Schrieber is a walking hard on - and
Shameless
and
The Good Wife
. There is such fantastic television now with computers that one doesn't have to leave one's house! There is just too much to watch and too much to do!"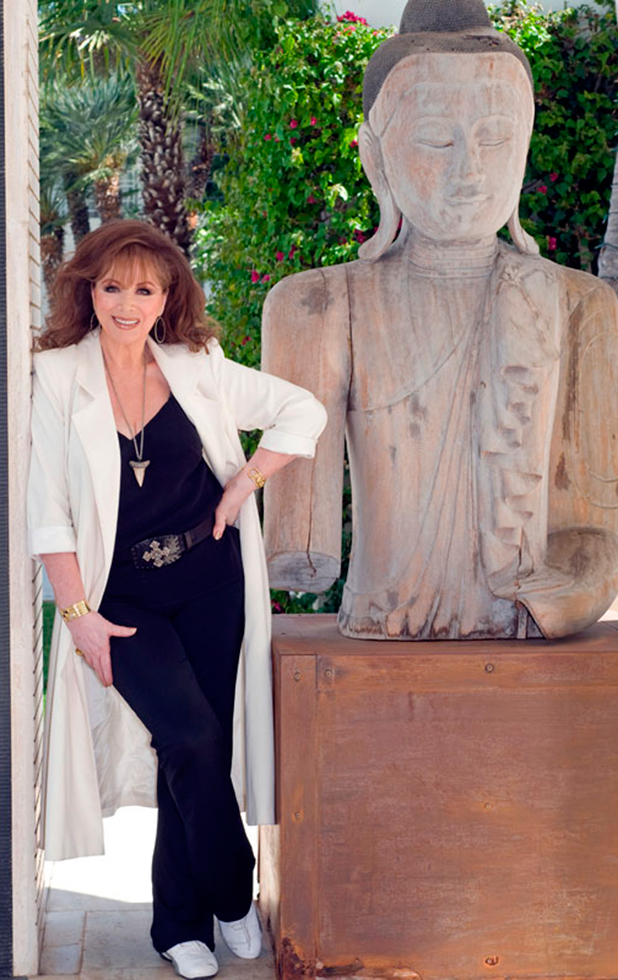 Jackie's super busy (as always!) working on her sequel to
The Power Trip
, her autobiography,
Reform School or Hollywood
, and an unnamed serial killer novel which she will publish under a diferent name.
"The autobiography is going well," she tells us. "It's fun dipping into the past. One of my daughters picked it up the other day and read a few pages and said, 'You know this reads like one of your novels!' It is no holds barred but it won't be nasty because I don't believe in bad karma.
"The sequel to
Power Trip
will come out next year, hopefully, and the serial killer book is being written under a different name so people can guess who it is. It's kind of fun working on so many things. I don't get writers' block, but it's like taking you to different places and it works for me. One day I'll do one book, the next day I'll do another one."
As well as writing, she also scored a cameo appearance in the recently-released
Sharknado 3: Oh Hell No!
and seems very happy that she didn't get eaten! "I could definitely come back for
Sharknado 4
," she says. "That was fun!"
We also spied her
hanging out with Gary Barlow recently at Ross King's wedding
. "Gary was so much fun!" she tells us. "He played 'Great Balls Of Fire'. He just got up and performed. That was a fantastic wedding. I was at a table with Gary and Gerard Butler. He has it going on! He certainly has!"
We agree!
Follow Jackie on Twitter
@JackieJCollins
, get more info from
www.jackiecollins.com
.
Pick up
The Santangelos
now!