Big Brother has to ask Farrah Abraham to take deep breaths and calm down after she goes on an F-word rant in tonight's Celebrity Big Brother.
After a
mega row with Natasha Hamilton,
sparked by the growing concern about food supplies, she is called to the Diary Room where she lets loose about her thoughts on the house.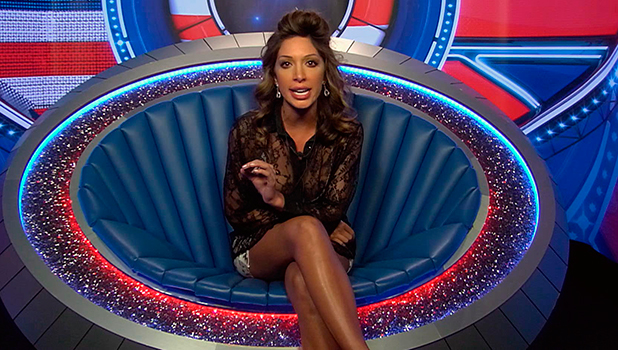 "I am p*ssed off...I am sick and tired of being f*cking bothered by scummy a**ed f*cking negativity and I'm sick and tired of someone bring this f*cking negativity into my life," she says.
"I'm going to f*cking win every goddamn challenge just to f*cking make the person who pisses me off f*cking cry."
Big Brother then tells Farrah to take deep breaths and calm down.
The row between Natasha and Farrah kicks off over the dwindling food supplies and is exacerbated when Natasha pours a few glasses of Jenna's Kosher wine because it's the only bottle of red wine available. That annoys Jenna and Farrah, and leads to a Team UK versus Team USA situation.
Team UK sit outside, Team USA stay inside. Both side complaining about the other. Then,
Farrah and Natasha row when Farrah says Natasha has a negative attitude
and tries to bring people down. Natasha retaliates by saying Farrah speaks to people in a very negative way.
While Farrah is in the Diary Room, Natasha tells her team: "She is a f**king tit. I have had enough of Farrah's attitude…she has no decorum."
CBB continues at 9pm on Channel 5
CBB eviction two: who should go?
Chloe-Jasmine and Stevi Ritchie
37.60%