Celebrity Big Brother's Gail Porter has lashed out at housemate Farrah Abraham, saying: "If I was in the outside world I would whip her a**."
We'll see former model Gail's feisty side come out on tonight's episode, as she gets fed up with Farrah's attitude and behaviour inside the house.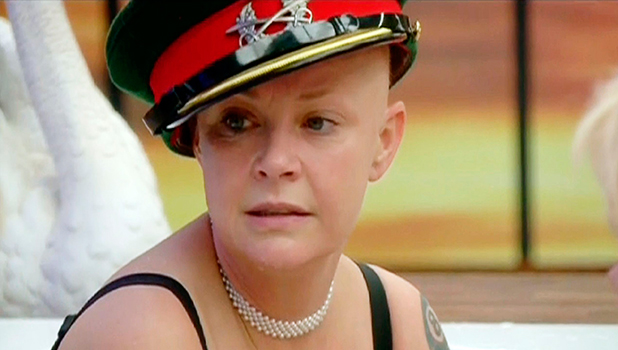 Unbeknownst to Gail, however, is that Farrah and the rest of Team USA are deliberately going out of their way to wind up Team UK in order to win this week's shopping task.
In this evening's episode, we'll see Farrah quizzing Natasha about boyfriend Ritchie Neville, causing Natasha to cry. She then rows with James Hill, telling him: "Maybe you should have an orgy with d**ks in you're a**."
Finally, she suggests Natasha and Gail are lesbians, prompting Gail to leave the room.
Later on, Gail speaks to James about Farrah, saying: "If I was in the outside world I would whip her a**…she doesn't give a f**k about anyone but herself."
When the results of the task are then revealed, Farrah apologises to the Team UK housemates she upset, but Gail is still offended by the language that Farrah used.
Farrah's not the only one getting on Gail's nerves tonight, as she seems fed up with Chloe-Jasmine and Stevi Ritchie's constant public displays of affection as well.
After telling Chloe she's getting irritated by their constant kissing, she adds quite bluntly: "Don't mount each other when you are in the bed next to me."
Tonight, six housemates are up for eviction. Who goes? You decide!
CBB UK v USA: who should be evicted first?
Stevi Ritchie & Chloe-Jasmine
22.51%
CBB airs tonight, Friday 4 September at 9pm on Channel 5