Caroline Flack has opened up about Tinder, X Factor and constantly being asked about Harry Styles in the latest issue of Cosmopolitan.
Looking beautiful, the brand new
X Factor
co-host is the cover star for the October issue of the iconic mag, where she talks everything from dating to fashion to live show nerves.
c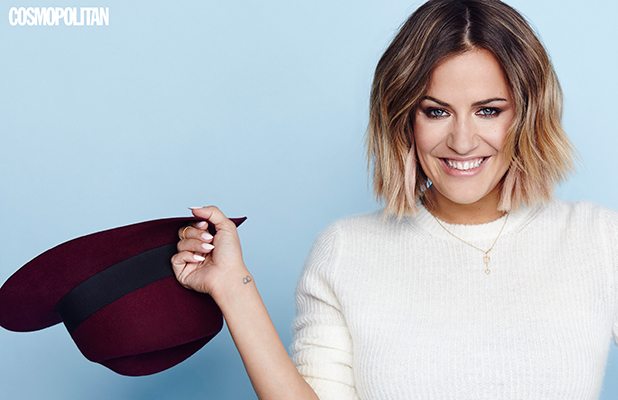 We saw her
X Factor
debut at the weekend, when she joined new co-host Olly Murs for the first of the audition stages. They landed their roles on the primetime show after impressing Simon Cowell as hosts on spinoff series
Xtra Factor
.
"It was the Olly part that sold it for me, I don't think I would have done it on my own. There isn't another Dermot, so it had to be a really different format."
Recalling her initial meeting with Simon, the
Strictly Come Dancing
winner said: "Simon said I reminded him of a student when we met. He said, 'You're very different to how I thought you'd be, Caroline'. A lot of girls he employs are very prim and glamorous, and I was there with my hair piled up, wearing scruffy jeans. Maybe he liked that.
"We chatted, but it was just a general catch-up. We just talked about Strictly and bits and bobs. Dermot hadn't stepped down at that point, so I didn't know what it was even about. He's not scary, I get on with him.
"It's funny, you can be in a room with him and not know he's there. Then suddenly, everything changes...and you realise he's just walked in. He has that 'presence' – when you're talking to Simon he makes you feel like everything you say is the best idea in the world."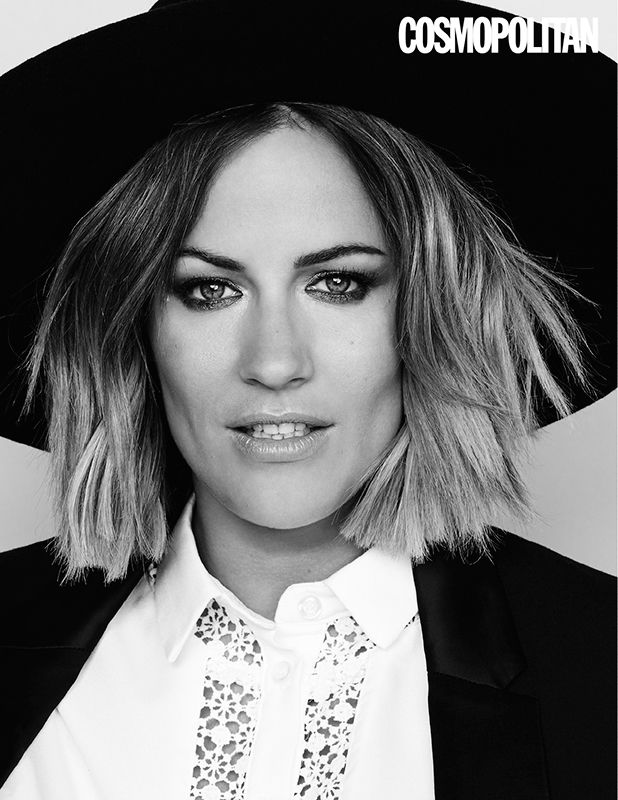 Caroline admitted that, like her predecessor Dermot O'Leary, she still gets nervous before going live on TV. "You think, 'Right, I've been given this opportunity, I need to do a good job'. Dermot was like that - five minutes before going on stage he was as nervous as I am – he was never smug or complacent about it."
"I still feel sick every time – I'm scared I'll get tongue-tied, fall over, forget my questions, the autocue will stop…everything!"
One thing that won't make her nervous, however, is audience interest in what she's wearing. Although Caroline is known as a fashionista, she insists she won't be buying into the whole
X Factor
fash-off that happens every year, pitting judges and hosts against each other.
"I try not to buy into the whole thing too much to be honest. I just get dressed and hope for the best, really. Cheryl is that gorgeous, glamorous gown-kind-of-girl, and I'm never gonna be that girl – it just isn't me. It's a case of sticking to what you know and what suits you. I'm 35 now – I know what I can, and can't wear."
As well as working on
X Factor
, the star is also gearing up for the
release of her autobiography, Storm In A C Cup
, which has everyone speculating on whether she'll mention her past romance with Harry Styles…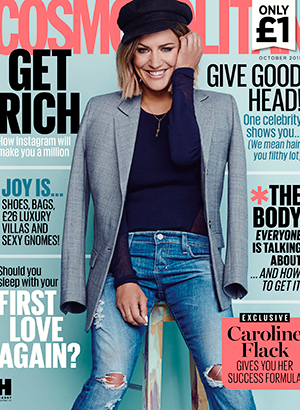 She told Cosmo: "Being asked about the Harry thing doesn't bug me. People are interested in those sort of things because they're in the public domain, so you just learn to laugh it off. It's funny, it's not serious."
Looking to the future, she said she could use a dating app to find love but she prefers meeting people out and about. "I could use Tinder, but I'm quite traditional when it comes to meeting people. It's a chemistry thing for me – you just instantly 'feel' it, or you don't.
"When I met my last boyfriend [Jack Street], it was a stand-off of 'who's going to come over to who'. You get the 'look' don't you? Well we clocked each other, and I thought, 'He's never gonna come over', so I went over to him. He still mentions it now, like 'You came over to me'."
As for finding time for love amid her busy schedule, she said: "I've always got time for a relationship. If you like someone, even if its 2am and you've just finished work, then you get that lovely feeling where you want to see them for an hour…I've always got time for that."
The full interview appears in the October issue of Cosmopolitan, on sale 2nd September. Also available for £1 at www.hearstmagazines.co.uk/CO/Oct15
For further exclusive content visit here