Jodie Marsh has penned an open letter to friends about why she kept her wedding to James Placido a secret.
The
model-turned-bodybuilder-turned documentary maker tied the knot with James
in a beach ceremony earlier this week, only revealing she was married after the ceremony.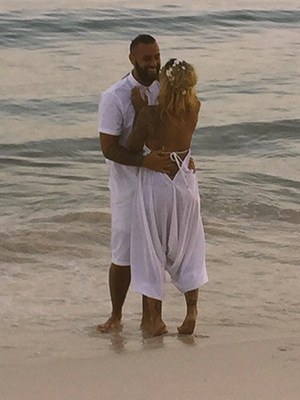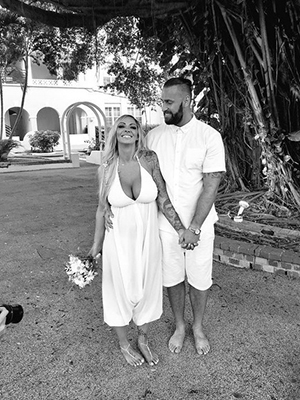 Now, she has written a letter to friends via Instagam:
"To all my friends: you mostly know this man as Drogo, to me he is the most perfect man that ever lived. I'm so sorry I kept our wedding secret from you all, the reason we did is this:
"We love each other so much and we wanted to get married for US, not for anyone else. We didn't want a big fancy do, nor did we want a fuss or any attention. We wanted a simple, intimate, beautiful ceremony. We didn't want paparazzi ruining the day (they nearly did and we have hilarious stories to tell you another time about our efforts to outwit them), nor did we want our wedding to be a circus."
"We didn't want to make money from our wedding (although offers over £5m would have been considered haha), we just wanted to be husband and wife. We also kept it a secret because we believe in true love and we wanted our wedding to be about US and nothing else."
"I am so happy we chose to do it this way and that we can share all our lovely pictures with you now that it's all over. I am the happiest, luckiest lady in the whole world. I have truly found my soul mate! There are loads more pics to come, plus our night time ones when we wore our amazing shoes!! Also, I still haven't even seen the official pics yet but will be putting those out too when I have them."
"Again we are so sorry to those who didn't know, we are massively thankful to @davidrainbird and @1pinkstrawberry for keeping such a huge secret for us. We are so grateful to @anitaalbrecht for her blessing and love! We love you all and we feel like the luckiest two people on earth to have found each other!"
"James Placido you are everything.
"And ladies, I did actually wait until the ring was on my finger before I broke my celibacy. So I am living proof that the right one really WILL wait until you're ready..... #truelove #marriage."
Reveal is now on Google Plus! Join us here for the latest pictures, fashion and celebrity news!