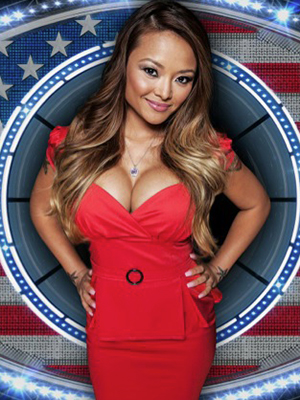 Who is Tila Tequila?
Real name Thien Nguyen, she's got many careers under her belt including reality star, actress, writer, singer, blogger, model. Her career started as a model and after being featured in Playboy, she landed her own MTV reality dating show called
A Shot At Love With Tila Tequila.
"I make people very happy! I make people laugh and I entertain people," she says. "But which personality do you what to talk to? I have five! This could be a catastrophe for me now that I think about it but it could be more fun."
She once had her own celebrity blog site which later became a personal blog, and has released a book called
Hooking Up with Tila Tequila: A Guide to Love, Fame, Happiness, Success, and Being the Life of the Party.
Tila's also a musician and has performed in many bands and released her own music.
She has a daughter Isabella, born last year.
Why is she doing the show?
"I am very mischievous and I think this it'll be a perfect environment to let loose. I could let loose in real life but I would probably go to jail! A lot of people underestimate me in real life which is great because when they meet me it is like an atomic bomb they can't process because there is a preconceived judgement of me and I'm really not that girl."
How did she get her name?
"The irony is that I'm allergic to alcohol. When I was about 13 we had some alcohol and I had a bad reaction and threw up everywhere. I thought I was going to die, so the next day at school everybody heard about it so they were like, "it's
Tila Tequila
!" And the name just kind of stuck."
Why does she like the UK?
"When I first came here I came by myself and not knowing anyone and ended up leaving knowing half the city. I made a spectacle of things and I made a lot of friends. I like that as far as the sexuality part goes, there is a lot of slut shaming in America but in Europe, there are no mercies with nudity and the red light district. America it is not as open minded as far as that goes."
What will she miss about America?
"I will miss my daughter, but beside that? Nothing. C*ck!"
How does she think housemates will view her initially?
"I think they think I'll have this vapid, shallow, sexual image that is nothing more than that but I am actually not that. I am very goofy and I have a sense of humour that you might not understand right away. I am out there. I don't have a filter with what is on my mind. But I don't mean harm by it!"
Does he have any bad habits?Who did he want in the house with her?
The guy in Lawless and Warrior? Tom Hardy? I would suck Tom Hardy's n**s! But he's not coming in so it's all good. Who would I hate to see? Probably Jasmine Lennard. But that would be interesting because I would put a smack down so quick and think the public would love that because she is not very well-liked."
Will you win?
"Yes! I am going to win so if you want to place a bet, bet on me."
CBB airs nightly on Channel 5
Reveal is now on Google Plus! Join us here for the latest pictures, fashion and celebrity news!