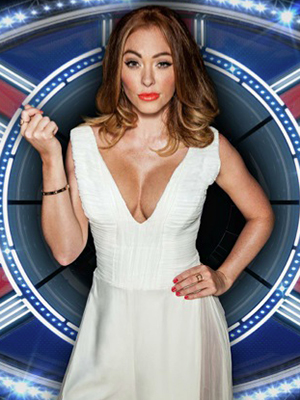 Who is Natasha Hamilton?
She found fame in the girlband Atomic Kitten alongside Kerry Katona and Liz McLarnon who were together from 1998 until 2004. They reunited for ITV2's
Big Reunion
and a tour three years ago, and have said a new album and tour is on the way.
"I'll just say I'm from a band who were very successful many years ago!" she says. "We sold ten million records worldwide! Apart from my children, Atomic Kitten is one of my biggest achievements and I'm very proud of it. We worked really hard and I've been in the industry 17 years now so we have done well to get this far."
She has four children, including baby Ella-Rose with 5ive star boyfriend Ritchie Neville.
Why is she doing the show?
"It would be nice to do some music on my own in the future. It's a huge passion of mine and since the Atomic Kitten days my voice has really matured. It doesn't sound anything like it used to and when I sing a lot of people say, "I didn't know you could sing!" It's one of those life changing events. I do military boot camps and I like being ousted and taken out of my comfort zone. In life we've got to take these opportunities and go with it."
How will she cope away from the kids?
"t's been many years since I've had to spend this much time away from the kids, but I'm treating it as a job. Don't get me wrong, there will be days when I'll probably be really down and missing them. I'll be thinking about the first day at school and things like that but I know they're well looked after. I've got their pictures next to me and I'm going to kiss them every day when I wake up and every night before I go to bed."
What do her family think?
"All of the boys are used to saying goodbye to me. They weren't phased. I think it'll probably hit them if I'm in for more than two weeks because I've never been away for more than ten days."
Does she have any bad habits?
"I am a bit of a clean freak. Mess gets me agitated. I'll probably end up folding their clothes and cleaning! I'm a bit weird like that."
Is she nervous?
"I mean who wouldn't be nervous? Putting yourself in front of judge nation is a bit daunting but at the same time I've come this far now so I'll just go with the flow. I'll be nervous when I'm stood behind the doors and they introduce me. My knees will be knocking, definitely! But that's a great buzz, that adrenalin rush is what I love about performing and it will definitely be an experience."
Who did she want in the house with him?
"It would have to be someone a bit quirky like Cher. A proper diva with a million stories to tell. She could get me a job in Vegas!
"At the end of the day my biggest idol could walk in and be a total let down so I'll try not to have preconceived ideas of people. I know the Yanks won't know who I am but I really hope that I know who they are because I would feel really bad because it's awkward!"
Does she want to win?
"I don't what to sound like I'm this psychotic, competitive person, but it would be great. If I've gone all that way and I get to the final then why wouldn't I what to win it? I will have gone through a lot to get there so I would want to be rewarded for my efforts.
And if she does win?
"I can't even contemplate it. It would be nice to win but I can't imagine what it would be like to walk out to that kind of response. I can't fathom it."
CBB airs nightly on Channel 5
Reveal is now on Google Plus! Join us here for the latest pictures, fashion and celebrity news!