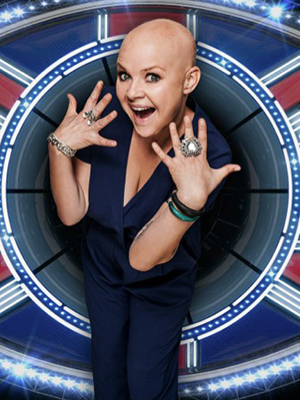 Who is Gail Porter?
She's a Scottish model-turned television presenter, who started her career presenting on kids' shows including
Top of the Pops
and
Live and Kicking
. As a model, a photo of her naked from behind was famous broadcast onto the Houses of Parliament without her knowing about it.
The 44-year-old has been open about her battle with alopecia, which led to her losing her hair. She has one daughter from her marriage to guitarist Dan Hipgrave.
Why is she doing the show?
"I didn't think I would want to but when the offer came, because my daughter is a teenager and it's a cool programme, I thought it could be a bit of a laugh."
What does her daughter think?
"She has given me ten rules. I can't remember what they all are but the first few are don't embarrass me, don't embarrass yourself, don't sing to anybody, don't hog the diary room. She said to try and be funny and I said, "What are you talking about? I'm hilarious!" She's going to be 13 while I'm in the house. I'm not sure if she'll watch. Dad is the boss of telly and I'd prefer it if she didn't watch. I think she's going to watch launch night because she wants to see if I'll fall. I don't wear heels but I'm going to attempt it and she said 'I think you're going to fall mummy!'"
Will she talk about past problems in the house?
"I don't mind talking about it in the house. Tabloids can bring it up in a way that sounds like I am totally depressed all the time, which is not the case. But if someone asks me about it I will be honest. I've been really happy for a really long time but everybody thinks, 'Oh my God she was depressed once so that is it.' They don't pick up on all the good things or positive things."
Does she have any bad habits?
"I am a little bit obsessive about cleaning. I will say, "Would you mind if I clean that up because it is doing my head in" or "can you put your shoes in a straight line?". I just want things neat! I know it is going to be messy, I just don't want people to be rude and not wash their plates."
What will she miss the most?
"I'm quite a basic person so I won't miss much. My daughter, friends and family and that is it. I've had great times and then I've been sofa surfing so I'm just happy that I have my house and my daughter. I don't need anything. I don't really need a hairbrush!"
Is she there to win?
"It would be great if I win. I know it's UK vs USA but I would like to win for Scotland! It's part of the UK but I am proud of being Scottish and I want to bring it home for the Scots. Me, The Proclaimers, the Krankies...I'm very Scottish so I will hopefully do my wee hometown of Edinburgh proud. They're having the festival and I'm going to miss it for the first time in years but I can go next year."
CBB airs nightly on Channel 5
Reveal is now on Google Plus! Join us here for the latest pictures, fashion and celebrity news!