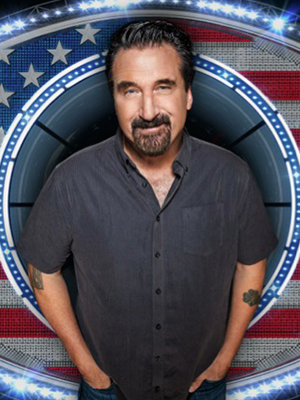 Who is Daniel Baldwin?
He's an actor and member of the Baldwin acting dynasty. His most famous sibling is Alec. Another brother, Stephen, appeared on
CBB
back in 2010. Stephen's the dad of Hailey Baldwin, the model and close friend of Kendall Jenner.
"I asked Stephen some of the things to expect," says Daniel. "He was early in his commitment to his Christianity, so I think that played a big role in how he interacted. He and I had been the two male members of the family who are born again Christians. We wear our Christianity a little differently. I think it is a programme of attraction, and he thinks it is a programme of promotion.
"If somebody wants to talk to me about my relationship with God then great, I love to do that but I am not going to sit there and tell someone why they are going to hell. He is a little more bible thumper than I am."
Daniel is no stranger to reality TV, having appeared in
Celebrity Fit Club
,
Celebrity Rehab
and
Celebrity Wife Swap
in the US. He also appeared alongside brother Stephen in the US
I'm A Celebrity… Get Me Out Of Here!
in 2009.
Why is he doing the show?
"I find it quite fascinating. It will be an interesting emotional and psychological test for a lot of people and I will find it fascinating to watch. It takes quite a lot to get under my skin and for me to show a reaction to it. But in every great pot of stew, someone has to stir it. So for that part I will have a ladle in hand because I think that will be more my role in the house!"
Is he patriotic?
"Well, I'm very proud to be an American but with great power comes great responsibility. I don't know that I am always as proud of my country for the things that they are responsible for. It is a very reactive nation and a nation that had a tendency not to have a look at the long term effect of their actions."
How will he react to objections towards his religious beliefs?
"I don't care if someone likes chicken or steak. It has zero effect on me. It would have to come from someone asking me about my faith, but the same will be said of my sobriety. I understand that there will be alcohol in the house from time to time. I myself do not participate in it at all because I had to stop. But it doesn't bother me to watch someone have a drink. It's quite compelling to watch them become more and more foolish. That can be great ammunition and fun too."
Does he have any bad habits?
"I am a little nervous about snoring. I was thinking of asking for those strips because I don't want to disturb anyone's sleep! I'm very responsible. I have a big house and no one cuts my lawn or does the cooking and cleaning. The kids live with me, I do it all. I think the things that might surprise people most are my skills in the kitchen so we shall see!"
Who did he want in the house with him?
"If you show up with one of my brothers as a surprise guest I would be really happy!"
CBB airs nightly on Channel 5
Reveal is now on Google Plus! Join us here for the latest pictures, fashion and celebrity news!