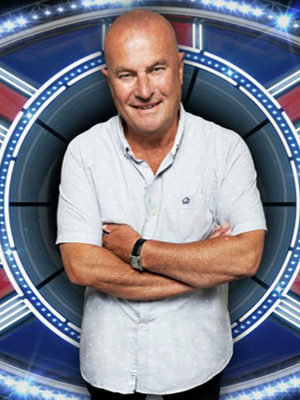 Who is Chris Ellison?
He's an English actor best known for his role as DCI Frank Burnside in ITV's
The Bill
, and people still come up to hikm in the street and think he's that character. "They do, even after all these years. It's strange. They identify you with the character and I think a lot of them think it's still on! It's part of the territory. People know you and they don't forget."
He's also had parts in shows including
Minder
,
Casualty
and
New Tricks
. He won
Celebrity Come Dine With Me
in 2009.
Why is he doing the show?
"My son said, "Dad, you need to get out more!" I'm a bit of a recluse. I live down in Brighton and I like it there. I don't go into London that often now and I like it. So this is going to be good because at my age you don't get that many new opportunities or experiences."
What do his friends think?
"They are all very supportive, they think it is quite extraordinary because they all thought I was the last person in the world who would have ever gone in. I guess I am the last person in the world who would go in!"
Does he watch the show?
"I do. I watched the last two series. I watched the one with Jim Davidson. I didn't watch the one with Kellie Maloney. I know Frank, but I don't know Kellie. It's very difficult because he was a good friend of mine and I just don't know how to come to grips with it because he is not the same person at all. I haven't met Kellie, not for any reason, it's just not happened and I don't quite know how to approach it.
"I thought Jim Davidson kept it together pretty well. I know Jim and I thought he did really well. I thought Calum Best might have won the last series. He was particularly good and he came across as a nice guy. He handled Perez Hilton extremely well because he was beyond the pale. With some people you see a completely different side of them. Cheggers did well, but he's a nice guy and that is it. He's not pretending to be anything that he's not. I think that is the only way you can go into this show. People keep saying have you got a game plan, well, no, my game plan is to survive."
Does he have any bad habits?
"Oh yes, loads! I am quite lazy and I repeat myself. I said, I repeat myself! That must be really irritating. I probably fart, but I think everybody does so there is not much you can do about that, it's just life."
Who did he want in the house with him?
"Rick Stein. I love him as a man, I think he is lovely. He would probably hate it because they would all expect him to cook!"
What would it mean to win?
"It means a lot to me to win anything because I have hardly won anything in life. I won
Celebrity Come Dine With Me
and I was so pleased, you'd think I'd won the FA Cup! I was absolutely over the moon, so to win this, I would be really thrilled. It's very unlikely that I will but it would be lovely. I'm not going in there to win, I'm going in to try and survive.
"I've made three films this year, British gangster films. I trained as an artist, so the one thing I would like to get out of it would be to maybe do some presenting on a programme about art. That would be interesting for me to do something different so maybe this could put that in somebody's mind."
CBB airs nightly on Channel 5
Reveal is now on Google Plus! Join us here for the latest pictures, fashion and celebrity news!