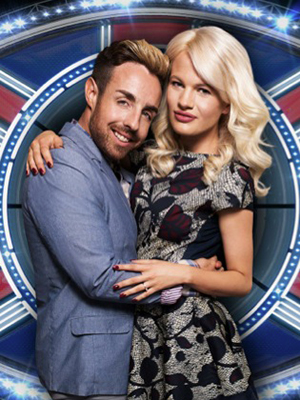 Who are Chloe-Jasmine Whichello and Stevi Ritchie?
Stevi is a singer and Chloe-Jasmine is a singer and model. They both made it to the live shows on the last series of
X Factor
, fell in love, and
became engaged last month.
What they said before the show?
Naughty, naughty! They
denied their appearance earlier this month during an interview on ITV's This Morning
, with Stevi saying: "I wish! Rent-free for a month! We'd love to do it, we've discussed it. No, no. As far as I know... I'm on a tour for the next two months. We'd love to do it but as far as I'm concerned I haven't been asked."
Why are they doing the show?Stevi:
"I did want to go in but I didn't expect to be with Chloe. I thought it would be a good challenge for my mind without my phone and everything like that but then we got the chance to go in as a couple. There are good points and bad points there, but I thought, 'Why not?'
Chloe:
"I was really surprised when Stevi wanted to go in as a couple. He is literally the most important person in my life and love and adore him and it is a massive time in a relationship to go on TV. You have to be really sure in who you are as people and in the relationship. So for both of us to make that commitment is a big decision. We are really excited but really scared."
Have they watched the show?Stevi:
"Jim Davidson was my favourite by far, he was great. I just loved the way he came across. He just didn't care and he wound people up. I loved Jim Davidson."
Chloe:
"I admire anyone who has had the courage to go through this process and say to the general public, "This is me on a plate". Mad respect because we are shivering right now!"
Will they wind each other up?Stevi:
"That's what I'm scared of. I'll probably do a Brian Belo and jump over the gates!"
Chloe:
"We'll be fine! He is so nervous today, I have never seen him like this before. He's shaking!"
Who did they want in the house with them?Stevi:
"I would like to see Simon Cowell, but, if not, Dwayne 'The Rock' Johnson."
Chloe:
"He loves him more than me!"
Will they win?Stevi:
"I don't think we'll win. If we can go the distance to the last five I'll be very happy with that. If we did win then I think we could get married straight away. There we are, I've put her on the spot. Instead of next year we could do it this year."
CBB airs nightly on Channel 5
Reveal is now on Google Plus! Join us here for the latest pictures, fashion and celebrity news!