Rochelle Humes is one busy woman.
But despite living a 'constantly hectic' life juggling looking after her two-year-old Alaia with her new job as the co-host of
The Xtra Factor
, the star of The Saturdays admits she is completely ecstatic to have landed her latest TV role.
'Me and Melvin are having such a great time on the show already, we're constantly laughing,' says Rochelle, 26.
'When I approached Simon about trying out for a hosting position on The Xtra Factor I really had no idea where it would go, as me and Melvin's audition tape was sort of unconventional but luckily for us, he loved it!'
And with her husband already acting as host for its rival show The Voice, we were keen to know whether there was any growing competitiveness between them since.
'Marvin doesn't think of The X Factor as an opposing show, he's just really pleased for me,' Rochelle says.
'It's in his roots and it's where he came from, so they'll always be a place in his heart for The X Factor. He's actually really jealous I get to work with all the people he knew from before, because it's a real family vibe here. He'll probably gatecrash and try and get all his old mates back!'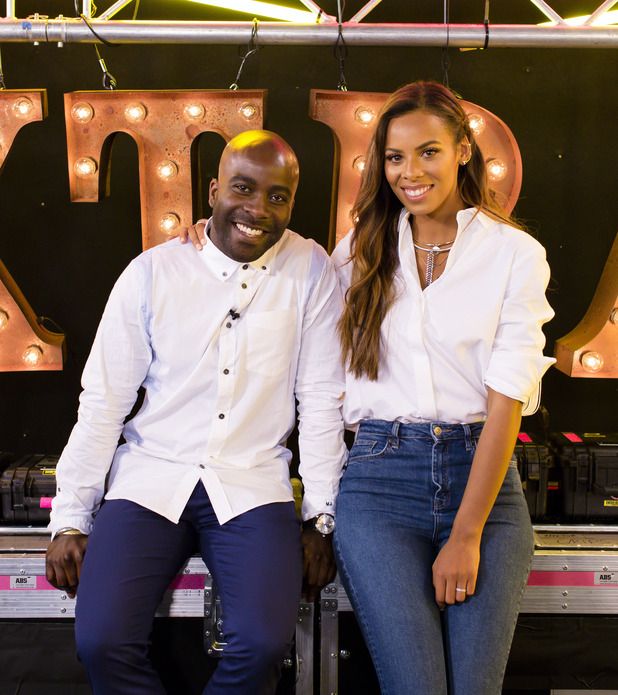 And whilst by the looks of her incredible figure it would be normal to assume the gorgeous presenter had done a lot of working out prior to her role, Rochelle insists this is far from the reality of her pre-show regime.
'All the judges have been on a serious health kick and me and Melvin have done the total opposite,' Rochelle says. 'I get to the gym now and again but I'm not great with it if I'm honest. We actually have a huge picnic every afternoon with loads of food so we're not too great with our diets to say the least!'
Meanwhile, with
The Voice
not returning until next year, Marvin has been busy looking after their daughter Alaia between doing his radio chart shows on both Capital and Heart FM.
'I'll definitely be bringing Alaia on set at some point but she's loving daddy day care at the minute, she's not worried where I am,' Rochelle laughs.
'She's at that stage at the moment where she doesn't stop talking. Everyone says that between two and three is when parenthood is the most fun. She asked me the other day if she could have some lipgloss which her dad was not happy about!'
'He thinks it's my fault! But she's becoming a real little character. She's into dancing, she's loving anything Frozen. My mum bought her a karaoke Frozen machine and it's so loud she's obsessed with it'.
The X Factor returns 29 August at ---- on ITV with The Xtra Factor airing straight after on ITV2