X Factor is back for its new series this weekend and judges Simon Cowell, Cheryl Fernandez-Versini, Rita Ora and Nick Grimshaw have been sharing some of the highlights we can expect to see!1. 'You're going to lose your job!'
One girl tried to impress the judges with a self-penned song about her manager. "That was very funny," says Simon. "The song was called 'My boss is a d**khead'. I was thinking, 'You are so going to lose your job', but it did make me laugh!"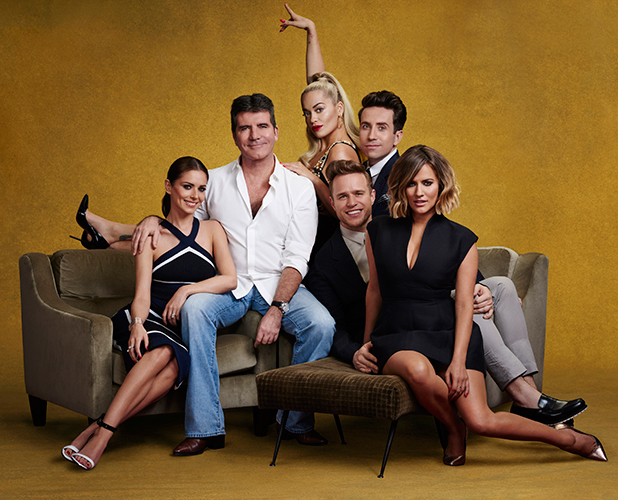 2. Be afraid Olly, be afraid!
Simon admits one hopeful's likeness to host Olly Murs was almost spooky. "He's more than a lookalike and soundalike, he's a complete stalker!" jokes Simon. "He doesn't just look and sound like him, he actually wants to be him. I had this vision in my head of Olly getting locked up in a room with tape around him one week while this guy takes his job. I think it might happen. If Olly goes missing, then turn up at this guy's house and look in the garage or the garden!"
3. 'It's like an X-rated movie'
Here's a lesson in what hides beneath. "I tell you one audition I did love, it was the last audition of the day and by this point you're tired and just want to go home," says Simon. "This girl came out, she was 27 and her songs were terrible. I said to her, and I meant it, that she was a bit too nice. She said, 'Do you want me to show you nasty?', and bang! This sweet little thing turned into an animal, it was brilliant. She did Tina Turner and crawled across the desk, it was like an X-rated movie, but it was hilarious."
4. Bake Off meets X Factor
One female admirer of Simon's baked him a cake! "Rita got really annoyed about it!" says Simon. "She only made a cake and that was it, but I could see that side of Rita coming out, it's like, 'I wouldn't want to mess with you!'. I couldn't care less if women throw themselves at me, it's all part of the fun, isn't it? I don't like people to be well behaved on these shows, if I'm being honest with you, I think it's boring. So I always encourage bad behaviour."
5. Tears from Rita
An Australian singer had Rita in tears. "He walked onto the stage with a meaning, with a message," she recalls. "That was about being a misfit and being comfortable. My whole life growing up I was never the most popular one. I was always a bit different or trying to start something like a revolution in our class or something like that. I think that's what this guy did, he started something that for me, felt real. He loved it and he was passionate about it. He didn't even have to speak, I felt it. I was so relieved that someone had come on the show and showed that kind of individuality."
6. The next One Direction?
Perhaps the groups are the category to mentor this year. "The groups this year are the best they have ever been," says Cheryl. "We have got three groups that I would take, right now from their first audition, straight through to the live shows and I would have no qualms about doing that. No fear."
7. Justin Timberlake meets Rita dance
Wanna dance with Rita? Play her a JT song! "That was hilarious because it was a Justin Timberlake song, which is my favourite song," she says. "I was happy to get up and dance."
8. Rita feels the power
During one audition, Rita learned how hard it is to shatter dreams. "There was a moment when it really hit me, I stuck to my guns about this singer who was from Canada," says Rita. "Both me and Simon said no. I nearly did say yes because of the pressure from the crowd. For the first time I thought, 'Do you know what, I'm doing her a favour if I don't put her through compared to the other females we've had'. In that moment in time I had a lot of power, it was a little overwhelming for me because it's literally about changing someone's life. For that ten seconds I just thought to myself, 'Woah!'. Simon was like, 'It's alright, everyone has that moment when you realise this could really make or break someone'."
9. An old school friend
There was a familiar face for Rita, who judged a girl she went to school with! "It was great to see her. I didn't know she had a baby, it's crazy what you can do in a few years after school! I left school eight years ago - I'm so old! So it was nice seeing her. It made me really grateful to be doing what I love. I work really hard, I've worked really hard to get to this point. I think it's crazy how lives can take different directions."
10. Rita's backing dancer tries out!
Rita admits she was stunned to see her own backing dancer audition: "I had no clue that they were even going to audition. I'm so happy that they did. For selfish reasons I wasn't because now I can't have them on tour with me anymore, it was so much fun going on the road with them. But I think it's about time they came out in their own light. I had no idea, but thank goodness they came on the show because they are completely different to what you usually see on X Factor."
11. Bum-smacking in Manchester
Newbie judge Nick had a great start to the show! "I think my favourite one was a lady in Manchester in her 60s who performed No Limits by 2 Unlimited while smacking her bum. It was pretty good."
12. Kisses for Nick and Simon!
One woman wanted to share the love during her audition! "She was like this year's Wagner!" says Nick. "She kissed Simon and then she kissed me - she's quite the kisser! I loved her. I also loved an act who are a couple and they have, hands down, the worst voices I have ever heard. But I felt kind of happy because they were the only ones who sound as bad as me."
X Factor
starts this weekend on Saturday and Sunday at 8pm on ITV.