Snooki has fiercely denied allegations that husband Jionni LaValle had signed up for an Ashley Madison account ahead of the extra-marital affair website being hacked.
The
Jersey Shore
star – who has two children with Jionni – posted a lengthy Instagram message shooting down suggestions that Jionni had been searching for another woman behind her back.
Ashley Madison, a website for people looking to indulge in extra-marital affairs, was hacked earlier this month, with customer data being made public. That led to several high profile people being 'outed' as alleged users of the website.
But not Jionni, according to
Snooki
.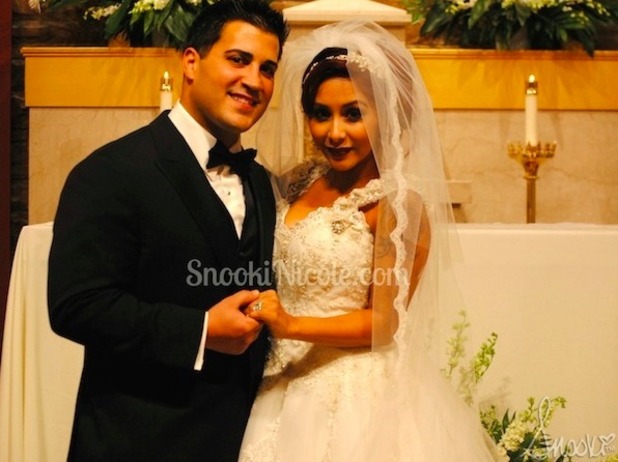 Alongside an image from their wedding day posted to Instagram, she wrote:
"This morning when I got a call from my publicist that a story was going to be printed on my husband "allegedly" signing up on Ashley Madison, I laughed - and said let's not even comment and give the story any juice, because it couldn't be any further from the truth. But now seeing how it's the "news of the day" and everyone is wondering what I think about it - here it is.
"Jionni is the the most humble, respectful, and most loyal soul I know. I mean hello, that's why I married him. He's a stand up guy who loves his family more than anything in this world. The fact that the tabloids can deliberately make stories up and print things like "Jionni LaValle ALLEGEDLY and MAY HAVE signed up on Ashley Madison" is absurd. I can see if there is proof in the story to make it legitimate, but to accuse my husband of something he had no idea about... HOW IS THAT LEGAL?
"I really didn't even want to acknowledge this absurd story, but when my family is being bashed for no reason - mama bear is gonna say what's up. So no, my husband didn't sign up on that website to cheat on me. Honestly, if he wanted to cheat - he would go out and do it. Not sign up on a website and pay for it.
"Jionni is a good guy and doesn't need his name being tarnished. Nor does our family. We did nothing wrong to deserve this. So with all of this said, I love you babe. And even though I'm a pain in your ass, I know you would never cheat on me. Especially on a lame ass website.@jlavalle5 #myfamilyrocks."
Snooki and Jionni married in November 2014. They are parents to son Lorenzo, three, and daughter Giovanna, who turns one in September.
Try Reveal 's digital edition On iPhone & iPad. Subscribe now!