A familiar face has graced Life On Marbs, Joss Mooney finally arrived on-screen in last weeks episode because he was too busy er, flexing his muscles beforehand.
The former
Ex On The Beach
contestant spoke exclusively to
Reveal
about life in Marbs, his regrets over Vicky Pattison, and why he's going to "end up alone and wrinkly". We reckon he won't somehow...
Hi Joss, so why were you a late arrival to the show?
"I was late coming in because I was working at fitness events, I basically stand round flexing with my top off. It's actually more difficult than people think!"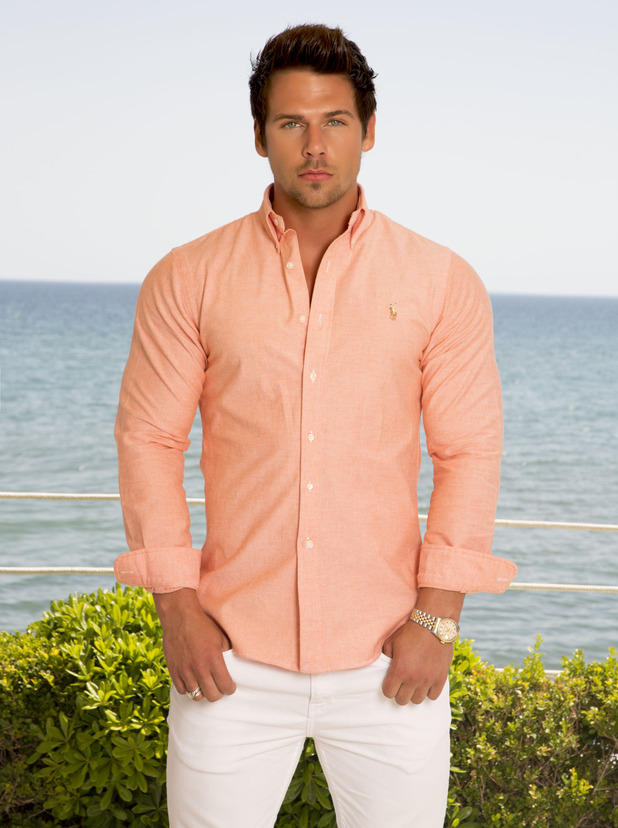 Sounds like a tough day in the office. So do you carry on the fitness thing on in Marbs?
"I give a few personal training sessions to Jeff Graham, which is hard, you can't train your mates! I had to explain that from the start of our sessions I wasn't his friend, and I was going to shout at him. He doesn't like being told what to do anyway, so it didn't go down well.
"Danni Levy had a training session with me and that was weird because I just wanted to do naughty things to her."
You've described yourself in the past as 'forever single', is that out of choice?
"I have to admit I've got commitment issues! I'm also very picky with who I want to be mine, so I'm just trying to find the right one."
So what would your ideal girl be like? (Notebooks out everyone)
"Personality wise I like someone who can give me a bit of s**t back, and if they've got an issue just tell me to do one because sometimes I do say some really inappropriate stuff. I don't mean it in a harmful way, it just comes out."
You have a habit of getting involved in love triangles, why does that always seem to happen to you?
"Because usually I'll meet a girl and actually really like them, but I tend to keep my options open as a defence mechanism. So then I'll end up talking to two people unintentionally, and then feelings grow for both of them and I get myself in a pickle.
"I really don't mean to do it, but it just happens. I'm scared to put my all into one person but then get shut down and be on my own.
"I'm probably going to end up alone and wrinkly, with great numbers but no one there!" That's a bit heartbreaking!
Do you have any romances on the show?
"Not really, it was a tricky situation for me to come in half way through the show, because people have made their relationships. I did ask Alex Weaver out on a date, she's a wicked girl, she's really fun. But then I found out she had a boyfriend and started to feel bad for him. Then I met Danni, and well you'll just have to see what happens there!"
Do you hear from former romance, Ex On The Beach co-star Vicky Pattison at all?
"We get on really well, she's wicked. I regret everything that got put in the papers!" Joss was quoted as saying
Vicky wasn't girlfriend material
, and that he gave her the best two minutes of her life. Eep.
"I'm happy for her if she's with this new guy Stevie and she's happy. I know it's hard for her to find someone she can trust, and if she doesn't want to speak to me because of him then that's her decision, it's for the right reasons. I am a problem for most people!"
Are you still a problem for Vicky?
"I'm just generally a problem! I'm even a problem on
Life On Marbs
. The reason Vicky and I got along is because she's very straight talking, and I don't really get annoyed ever, apart from when I'm trying to do up the top button on my shirt and I can't!"
So will we be seeing a different side of you than Ex On The Beach?
"Yeah, on
Ex On The Beach
you're under constant surveillance. It's pressured the whole time because you don't get to go home, have a shower and just relax.
"With
Life On Marbs
I can go to a scene fresh, and it's more like everyday life. You're not just told to suddenly go on a date with someone, if you decide to ask someone to go for a drink, you can. All you're told is where to go, because there are certain places the cameras are allowed to film. The drama just happens."
Do you think it's possible to find true love in Marbella?
"I think it really depends what sort of person you are, one of my friends has been with the same girl for years, he's married now and he's got a kid. He goes to work then just goes home every night.
"Whereas I get distracted really easily, I'll always be like that. Out in Marbs it's especially hard because people look their best so you do look, regardless of whether you fancy them or not. It's a hard place to have a relationship."
So what can we expect from the rest of the season?
"There's quite a few cameos, big parties and lots of flexing muscles!" Now there's a dream combination... we can't wait!
Life On Marbs airs Wednesday at 9pm on ITVBe.
For exclusive competitions and amazing prizes visit Reveal's Facebook page NOW!