One Direction have gone all Armageddon on us and jetted off to space in their rather amazing's music video for 'Drag Me Down'.
REMEMBER TO COME BACK TO US, BOYS!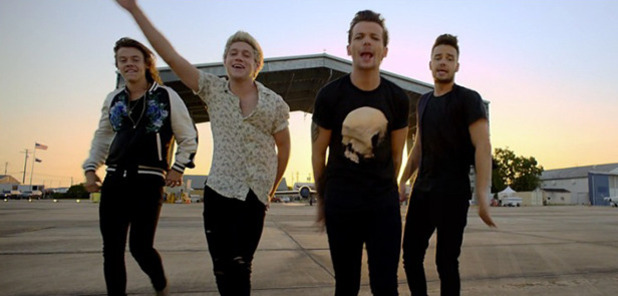 The high concept video sees Niall Horan, Liam Payne, Louis Tomlinson and Harry Styles working away at NASA as they get ready for a space adventure.
Sweaty treadmill fitness tests? Check. High-tech looking gadgets? Check. Orange space suits? Check. Four boys looking lovely with amazing hair? Check, check, check, check!
We could sit and recap the whole video for you, but it's way more fun if you watch it in its entirety below. Someone needs to give these guys their own action movie ASAP!
FYI: The boys actually
did
visit NASA and shoot the whole music video there! NASA actually tweeted today from its official account to tell everybody to watch the video. Love that!
It;s their first music video without former band member Zayn Malik, who quit in March. The song's already broken records pretty much everywhere there is a record to be broken, showing 1D are still as phenomenally popular as ever, even with one member down.
And it's safe to say the fandom are LOVING this video! And we are loving their tweets!
Here are our favourite reactions:
1. The competitive ones
WHEN ONE DIRECTION DROPS A MUSIC VIDEO AND YOU GOTTA BREAK A RECORD #DragMeDownMusicVideo pic.twitter.com/pyaL1pvpmT

— ˗ˏˋ*beth noelle* (@nakedmagic) August 21, 2015
NORMAL FANBASE: -tries to break VEVO record -breaks it

1D FANBASE: -tries to break VEVO record -breaks VEVO

#DragMeDownMusicVideo

— camile loves ljp|pcd (@camillee_payne) August 21, 2015
2. What music? It's ALL about the hair!
RT IF HARRY HAS YOU DEAD #DragMeDownMusicVideo pic.twitter.com/ASA5iKH88s

— ˗ˏˋ*beth noelle* (@nakedmagic) August 21, 2015
i think we just watched a 3-minute video advertisement of Harry's hair

#DragMeDownMusicVideo pic.twitter.com/3zgkxjiOiN

— dad (@MyBlackKiss) August 21, 2015
3. The eagle-eyed ones
5 years have passed yet liam still doesn't know the meaning of one direction

#DragMeDownMusicVideo pic.twitter.com/zAwInIIjQW

— ˗ˏˋchristineˎˊ˗ (@94beaniehes) August 21, 2015
How come this band is called One Direction when all of them can't even look in one direction
#DragMeDownMusicVideo pic.twitter.com/MUM0WJN8r7

— Czarina (@njhxwifi) August 21, 2015
The thing is.. he always has to drive!

#DragMeDownMusicVideo
#MTHottest One Direction pic.twitter.com/kMMC1eI0jM

— elena (@zaynftniall) August 21, 2015
4. The just, wow, overwhelmed ones
GUESS WHO'LL BE SPENDING THE REST OF ETERNITY INSIDE A DARK HOLE YEP THAT'S RIGHT ME

#DragMeDownMusicVideo pic.twitter.com/EKRZM6tDQk

— dani// SHARE DMD (@larrinfinity) August 21, 2015
#DragMeDownMusicVideo Woah. I just woke up, out of no where, saw this trending, freaked out, went on YouTube, watched it, & freaked out more

— Samantha (@samantharox334) August 21, 2015
5. The fashion critic ones
That space suit is the loosest thing harry has worn in the past 3 years

#DragMeDownMusicVideo

— Santa Claus (@1DAFSanta) August 21, 2015
Harry definitely dressed niall for this video #DragMeDownMusicVideo

— birthday in 2 days (@faithfulyhes) August 21, 2015
Niall's inner harry really did come out in the #DragMeDownMusicVideo #DMDVEVORECORD pic.twitter.com/LvxcOKs5JL

— follow me zayn (@Liams4Arrows) August 21, 2015