Heading to a festival in the next few weeks? Need some tips to get you through the weekend? Lover of festivals Pixie Lott has got you covered with a few handy top tips...
As much fun as festivals are, we're sure you'll agree they take a lot of planning. From having enough toilet roll to see you through the weekend, to making sure you look the part and avoiding any sunburnt/soggy clothes issues, getting organised is a must. After all, red raw skin and rain sodden dungarees really isn't ideal. And we're speaking from experience!
Luckily for us, 'Mama Do' singer Pixie is a pro when it comes to all things festivals and as she prepares to head to Virgin Media's V Festival, she's revealed the few things she
won't
be going without.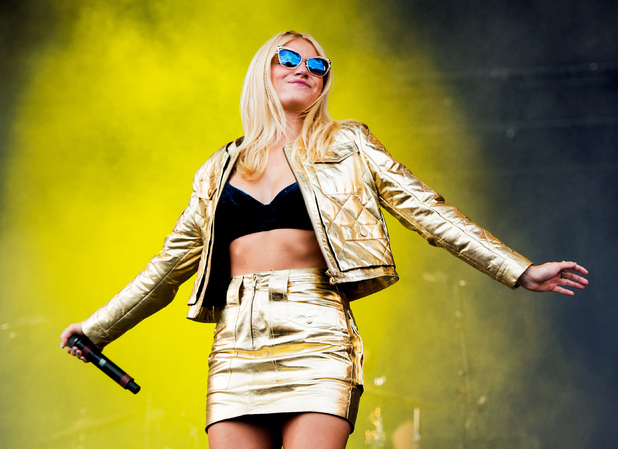 Pixie's covered everything from logical thinking to your festival getup and your war paint. So not only will you be looking like a regular festival-goer, you'll be the savviest one there, too. Perfect!
For all you happy campers out there, you have no idea what the British weather is going to throw at you, so Pixie's advice is be prepared... for everything.
When it rains...
Not only do you want to secure your tent well enough that the rain doesn't seep in, but when the wet weather strikes the last thing you want is your festival wardrobe to suffer. Pack your dry clothes in something completely waterproof (a sealed plastic bag, perhaps?), make sure you have a waterproof poncho and wellies and layer your clothes too, just in case it gets a little chilly.
When it shines...
Sun cream is a cert go-to, especially to prevent those awkward tan/burn lines crochet and crop tops will give you. Pixie's faves are
Lancaster's Sun Beauty Velvet Touch Cream spf 30
and
NuBo instant lip perfection spf 15
- "This is very compact," she says. "It hydrates and protects the lips from the sun's damaging rays."
Other handy things to have on your 'must bring with me' list?
Wet wipes, antiseptic wipes, toilet roll, as glass isn't allowed into festivals plastic glasses can come in handy (a few of those and a box of wine is Pixie's tipple, FYI!) and large bottles of water too. That way when they run out, you can always refill them from the drinking water taps on site.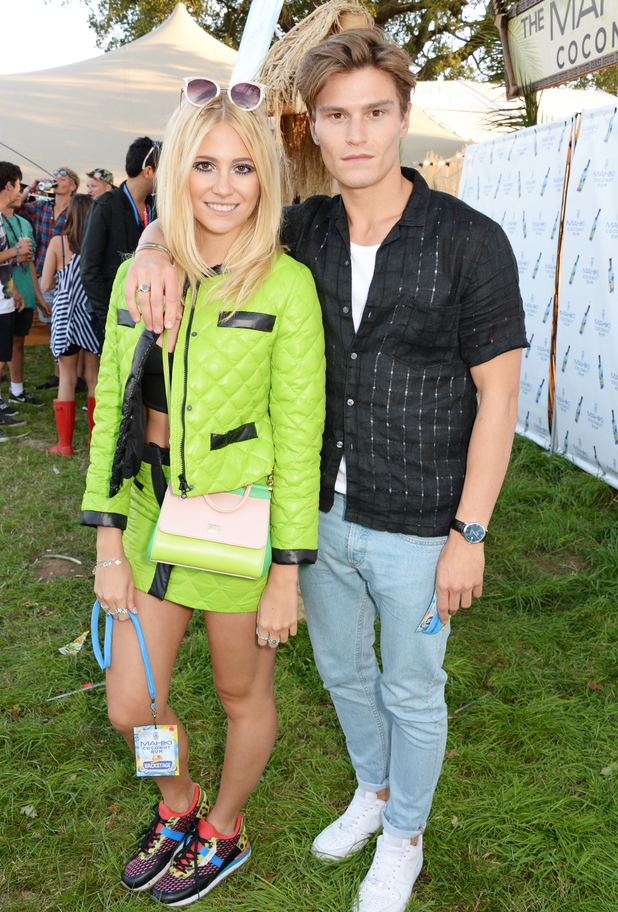 Now you've got the basics covered, it's time to sort out that festival wardrobe of your's.
Revealing what she'll be rocking in V Festival's Louder Lounge this year, the 24-year-old added: "I bought a great red suede fringed jacket from Sandro and a Nasty Gal 60's/70's flower power crop top for festival fun. You always need shades for the sun and if your eyes get hazy from a late night or no sleep weekend! I have some crazy fun pineapple ones and some chic Fendi ones. "
For help with your own festival style, Pixie recommends heading to your nearest vintage of charity shop: "They always have some good fashion gems ready to buy!"
If you're lucky enough and the sun stays out so you don't have to dig out your wellies, the starlet admits her go-to footwear lately is a pair of sliders and a chic backpack is her favourite way to tote her festival essentials when she's going from stage to stage. They can be practical and oh-so-pretty too!
When it comes to your glam kit for the weekend, Pixie says: "Focus on the eyes for festivals, your lips wear off!"
And while doing so she recommends having a lot of fun with it too. From drawing hearts on her eyes to sticking on diamantes and having sunflowers on her face, she's done it all.
A big lover of the 60s, Pixie loves a smoky drawn-out eye and here's how to do it: "Use a cotton bud – it makes it smoky but not harsh… smouldery. Get the eye shadow you want on the cotton bud and draw it underneath your eyes, bring it out to a side. Then get a blender brush with the same shadow and take it across the eyelid. Smoke it out as much as you want then add more black if you like. Then get eyeliner and put it on the inside and put loads of mascara on."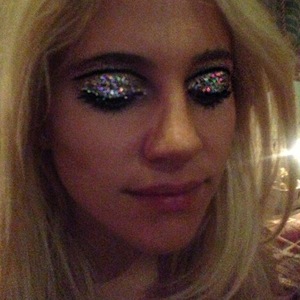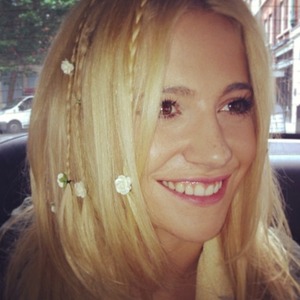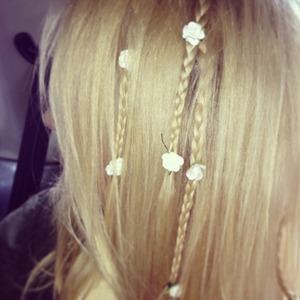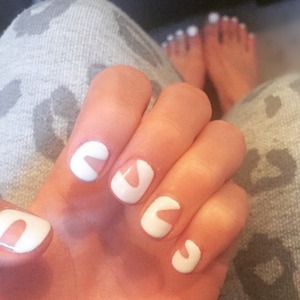 For your locks, it's all about getting them as big and messy as possible. Shove flowers in your hair, tie bandannas around your head or put lots of plaits through your mane.
"I love experimenting with styles like little plaits and little ribbons with bows," Pixie admits. "Also a little half-up, half-down thing. I like to mix it up a bit. At a festival you can go crazy and do what you want."
Spruce up your 'do throughout the weekend with a good dry shampoo (Pixie's a fan of Batiste) and make sure to tackle your talons with a stand-out polish.
Got it? We think you're pretty much good to go, then.
Camping essentials covered? Check. Festival wardrobe planned? Check. Festival glam kit compiled? Check, check, check.
Pixie will be partying with V Festival for its 20th birthday celebrations from 21-23 August.
For exclusive competitions and amazing prizes visit Reveal's Facebook page NOW!