Paper Towns author John Green has defended Cara Delevingne after that awkward interview, saying her refusal to "indulge lazy questions" makes her "f*****g interesting."
The supermodel turned actress hit the headlines worldwide when a
brief interview on US TV station Good Morning Sacramento
turned
incredibly
awkward!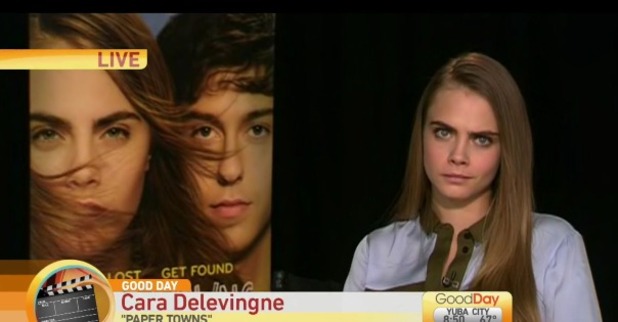 It all started when the anchors got Cara's name wrong and introduced her as Carla, before accusing her of not seeming that excited to be promoting her new film
Paper Towns
and suggesting she take a nap or get a can of Red Bull. Yep, all live on air!
Now
Paper Towns
author John Green has responded to the debacle with an online blog post, defending Cara and calling out the sexist questioning she's faced both on
Good Morning Sacramento
and during the promotional tour as a whole.
He wrote: "I spent more than a month with her on tour in Europe and the US and I watched as again and again, she was asked this question. Cara has read the book (multiple times) but the question is annoying – not least because her male costar, Nat Wolf, was almost always asked when he'd read the book, while Cara was almost always asked if she'd read it."
John also admitted that whilst he and
Paper Towns
actor Nat Wolf fall back on repeating the same answers to questions, Cara doesn't, which makes her all the more interesting.
"She refuses to indulge lazy questions and refuses to turn herself into an automaton to get through long days of junketry. I don't find that behaviour entitled or haughty. I find it admirable. Cara Delevingne doesn't exist to feed your narrative or your news feed — and that's precisely why she's so f*****g interesting."
Cara has also
responded to the interview
, simply tweeting: "Some people just don't understand sarcasm or the British sense of humour."
For exclusive competitions and amazing prizes visit Reveal's Facebook page NOW!