One Direction surprised fans today by releasing brand new song 'Drag Me Down'.
The group released the track to iTunes and Spotify across the world at 6.30am this morning and fans are absolutely LOVING IT! So are we! It's the band's first single since the departure of Zayn Malik in March and, dare we say it, we really like this more than any of their other songs...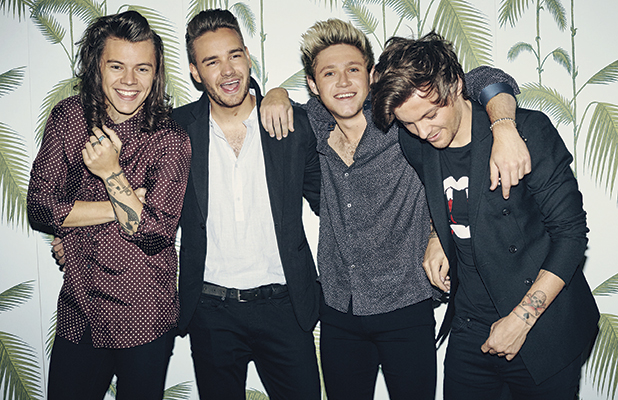 It's a more mature sound for Harry Styles, Liam Payne, Louis Tomlinson and Niall Horan, who are currently in the middle of the US leg of their 'On The Road Again' world tour.
The song has already topped the iTunes chart around the world proving that anyone who thought 1D without Zayn would be a flop were very, very mistaken.
#Dragmedown sounds so mature with rapping and the beat of it, dammit this albums gonna be the death of me

— J (@NarryBaes_) July 31, 2015
MY NEIGHBOURS ARE GOING TO BE HEARING GOOD MUSIC FOR THE NEXT COUPLE OF MONTHS #DragMeDown

— H (@herostyles94) July 31, 2015
The whole fandom rn:
#DragMeDown pic.twitter.com/9svLC6DfnN

— H (@herostyles94) July 31, 2015
IF THEY RELEASE ALBUM FIVE OUT OF NOWHERE THEN YOU WILL HEAR NOTHING FROM ME BECAUSE IM PROBABLY DEAD #DragMeDown

— elaine; (@stonerzain) July 31, 2015
" #DragMeDown is the fastest song to ever climb #1 on iTunes without any promotion" pic.twitter.com/cOfhlIqKMK

— Louis Donny (@LouisMarvel1D) July 31, 2015
I'm so proud of these four boys, they've continued to create music even when a member of the band left #DragMeDown pic.twitter.com/lQHVRj7YIC

— Best 1d Pics! ✧ (@AllPicsOneD) July 31, 2015
What a wonderful way to wake up emotionally painful yes but wonderful nonetheless!!!

#DragMeDown

(@JennyyG) July 31, 2015
My expressions when I heard the single of the new albumI have a feeling.. it's gonna be A great album #DragMeDown pic.twitter.com/73veRc9OOv

— DragMeDown (@elen_cameron) July 31, 2015
HOW AM I SUPPOSE TO GET A GOOD SLEEP AFTER LISTENING TO #DragMeDown I LITERALLY LOST ALL MY CHILL BC OF THIS THANK YOU BOYS

— Carmi ୨୧ (@njhxcarmi) July 31, 2015