Cara Delevingne was told off by journalists yesterday after an interview that has been branded painfully awkward.
The supermodel appeared via video link on
Good Day Sacramento
to promote her role in the new movie
Paper Towns
but rather than talking about the film today, everyone is talking about Cara's attitude...
It started off on shaky ground when Cara was introduced as "Carla" but seemed to pick up as she spoke about the book the movie is based on and her character. Then went downhill...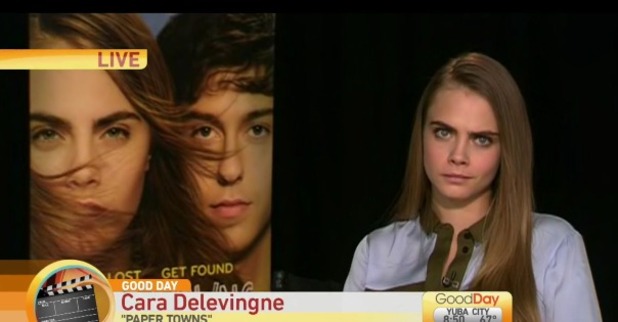 One anchor told her: "I saw you in London a couple of weeks ago talking about [the movie] and you seemed a lot more excited than you are now. Are you just exhausted?"
Cara looked genuinely puzzled as she replied: "Oh... No. I'm still genuinely excited.The premiere was last night. It was an emotional night. It felt like the end of an era. But I'm not any less excited than I was a few weeks ago. Maybe I had more energy. It's the morning."
Another anchor replied: "You do seem a bit irritated. Perhaps it's just you."
At this stage Cara seemed fed up. "Maybe it's just you."
"Well, on that note, we will let you go," replied the anchor. "Maybe get a Red Bull. Have a little nap."
After Cara's video link had disappeared, two of the anchors in studio kept talking about ther.
"She was in a mood!" one of them said. "Jeez Louise. Just a little irritated. They sit through all these interviews from 800 TV stations but still..."
Another replied: "You make $5 million for six weeks of work, you can pretend to talk to 'Good Day Sacramento' with some 'oomph'!"
Plenty of fans, however, are on Cara's side...
@Caradelevingne was not rude in the interview with good morning sacramento, the news people, however, were!! #CaraDelevingne

— Astrid Martinsen (@AstridMartinsen) July 29, 2015
@Caradelevingne just watched the morning Sacramento interview and cringed at how rude they were to you
#notallnorcalpeoplerassholes

— Jill D S Cannaday (@JillEquality) July 29, 2015
This Cara Delevingne Interview Is Very, Very Awkward... OR MAYBE THE REPORTERS WERE JERKS http://t.co/1pjCWEQUYJ

— Laura +x (@lek2294) July 29, 2015
@Caradelevingne delt with that hurendous interview with style #wingedit

— stephen murray (@stephenmurray20) July 29, 2015