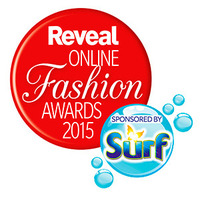 Reveal advertorial in association with Surf
We've already taken a look at some of our lovely and angelic homegrown stars who prefer charity work and clean living to scandal, and now it's time to cross the pond and have a look at the American sweethearts.
So, ahead of the Reveal Online Fashion Awards 2015 sponsored by Surf, we count down eight US celebrities* who have never set a foot wrong!
1. Jennifer Aniston
She's America's Sweetheart and the golden girl of Hollywood who has been making headlines ever since she shot to international fame in
Friends
way back in 1994 and, after *that* whole love triangle saga with Brad Pitt and Angelina Jolie she's rarely been out of the tabloids. But although Ms Aniston's name is mentioned in salacious, untrue news stories all over the place and she's
still
being linked to Brad and Ange, she's actually remained squeaky clean throughout her career. You're more likely to see her hanging with husband Justin Theroux and their dogs than falling out of a club. Actually, we don't think we've ever even
seen
her near a club! She's one of the most famous women on the planet but prefers a low-key life. She also uses her fame and wealth for a number of good causes such as raising money for an orphanage in Mexico, helping the LGBT community, aiding Doctors Without Borders and cancer research.
2. Ryan Seacrest
He's been named the most powerful man in reality television thanks to his hosting role on
American Idol
and job as exec producer on every Kardashian reality series. (Yes, you can thank him for the Kardashian-Jenner clan!) He's one of the most recognisable faces and voices on US TV and radio but has never had one iota of scandal in his lengthy career. Google Ryan Seacrest and scandal. Nothing. Zilch! Instead he's made his name as a shrewd businessman and brilliant TV host and presenter. He's dated famous women like Julianne Hough but keeps his personal life away from the spotlight when he can. He's also founded his very own Ryan Seacrest Foundation which helps sick children. Handsome, successful, kind and loves kids. Is he the perfect man?!
3. Sarah Michelle Gellar
We all know the struggles that child stars have when they find fame and fortune at a young age. We've seen all too often the downward spiral that can ensue. But for Sarah Michelle Gellar, that wasn't the case. She was just four years old when she landed a Burger King commercial role and, as they say, the rest is history. Her major breakthrough was feisty
Buffy The Vampire Slayer
, still one of the strongest and best female role models ever to have graced our screens. Since then, she's appeared steadily on TV and in film but it's clear her priority in life is husband Freddie Prinze Jr and their children, Charlotte and Rocky. She's also constantly seen out and about supporting various charities including breast cancer research and delivering healthy meals to people living with AIDS. Most recently she's been working on a campaign that encourages young children to love reading.
4. Matt Damon
It feels like only yesterday Matt was standing on that stage at the Academy Awards alongside Ben Affleck, accepting the Oscar for their screenplay to
Good Will Hunting
. Fast forward nearly 20 years and he's one of Hollywood's most successful leading men. Unlike Ben, who has found his private life and relationships splashed across the tabloids, Matt is more known for his acting and humanitarian work than who he's dating. He's been happily married to former waitress Luciana since 2005 and they're parents to four daughters. When he's not on set or winning awards, he can be found working on his own charity foundations or helping others. He's supported causes including fighting AIDS and poverty, as well as eradicating hunger in the US.
5. Sandra Bullock
She's often named as America's Sweetheart and it's clear to see why: despite amazing success and longevity, an Oscar win, being named one of the most powerful actresses in Hollywood and a bank balance we can only dream of, Sandy's remained the same down-to-earth, goofy, funny girl from Virginia. She's never heard bitching about people or throwing diva strops. She had a tough patch back in 2010 when reports surfaced that her husband had been unfaithful. She remained dignified throughout the drama. Now, she's divorced him and is a proud mum to son Louis, whom she often calls the most important thing in her life. She's a passionate advocate of charities, donating millions of dollars to American Red Cross and working on natural disaster campaigns.
6. Dakota and Elle Fanning
These guys are the very definition of child stars: both found success at an incredibly young age. Dakota, now 21, was just seven when she earned a Screen Actors Guild Award nomination for her role in I Am Sam, while Elle, now 17, entered Hollywood at just three, playing her sister's younger self in movies. They're both now major players in the movie world but prefer a low-key life, staying away from the Hollywood party scene. Elle's still at high school and wants to follow Dakota's footsteps and go to college, while Dakota's studying at New York University. They've never got a bad word to say about anybody and keep themselves to themselves while they're not working. You just know these two are going to be big Hollywood stars for a long time to come.
7. Lea Michele
She made her Broadway debut at just eight years old in Les Miserables but it was playing Rachel Berry in
Glee
that brought her international stardom and critical acclaim. She was thrown into the limelight in the cruellest way possible two years ago, following the shock death of her boyfriend and co-star Cory Monteith. Rather than hiding away from the world, she bravely spoke out about her grief in a bid to maintain his memory and help anyone else who may be in a similar situation of losing someone they love. Throughout her career she's never set a foot wrong: no scandal here. She's consistently thrown her support behind gay rights and animal rights' charities and has won a Humanitarian Award from PETA.
8. Tom Hanks
Is there one person on the planet who doesn't adore Tom Hanks? He's AMAZING! A movie star staple from our childhoods, we grew up watching
Big
and
Turner & Hooch
and thought he was pretty cool. We grew and saw the likes of
Saving Private Ryan
and
Apollo 13
and thought he was awesome. He has a career that most actors can only dream of: commercial success, critical acclaim, a trophy cabinet bulging with awards and the adoration of fans across the world. And he's STILL known as one of the nicest guys in Hollywood! There's no womanising or partying for Mr Hanks. The father of four is happily married to fellow actor Rita Wilson, and recently helped nurse her through a battle with cancer. He's an avid lover of space and astrophysics, and has donated his time, money and fame to various charitable organisations over the years.
* None of the celebrities featured here endorse Surf in any way