Dame Helen Mirren seemed surprised on today's Good Morning Britain when she was told she looks fabulous for her age, replying: "I definitely DO look 70!"
The fabulous actress was appearing on ITV this morning when she laughed at Ben Shephard and Kate Garraway's declarations that she didn't look her age.
A laughing Dame Helen replied: "Why can't you believe it? Yes I do! I look 70 with a lot of makeup on and nice hair! I do totally look 70!"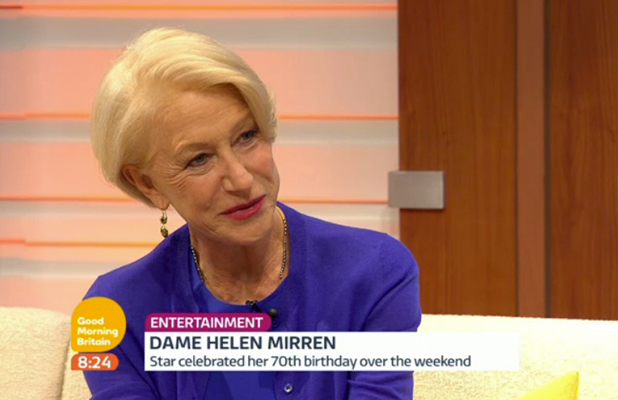 Talking about growing older and her recent L'Oréal campaign, she said: "To do a beauty campaign at my age is a bit sort of out of order really! I think you don't lose interest as a woman - or maybe as a man - we don't lose interest in these things as we get older, all we do is we get more knowledge about them.
"We get more knowledge about what's good for you, what's bad for you, what works for you, what doesn't work for you and so I don't see why as an older person you should be excluded from the fun of all of that."
When asked by Ben if she understood the public interest in her appearance and age, she replied: "It's boring! I don't understand your fascination with it! And I don't think you have one! I think you're just saying what your editor wants you to say!"
She added: "I just take it as part and parcel of my job and it is. I've always had that attitude and I've been dealing with this sort of thing all of my life actually, all of my professional life, but I've always seen it as a part of my job and I just take it as it comes really. Sometimes I put my foot in my mouth and I get into trouble and sometimes I don't, but I refuse to sort of be afraid of it."
And later on in the same interview, the
Oscar winner was reprimanded for accidentally swearing
when she said it had been "p*ssing it down in Cornwall" during a camping trip there some time ago.
Meanwhile, she showed her sense of humour when joking that she now had so many awards she'd built a whole room to house them.
"I have an extension to my house actually and when you walk in, you know, they are all on revolves and in lights and you can put headphones on and hear all of my acceptance speeches in all the different languages that I've given them in!"
She may joke, but that does actually sound like quite a good idea!
Try Reveal 's digital edition On iPhone & iPad. Subscribe now!