Dame Helen Mirren accidentally swore during a live interview on today's ITV's Good Morning Britain, prompting apologies from the presenters!
The wonderful actress was recounting a camping holiday with ex-boyfriend Liam Neeson when she said it had been "p*ssing it down" with rain during the entire vacation.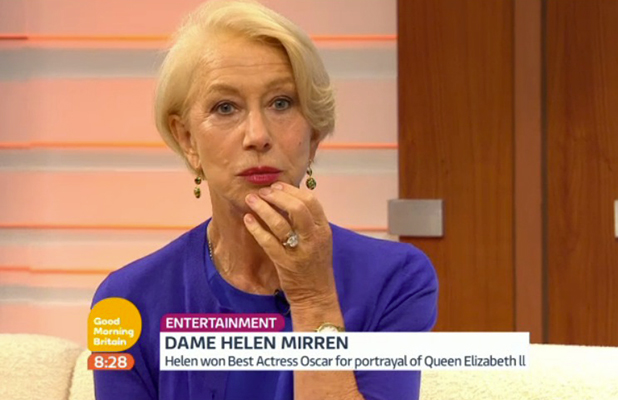 That drew a reprimand from Ben Shephard and Kate Garraway!
A somewhat bemused Dame Helen replied: "But why can't you say that?"
Kate immediately responded: "We will have that debate another time otherwise we will get fired! You may be The Queen but you can't save us!"
Dame Helen said: "I'll shut my mouth!"
She had let the word slip during a chat about camping holidays, recounting one particular visit to Cornwall with Liam Neeson in which it didn't stop raining for days.
"I love camping and I still do and I miss camping, my husband unfortunately doesn't want to camp. But I went camping with an ex-boyfriend of mine, Liam Neeson. I lived with him for four years and we went camping in Cornwall. He loved camping as well and we had his little deux chevaux car, Liam six foot four in this deux chevaux car, his head was sticking out the top of the car really and we had our tent in the back and all our stuff and our little stove.
"And we get down there and we're camping in this tiny tent, all six foot four of Liam and me and we camp in this field - not like official camping site with electricity and loos and showers - none of that just literally a field, and it p*ssed with rain non stop for like three days!"
Try Reveal 's digital edition On iPhone & iPad. Subscribe now!