When we met up with Stereo Kicks ahead of their last ever concert on Saturday there was an atmosphere of excitement and anticipation in the room. The guys were joking around with each other, play fighting and in very high spirits as they waited to take the stage at Thorpe Park's ISLAND BEATS.
Outside, lines of fans were waiting patiently to get a glimpse of their idols. Some hovered next to the stage hoping to get the best spots, while others lingered outside the hospitality area where the guys were getting ready. Some had brought gifts for the boys, others just wanted a group picture before the band parted ways one year after finding fame on
X Factor
.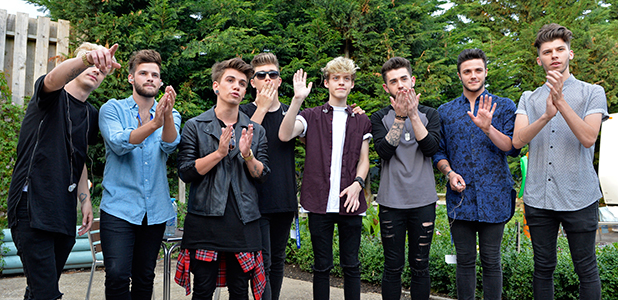 When we managed to grab some time with Jake Sims and Charlie Jones, they'd already spent much of the morning enjoying the rides at Thorpe Park and meeting as many fans as possible. Jake had even got through two sets of underwear and socks after jumping into the water at one of the rides! (The spare underwear and socks came courtesy of Charlie, FYI!)
Here's what they said in our final interview with Stereo Kicks as a band:
There are so many fans here at Thorpe Park!Jake:
"We know! They are all very emotional today so the least we can do is spend as much as time as possible out there with them. We really do want to see them as much as we can today."
The atmosphere is a mix of excitement tinged with sadness. Is that how you're feeling?Charlie:
"It is a sad day but we want to keep ourselves as happy as possible because although it's the end, it hasn't ended badly at all. We're all still best friends and we don't want anyone thinking we split because we weren't friends any more. It was other reasons."
Jake:
"Everything we have done has been amazing. I've had the best year of my life, made the best friends and had the best experiences. It has been amazing."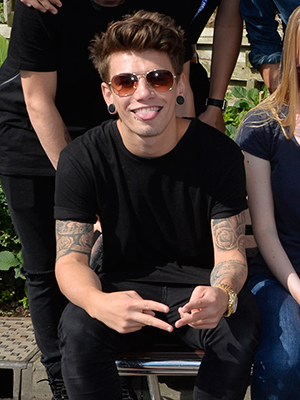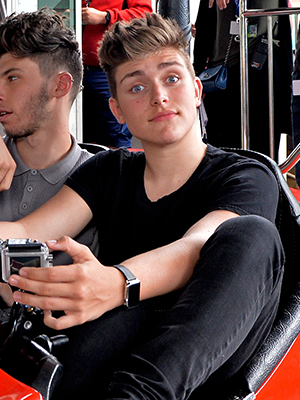 You've kept nothing about your split hidden from the fans which is quite unusual...Jake:
"We always wanted to be honest with them. There was never going to be any keeping things from them. We didn't want to split up. We just had to. We just needed a major label to come in and pick us up but it didn't happen. Our management did everything they could to try to get us that and we had been hoping if we split, maybe somebody last minute would come in. But it is what it is and nothing has come in so we have to move on.
"As much as we're gutted the band is over, we are very much looking forward to seeing what happens next, especially with all the amazing support we've had from the fans, so it's not all bad."
So what are you both going to do next?Jake:
"For me, I'm not going to take a break as this is all I've ever wanted to do. I'm going to use the platform I've had from
X Factor
and this band. I want to focus on my own stuff, do a bit more urban, less poppy music. Incorporate my rapping into new stuff. So I'm excited about that. That was the music I did before the show. I used to swear and stuff but I couldn't do that being in a band with someone Charlie's age and stuff. Now I have more of a chance to show myself as an artist."
Charlie:
"I'm going to take a few weeks out and evaluate my options. I still want to go down the music route, though. I want to keep the momentum going with our amazing fan base. I also have to return to school to do my GCSEs."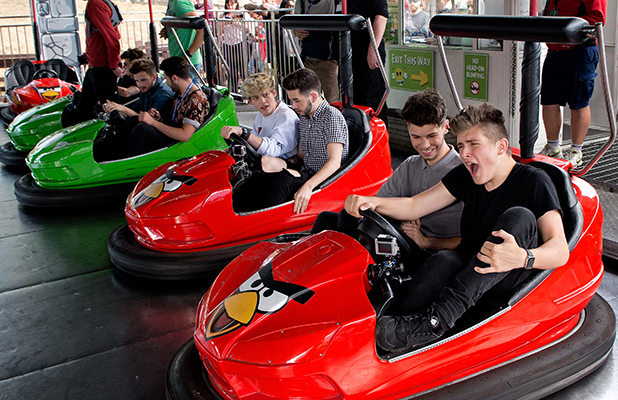 So Jake just mentioned being more himself now. Does that mean we'll see a different side of you on Twitter? Perhaps not having the band around you will be a dangerous thing!Jake:
"It could be! I've tamed myself so much for this band as well!"
So, Charlie, what's Jake really like then?
"He is wild but he's probably one of the nicest ones in the band. (At this stage, Jake leans over and gives him a kiss on the head along with thanks!) He's a little wuss at heart, you can't deny it!"
And Jake, what's Charlie like?
"He is literally the cutest person I've ever met! The most selfless person ever. Genuinely, you are man! He is lovely. There isn't a bad bone in him."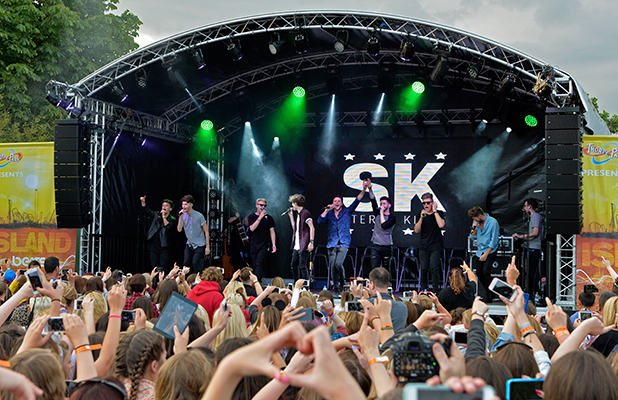 Do you think having eight members rather than the more traditional four or five was a factor in your not getting signed?Charlie:
"It could have been one aspect of it but ultimately I don't really know. When we were an eight piece it worked best. We had times when one, two or three people would be missing through illness or other reasons and we didn't sound as good. We didn't have that raw sound we had when all eight were there."
Jake:
"It was so powerful with eight of us. Who knows? If it was less maybe something would have happened as eight is a massive financial risk for any label. But it would have been worth it if someone took the risk."
What if a label came and said, 'We will sign you but only if you drop three members.' Would you do it?Jake:
"We are Stereo Kicks and that is it. We wouldn't want to kick anyone out."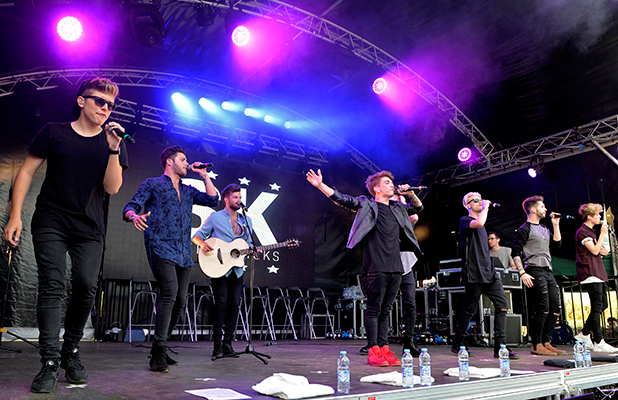 You announced your split just as X Factor filmed auditions began. Have any of you auditioned again as solo artists?Charlie:
"We can't. We are literally not allowed. It's because if you get past, I think, first week of live shows you can't audition again. And now they raised the age limit I'm too young now anyway which is weird!"
Do you think the higher age limit is a good idea?Charlie:
"Yes, definitely, especially being under 16, I found it so hard. It was the best year of my life but it was so hard for me. A lot harder than it should have been."
Jake:
"He missed out on so much. He wasn't even allowed to live in the X Factor House with us and as an experience as a whole, I don't think that's fair. He had to go tutoring when we had interviews. He wasn't allowed on certain TV shows. But he took it so well."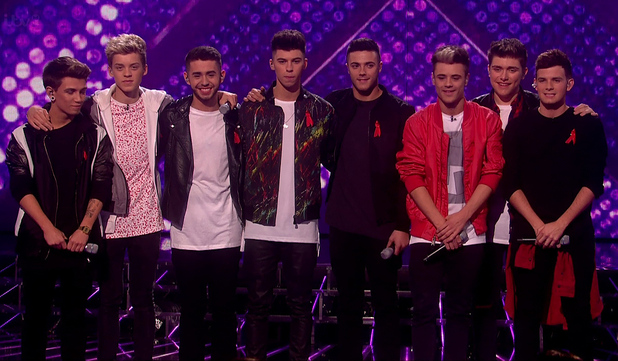 Will you watch X Factor this year?Jake:
"I'm really excited to watch it this year. I know what goes on behind the scenes now. And if I can go to the studios and watch a couple of episodes I will."
Out of the new judges, which would you have liked to mentor you?Jake:
"I think Rita or Simon."
Charlie:
"Simon would be number one. He is so good at what he does. He smashes it every year and knows what he's doing. He controls the whole thing whether you're in his category or not, but it's extra special to be in his category."
Jake:
"I think things could have turned out differently for us if we had Simon as our mentor right from the start because I think he would have personally connected with us more."
Charlie:
"In terms of standards of
X Factor
, we had a hard year. Any other year I would guarantee, I would put my house on it, that we would still be together as a band and would be recording music in LA right now."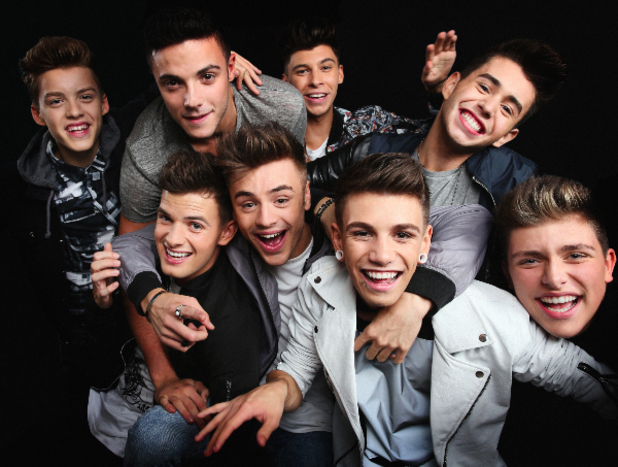 Your single 'Love Me So' was really good. It's just a shame it didn't get the response it should have…
Jake:
"We thought so as well. It just didn't connect as much as we hoped it would. We didn't get Radio 1 or Capital which is unfortunate but it is what it is. They have their own artists they can push and they didn't owe us any favours."
Charlie:
"Behind the scenes at radio can be unhealthy the way they do it. Everyone wants to be played no matter who you are. And if you're an artist or someone listening to music, you sometimes think, 'When is another tune coming on? I'm getting a little bored of this one.' And that would have been a good time to play ours."
What will the rest of the band do now?Charlie:
"They all have their own ideas and different routes they want to go down. Not all of it is singing, it may be TV or things like that, but we obviously all want to keep doing music. Deep down we all love music and that's our number one goal in life. But I think a few of us would be really good for TV."
Whatever the future holds, one thing is clear: you have some incredible fans out there! Their social media power is amazing.
Charlie:
"We really do. Every week we smashed it on
X Factor
with Twitter and had up to 70 per cent of all tweets directed at us. I think we were the most tweeted about band on
X Factor
last year. By a country mile!"
Thorpe Park Island Beats offers eight weeks of live music and late night rides this summer. Tickets are on sale now. For a full lineup of artists and all the information on attending please visit the Thorpe Park website here.