Louis Tomlinson has been relatively quiet since news broke that he's to become a father but last night he returned to Twitter with a bang, saying thank you to fans a whopping 17 times!
The 'Best Song Ever' star didn't reference the baby news in his string of tweets, instead keeping it general, saying thank you to fans for everything they've done for One Direction over the years.
It was five years ago the band formed on
X Factor
.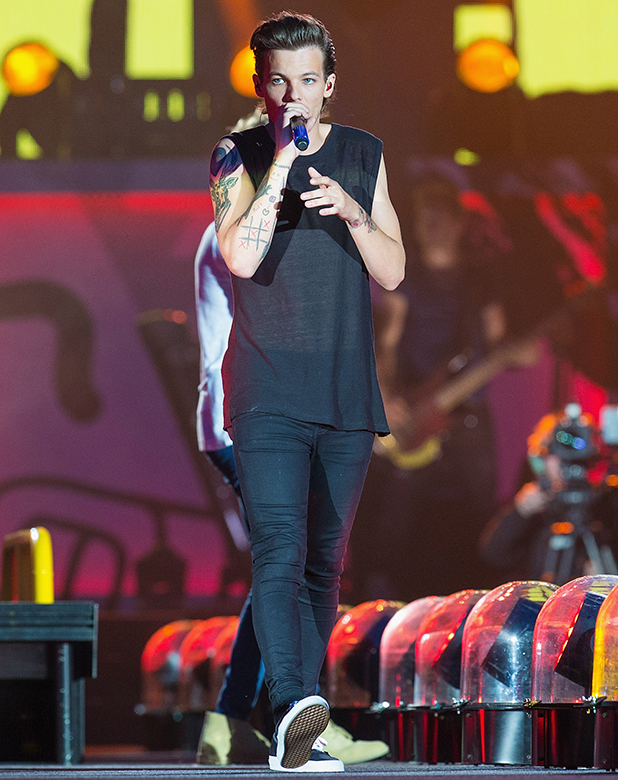 Louis tweeted: "Every single day we are thankful for the platform that you incredible people gave us. What an amazing 5 years it's been!! You have been by far the most incredible fanbase and nothing you do goes unnoticed. We are so lucky to have you guys! Thanks so much :)
"Thank you thank you thank you thank you thank you thank you thank you thank you thank you thank you thank you thank you thank you thank you. My attempt of expressing how thankful we are for you guys!"
Hundreds of fans responded in likewise form, posting strings of 'love you' comments.
Louis, 23, has not publicly confirmed the news that he's to become a father for the first time, although his boss Simon Cowell spoke about the baby in a recent interview, saying his advice to Louis had been to "man up".
The woman carrying Louis' child is
Los Angeles-based stylist Briana Jungwirth
, 23, who has also remained out of the limelight since news of her pregnancy became public.
Louis and Briana are believed to have shared a few dates in May following his split from long-time girlfriend Eleanor Calder. It's not thought they are currently in a relationship but they're said to be good friends and committed to raising the baby together.
More from this story:
-
Briana has left the family house in Calabasas, California to escape the spotlight
-
Louis met with ex-girlfriend Eleanor to break the news before it went public
-
Louis phoned Simon Cowell to tell him
-
Louis has annoyed 1D fans by tweeting... but ignoring the baby reports
-
Louis on stage in Seattle: first photos since baby news
-
Briana's stepmum worried about headlines
- Lorraine Kelly shares her thoughts on Louis Tomlinson baby
- Louis Tomlinson's estranged dad wants to be involved in baby's life
- Simon Cowell advises Louis Tomlinson to "man up"