TOWIE's Danielle Armstrong has branded Vas J Morgan's mystery video "laughable" after it was revealed in its full glory last night.
There had been much hype around the tape which purported to contain incriminating evidence against Danielle's ex-boyfriend James 'Lockie' Lock from the night he met Verity Chapman.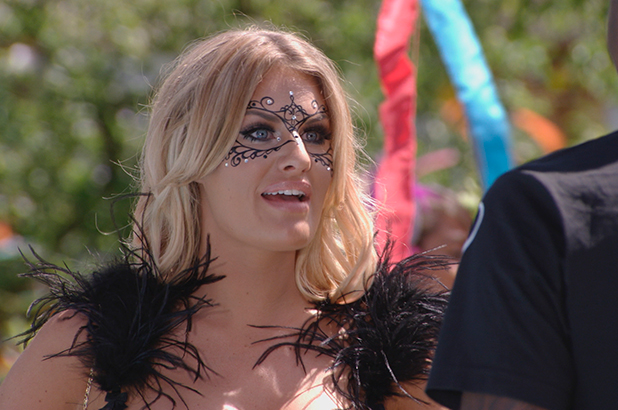 Lockie had denied
Verity's claims that he wanted to take her home and bed her,
but in the video we heard him telling Verity she could stay at his house.
Explosive? Not according to Danielle...
She tweeted: "Well that video was actually laughable. God anti climax or what! There's me thinking its was a sex tape. God what people do for airtime..."
Danni then retweeted comments from followers agreeing that the tape was anti-climactic.
@Daniarmstrong88 I was waiting for something really bad, I actually laughed when I seen that

— soph✌️ (@sophieshannon47) July 22, 2015
@Daniarmstrong88 @OnlyWayIsEssex definitely only banter

— Kev (@kevo10cafc) July 22, 2015
Pahahahaha that video was tragic!!!!! @Daniarmstrong88 WE AINT WORRIED GIRL...#teamdanni

— Flora (@FlozW) July 22, 2015
@Daniarmstrong88 I don't understand like surely it's making her look a lot worse than him?? It's her saying she wants to jump in his bed!

— kay (@kaylister543) July 22, 2015
Seriously can't believe Iv been looking forward to @OnlyWayIsEssex all day & the video was a total Joke! @Daniarmstrong88 how disappointing

— Lottie Murphy (@Geordielottie) July 22, 2015
At the end of the episode, we saw Danielle and Lockie talking about the video. Lockie admitted he may have downplayed the night slightly but said it was only banter and he didn't always act like that on a night out.
"I thought by letting you go, you would come back to me. I was really naive. You haven't come back to me or fought for me. I don't think you ever loved me..." she told him, prompting Lockie to reply: "I do love you. Hand on heart, I honestly don't know anymore if me and you have a future because I don't know if we want the same things.
"We do need space. Maybe we should just block each other's numbers or whatever. I know it sounds immature but at the minute what we are doing isn't working. I still ring you, you still ring me."
They ended the series separate... but we can't help wondering if there is still a future between them?
10 reasons why we want to be in TOWIE: