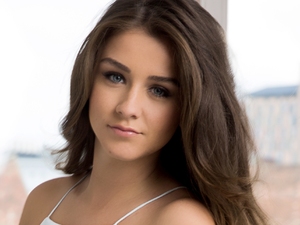 Brooke Vincent exclusively shares her fashion favourites, beauty and style picks and celebrity highlights with Reveal.
Hello everybody,
Hope you are all having a lovely week. I've been on holiday again this week.. I might change my name to Judith Chalmers haha.
It was our annual holiday of "the mums and daughters" which is basically my mum, her friends and me and their daughters.
We go every year and we have such a laugh. At one time it was so embarrassing to be seen out with your mum, but now us daughters love it and to be honest our mums can party!
All 17 of us tipped off to Portugal. We stayed in Vilamoura and it was beautiful. Lovely cocktail bars and restaurants. The marina during both the day and night is also very good to visit, and very relaxing with lots of different cuisines and pubs. Family friendly too.
The one thing we all loved doing was picking out which HUGE yacht we would choose if we had the money - if only hey!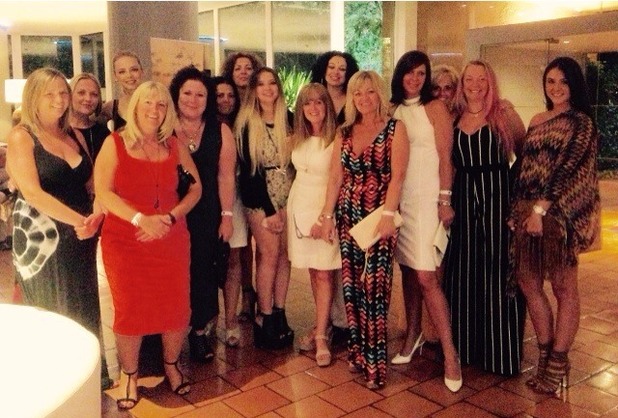 Sea Salt.
I'm new to this and I absolutely love it! Especially while I've been away! It's been amazing around the pool when your hair is wet or on the beach or even when you get out of the shower at home and want some beach waves. Basically it's as simple as towel drying your hair and spraying it onto your locks!
It's really good for people with straight or naturally wavy hair and it doesn't make your hair frizzy which is always a good thing. Even though I've been using it, I forgot to take a picture, so Sunday morning as I was sat there looking all glam with my curls from the night before I thought... now I best show you what it does and how nice it can look!
So, after a dip in the pool especially for all my
Reveal
readers, I wet my hair, towel dried it, then sprayed my salt spray in and scrunched it. Because my hair is so heavy I wrapped it into a bun as well to dry, but that's totally up to you guys. Here's my before and after..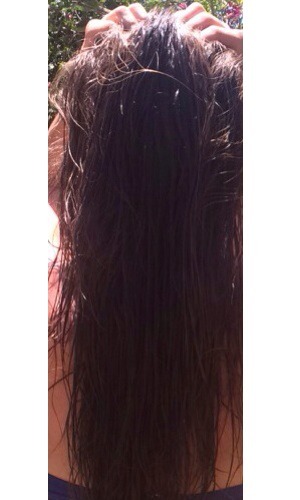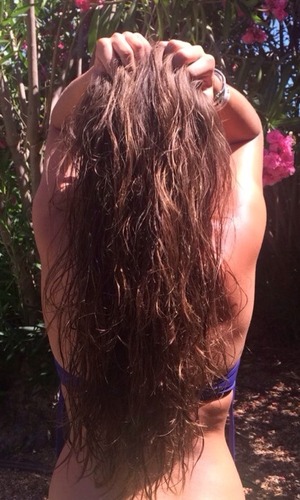 Try it out... Sea salt - you can purchase it from most supermarkets.
A Look I Love...
A look I'm loving at the minute are these little crochet tops! I got it off Instagram and I love it. They are so easy to wear either to dress up or down. I wore mine with matching little black bottoms just around the pool, but I could have easily worn it with long high-waisted white flares and heels too. I also love it with those baggy-sided tops, the ones where you get a bit unsure which bra to wear underneath, and maybe with ripped jeans and flip flops on a summers day could be cool.
Here's mine on holiday: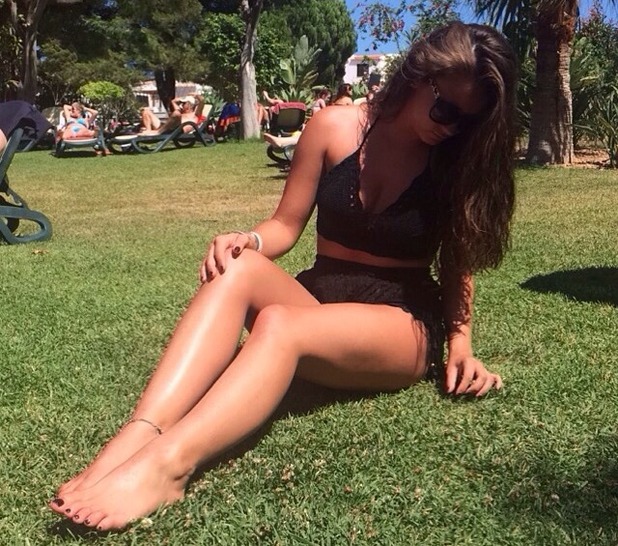 To be honest, I have no clue why I'm looking like I'm doing a photoshoot around the pool haha!
Catch Up With The Ex.
So another female friend joined us on holiday, the lovely Sacha Parkinson / Sian Powers. We are still so close as are our mums, so it was lovely to catch up. As usual, we were our very giddy selves.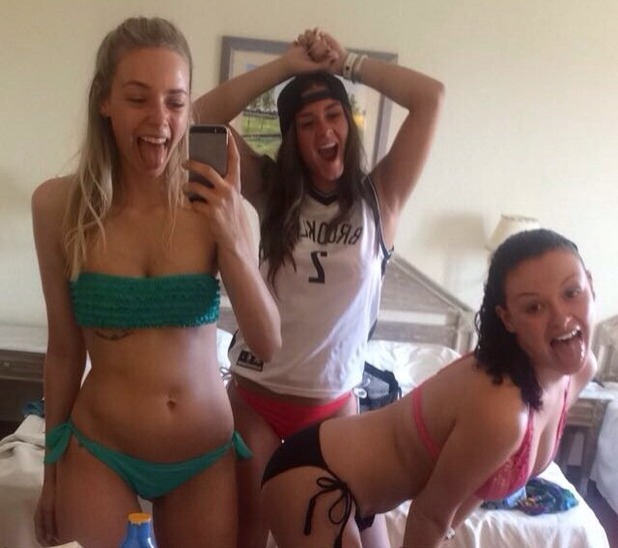 On a serious note (just because we have experienced it on holiday with one of our girls), if you have medical conditions, make sure to really press on them on holiday.
Rachel has diabetes and the restaurant gave her full fat coke, instead of diet, which really made her blood sugars rise. It can be really dangerous and difficult sometimes with the language barrier. Don't forget to look after number one!!
Holiday Purchase.
So as I told you, when I'm bored I tend to usually buy things! Not that I need any more 'things' but I decided to buy a new necklace and some new sunglasses. As usual, my mum was like 'Brooke seriously WHY are you buying more **** to go in that room of yours?' But then she understood where I was coming from as the currency exchange rate made it a good deal :).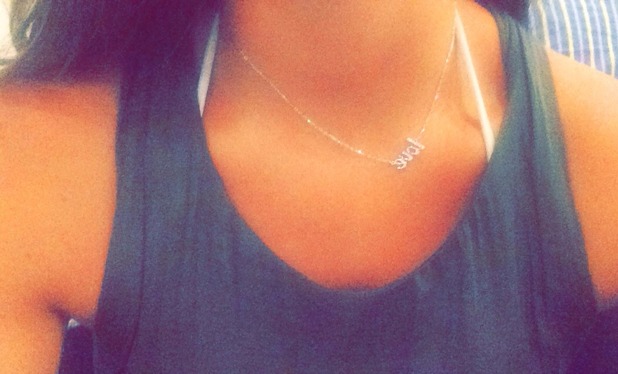 I love my necklace. It's very sparkly and I love how short the chain is. I normally buy fashion necklaces, then have one or two special ones. This will be added to the collection.
My new sunglasses I also love because they are aviators and nobody can see your eyes! I love that, especially if your being nosy, nobody can tell! I don't have a pair this style AND they were in the sale. Here they are: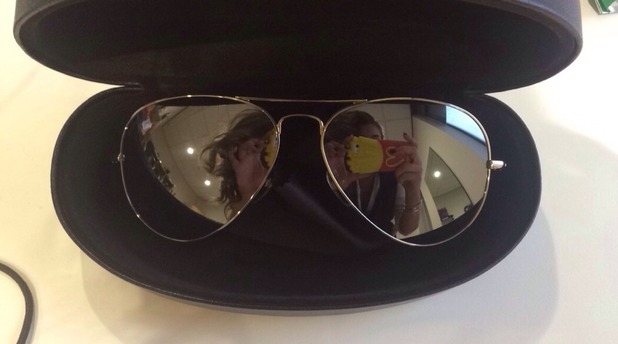 Outfits In Pictures.
Here are a few pictures of me and the girls from our holidays.
Night one... I had a zig-zag printed floaty dress/top tucked in with denim shorts and brown wrap up shoes with gold hoops and straight hair.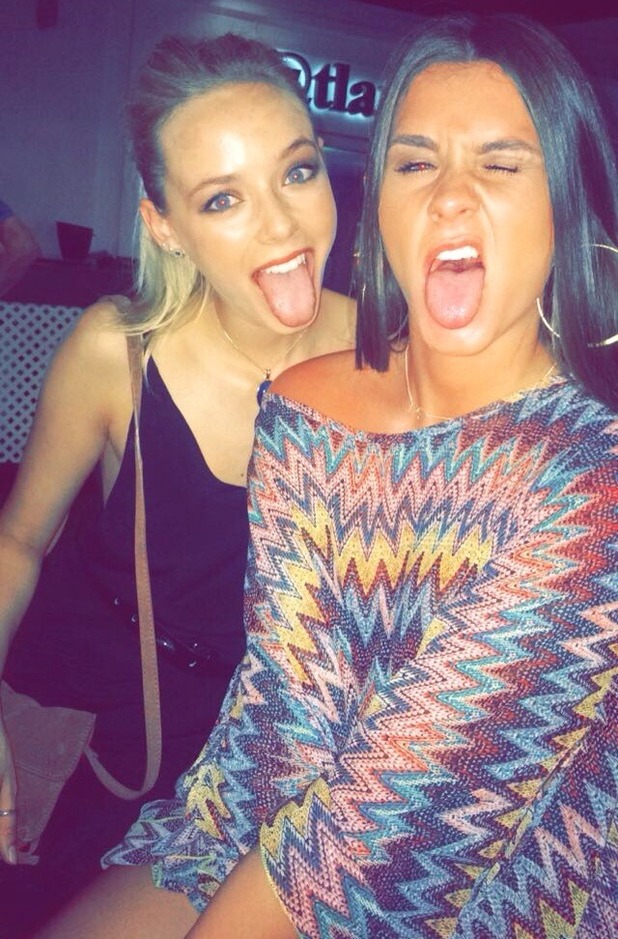 Night two... I went with my favourite outfit to repeat which is my playsuit! I love this, I take it every time I go away it just looks so fresh and summery.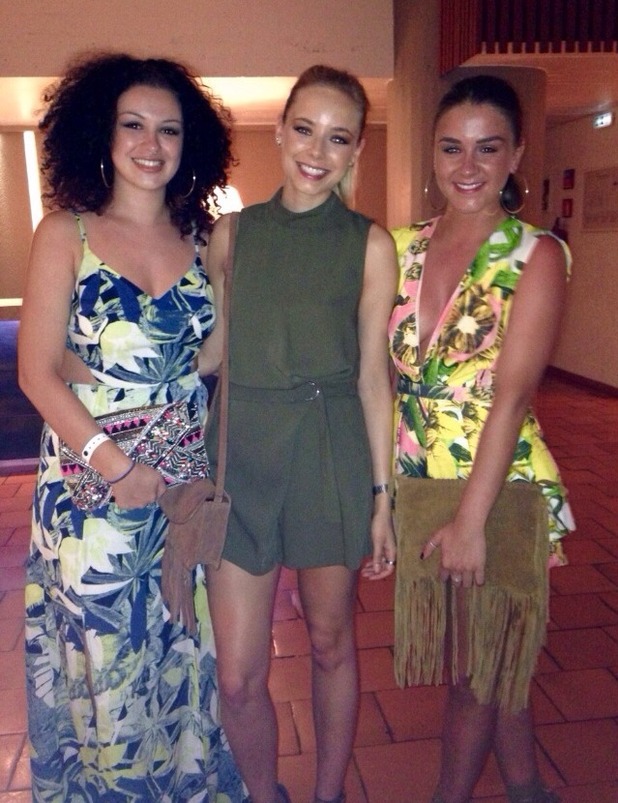 Night three... One of my favourite looks of all time, no matter what time of year or what style, is monochrome. I wore a little black top and white shorts with white shoes.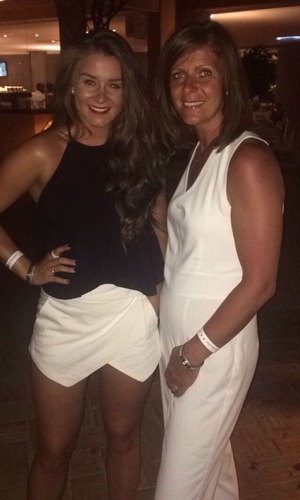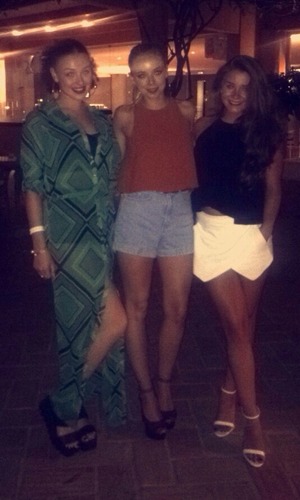 Kodak Moment.
I got a lovely picture from Michelle Keegan's wedding of me and Katie (Michelle's cousin and bridesmaid). It was just a quick action shot, but I really love it. Kate and I get on great as well.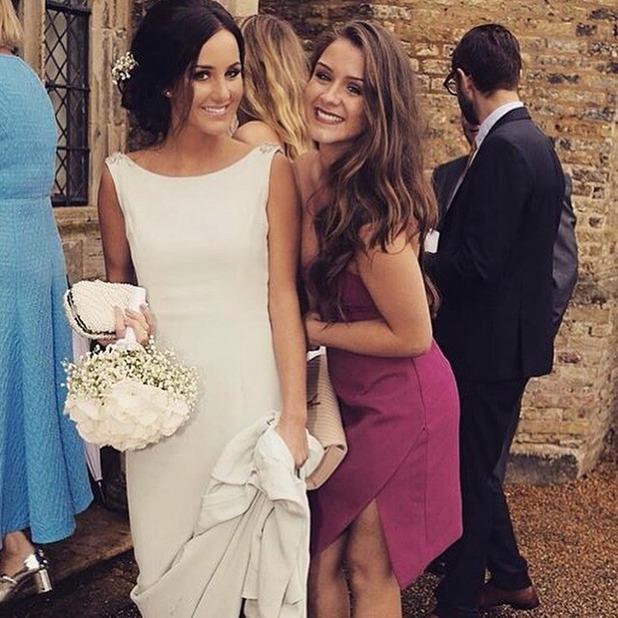 Happy Birthday...
Happy Birthday to my beautiful God-daughter Minnie who was one this week. I bought her a lovely little bikini from my holiday. I just had to because it was so cute! She's also going on her holidays soon, so it will come in handy and I can't wait to see her in it. Here's a look.... How cute?!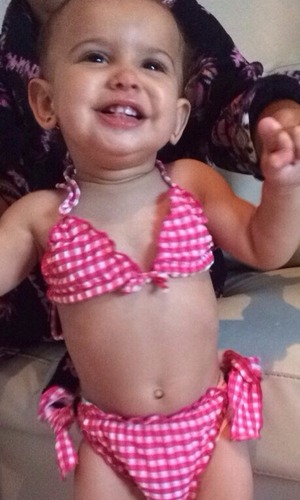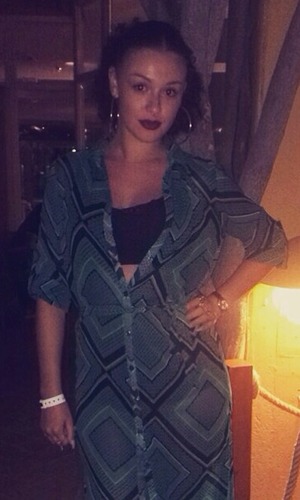 Also, happy birthday to my friend who I'm away with Danika. Me and D have been friends since we were five years old and went to primary school together. It's so nice to keep in contact with people.
Have a nice day!
Peace Up Reveal,
Brooke xxx
For exclusive competitions and amazing prizes visit Reveal's Facebook page NOW!