Bruno Mars and Ed Sheeran have mocked the Taylor Swift and Nicki Minaj Twitter row with a few 'harsh' words of their own!
We already know chart toppers Ed and Bruno have a way with words when it comes to writing hit songs, turns out their pretty quick witted with 140 characters too!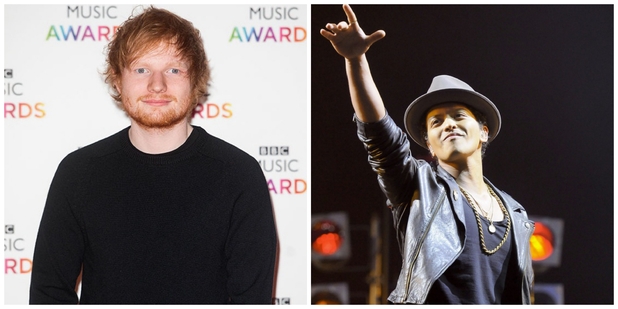 Taylor and Nicki had an online spat after
Nicki snubbed the VMA awards and Taylor waded in,
thinking Nicki was referring to her 'Bad Blood' video.
Bruno decided to make light of the awkward situation, which has proved way more entertaining than the original drama!
The exchange kicked off when Bruno sent a tongue in cheek message to Ed, saying: "Yo, I want in on this twitter beef!! VMAs is the new WWF!! @edsheeran f*** you!"
'Thinking Out Loud' singer Ed fought back, telling Bruno: "any way we do this you gon' come up short." Ooh we like this feisty Ed!
Bruno replied with a few name puns, telling Ed: "Show yourself!! That cut deep. You always know how to sheer me to the core. I can't believe we're Sheerin' this in public. How dare u!"
Ed took the opportunity to whip of his renowned rhyming skills at this point, mocking Bruno's eyebrows, which is about as insulting as it gets these days! He said: "but all my crew know that Bruno has eyebrows dat be uno. And plays Cluedo with SuBo, but you lose coz you blow"
Yep, "SuBo" aka Susan Boyle has just been unwittingly dragged into the whole debacle, is no one safe?
And she isn't the only one. Poor
Kim Kardashian got caught up in Taylor and Nicki's row
earlier today when she timed her selfie caption very badly...
For exclusive competitions and amazing prizes visit Reveal's Facebook page NOW!