Jeff Brazier has revealed his sons remember their late mother Jade Goody on a special 'Mummy Day' on the 15th of every month.
Big Brother
star Jade was just 27 years old when she died from cervical cancer in 2009, leaving behind sons Bobby, then five, and Freddie, then three.
Her former partner Jeff has raised them as a single father.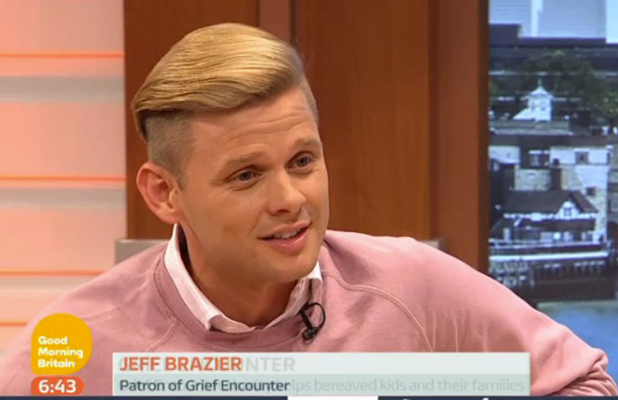 Former
Shipwrecked
star Jeff appeared on today's ITV's
Good Morning Britain
to speak about his work with the charity Grief Encounter and how his own kids had coped with their loss.
Jeff said: "It's been a great six years because we've come so far and the children are doing incredibly well so we must be doing something right. The mistake that some people make is to get rid of grief and try to suppress it and ignore it so it goes away. 'Come on, don't think about mum, it's alright.' But that's rubbish. You have to manage your grief and it's good to express your feelings and emotions and that's what's good Grief Encounters."
He said: "On the 15th of each month, that's 'mummy day'. We can talk about her obviously at any time and we do, but the 15th of the month means we are particularly focused on it."
"We will release balloons or we'll write letters and post them, whether they think they are going to get there or not it doesn't matter, it's expressing," he continued. "It's writing those memories down, those thoughts and those feelings and even if it's sad and something that you perceive as being negative, it's not hurting them.
"It's hurting them more not to talk about it, than it is to actually put it down on paper and do something with it."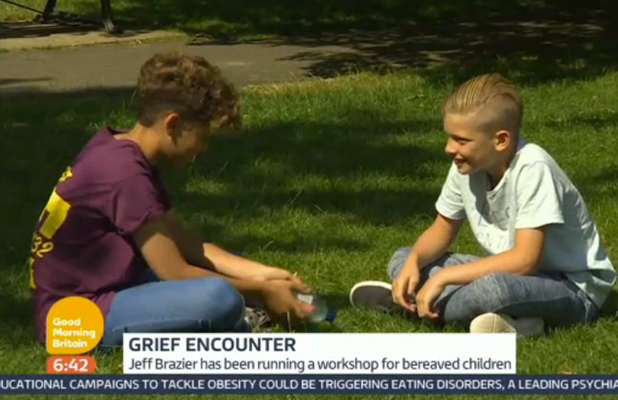 Jeff said his sons are doing "incredibly well" and regularly speak about their late mother, putting that down to their conversations with Grief Encounter and how he is raising them.
"[They are doing] incredibly well, really a lot to do with the charity [Grief Encounter] and a lot to do with the things we do on a regular basis such as talking about their mum all the time, having those triggers round the house that are going to make them talk and the pictures, the memories that will always enable us to keep her very much an open subject of conversation."
Jeff also touched on how he coped in the aftermath of Jade's death, saying he wanted to protect his sons so took them out of the country and away from the spotlight.
"I turned to Australia. I remember as soon as it happened my natural instinct was to take my children as far away from the media circus as I could possibly go and I found myself booking a ticket to Australia. We went out there for three weeks just to really sort of take stock and try and find our feet amidst everything that was going absolutely bonkers at the time. But Grief Encounter were there from the word go as well and yeah, it was a lot to get your head around."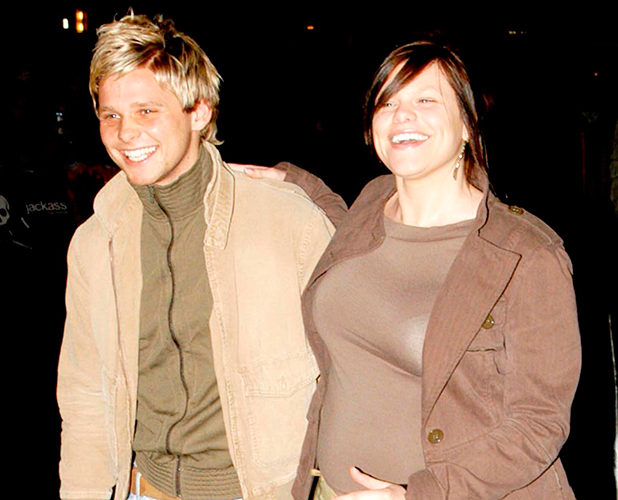 Jeff spoke to Reveal about the boys in 2014,
saying: "We go to mummy's special place quite a lot, and they always run around and play hide and seek and things like that. It's a beautiful place and there's never any negative sentiment around, we're positively remembering. Those things are going to keep the memory alive and it's my responsibility to make sure of that.
"If you don't talk about her and you don't mention things quite as much as we do then one day [I worry] it will suddenly hit them, and they'll say "mum's not here. We do balloon releases on Mother's Day, Birthdays and Christmas. That's our way of putting a message on a balloon and the sentiment is that we're sending the message up there. They really enjoying doing that."
Try Reveal 's digital edition On iPhone & iPad. Subscribe now!