Coronation Street's Jack P Shepherd has been pictured pretending to urinate on the Emmerdale street sign.
The photograph was published in The Sun today. The newspaper claims Jack was visiting the rival soap's set when he took the image as a joke and tweeted it around 3am before deleting it to avoid fan backlash.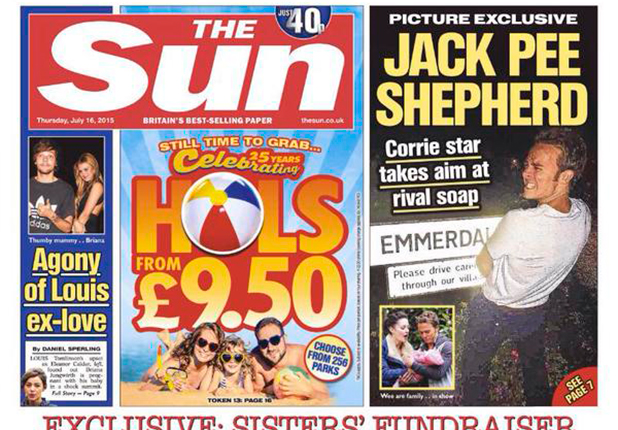 A source said: "He thought it would be funny to pose for this snap and posted it online but took it down within seconds. Jack knew this could get him in trouble. There's big rivalry between the soaps but the ITV bosses don't want any headaches over rows."
Jack, who plays David Platt in
Corrie
, was not commented.
ITV's annual summer party took place at the
Emmerdale
set this year, so the stars of
Corrie
and
Emmerdale
were mingling together when the picture was taken.
A source said: "This [picture] was obviously just hijinks at the end of a great night."
Reaction on Twitter varied from those unimpressed by the photo and those who backed Jack and said he was clearly just messing around.
Get a sense of humour and leave @JackPShepherd88 alone!its a JOKE

— paul brookes (@bruxie999) July 16, 2015
@MirrorTV @DailyMirror @JackPShepherd88 @emmerdale if it's that painful to pee go see a doctor

— Katatafish (@Kat_Katoushi) July 16, 2015
@jackPShepherd your Yorkshire citizenship will be revoked apologise now.

— NORTHERNBULL (@davehutchinson5) July 16, 2015
@MirrorTV @MirrorCeleb @JackPShepherd88 @emmerdale It just looks like a drunken joke!

— ann paterson (@pattrice) July 16, 2015
@MirrorTV By the look of @JackPShepherd88 face it must be a joke. I don't think he would be that childish to do that to the @emmerdale sign

— MummyOfTwo (@princesshxox) July 16, 2015
@MirrorTV @DailyMirror @JackPShepherd88 @emmerdale Jack putting the P in Shephard.

— POP (@samcro1882) July 16, 2015