Weather reports and Taylor Swift made for an unlikely, but incredible pair when Fox 5 weatherman Mike Thomas incorporated Swift lyrics into his report
When Taylor's 1989 tour hit Washington DC it seems the local news channel caught Swift fever! The weather station stuck a load of
Taylor Swift
lyrics into their usual report, and it's amazing how well her songs lend themselves to the job...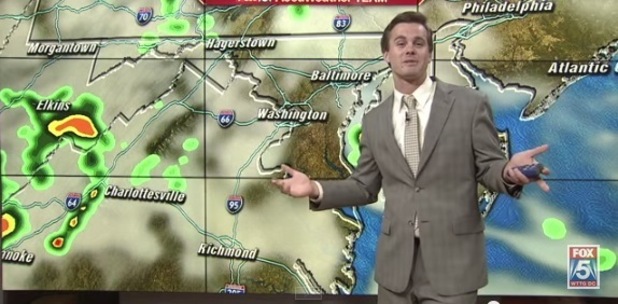 The grinning weatherman seamlessly meshed the usual weather based lingo with a few well known Swift lyrics, coming out with lines like: "The good news is this rain keeps cruising, can't stop won't stop moving."
And Mike got very into the 'Out Of The Woods' part, saying: "The question then becomes, are we out of the woods yet? Hey, are we out of the woods yet? Are we out of the woods? Are we in the clear yet? Are we in the clear yet? Are we in the clear? Well, I can't promise you that!"
This part was a bit clever because both weather
and
the concert were referenced, genius work, Mike!: "I'll let you know if it's going to rain for ever, or if the concerts going to go down in flames."
But spare a thought for those watching who weren't Taylor fans, and would've been totally confused when this suggestion was made: "It'll be a great night to dress up like hipsters and make fun of our exes."
But Swift fan or not, Mike ended with some great advice for bad weather! Telling viewers that: "If it does rain, just shake shake shake all that rain off, and go right back to dancing like you're 22! Enjoy the concert tonight."
Taylor was pretty pleased, tweeting: "Never change, Mike the weather man. Never change." We couldn't agree more, and next time Taylor brings her show to the UK we'll be watching the weather reports
very
eagerly!
For exclusive competitions and amazing prizes visit Reveal's Facebook page NOW!