Louis Tomlinson joked he was going to become a father on April Fool's Day three years ago.
The One Direction star's tweet has hit the headlines again today following the surprise news that he's reportedly
expecting a baby with his stylist friend Briana Jungwirth
.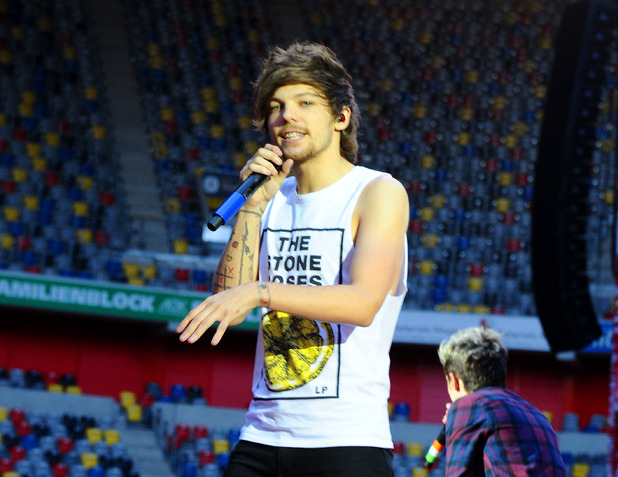 News broke in the US overnight that US-based stylist Briana is pregnant with the singer's first child, although reps for Louis have not commented on the claims.
Can't believe I'm going to be a Dad! Wow!!

— Louis Tomlinson (@Louis_Tomlinson) April 1, 2012
The internet has gone crazy with memes and fan reactions, with plenty pulling up Louis' old tweet from 1 April 2012.
He had posted an April Fool's joke reading: "Can't believe I'm going to be a Dad! Wow!!"
Louis was dating long-time girlfriend Eleanor Calder at the time. They split earlier this year. It's thought he was introduced to Briana via mutual friends in May and although they're not in a relationship, they remained friends and he will support her throughout the pregnancy.
louis april fools joke from 2 years ago has finally caught up to him pic.twitter.com/DavFbscksb

— yung a (@narrydelcraic) July 14, 2015
did they move april fool's day to july I'm having so much trouble processing this as an actual thing http://t.co/FJIBRNZgOk

— - s - (@hearts_hypnotic) July 14, 2015
I can't believe @Louis_Tomlinson is going to be Dad!!! Excuse me,is it April Fool's Day???hahh??
#OhNoLouis pic.twitter.com/Xfem9thIR3

— Vintage Directioner♡ (@onedire79089870) July 15, 2015
'Louis Tomlinson is going to be a dad' He tweeted it 3YEARS AGO! AND on April Fool's day! Does that mean anything to some people!?

— nialler's princess x (@bluey_balloon) July 15, 2015
It's no longer an April Fool's joke. Hi, Daddy Louis! https://t.co/hEa42K93ai

— The BOUNCE (@1013TheBOUNCE) July 14, 2015
@Louis_Tomlinson STOP THIS!
Today is not April fool's day!
:'(

— Lu Tomlinson Styles (@valeria_1_1991) July 15, 2015
Totally stunned by that Louis Tomlinson baby news. Is it April Fool's Day?

— Katy Forrester (@KForresterUK) July 14, 2015
when I read louis was gonna be a dad for the first time I was so shaken I legit had to make sure it wasn't April fools day

— njh (@1directionerpro) July 15, 2015
"Louis Tomlinson is going to be a dad" ...I'm not sure if you were aware but April fools day was like 3 months ago....

— sarah ; 37 (@creamcheesemuke) July 14, 2015