Peter Andre and Emily MacDonagh look blissfully happy in their first photo as newlyweds.
'Mysterious Girl' singer Peter shared this sweet image to Instagram showing him carrying new bride Emily across the threshold of their home.
Aww!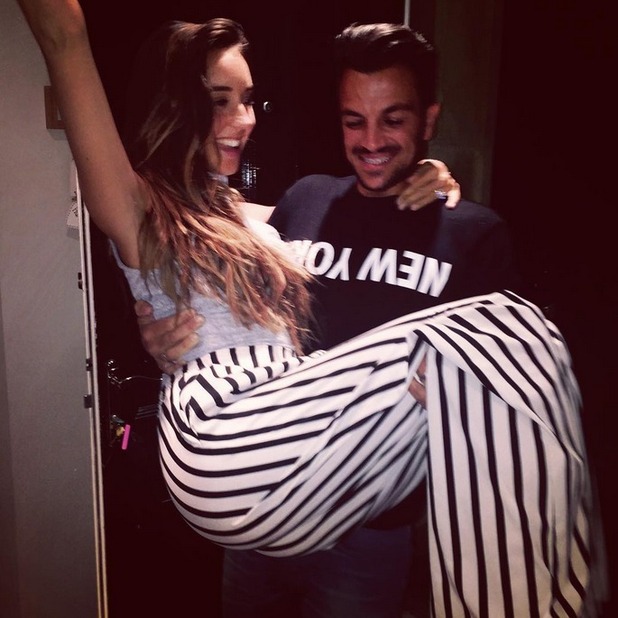 Peter and Emily had a
country wedding at Mamhead House in Exeter
over the weekend. It was planned in just six weeks after Pete decided to move up the date of their wedding as he was concerned his poorly father may not be able to fly next year.
The couple's daughter Amelia, 18 months, had a part in the ceremony, as did Peter's children from his marriage to Katie Price: Junior, ten, and eight-year-old Princess.
Peter and Emily became engaged in January 2014, the day before Amelia's birth. Initially they had planned to marry next year, but
Pete admitted just last week that the date had crept forward.
..
No one knew just HOW much forward!
He had said on 2 July: "It was going to be next year but I think we're going to do it this year now because it's nicer. Basically I'm a man and I can't plan too much but yes, definitely this year... if she says yes!"
It's been a great year for the couple: as well as getting married and celebrating their daughter's first birthday, Emily has now graduated from medical school as a qualified doctor and is now working at a local hospital.
Katie Price vows she won't talk about Peter Andre or the past anymore: "I want a new path"
Peter Andre jokes "where's the bump?" as pregnant wife Emily shows off her tummy
Katie Price laughs as Pete Andre's autobiography is placed next to hers in shop