After Ted was fired from his job at the grocery store for not being a person (in the fantastic Ted 2!), he decided to embark on a new job in showbiz journalism. So he applied for work experience with Reveal! Here's what happened when he visited us for the day...
7am:
It's an early start for Ted. We usually get the tube to work but Ted wanted to take the bus so he could see the sights. He made us sit on the top deck. Tourist.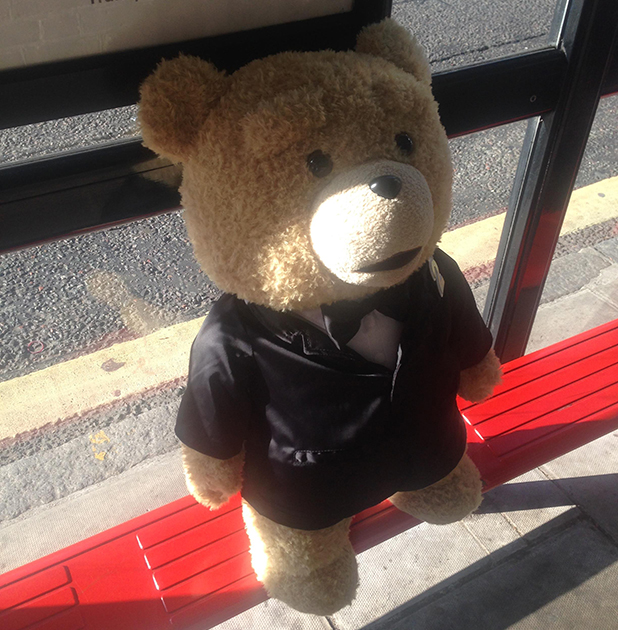 8am:
Coffee, coffee, coffee! A quick stop at Starbucks before work reveals that Ted's coffee order is a full fat Americano with extra shot, caramel and vanilla flavouring. He wanted a Frappuccino with cream. We put our foot down. Too early in the day!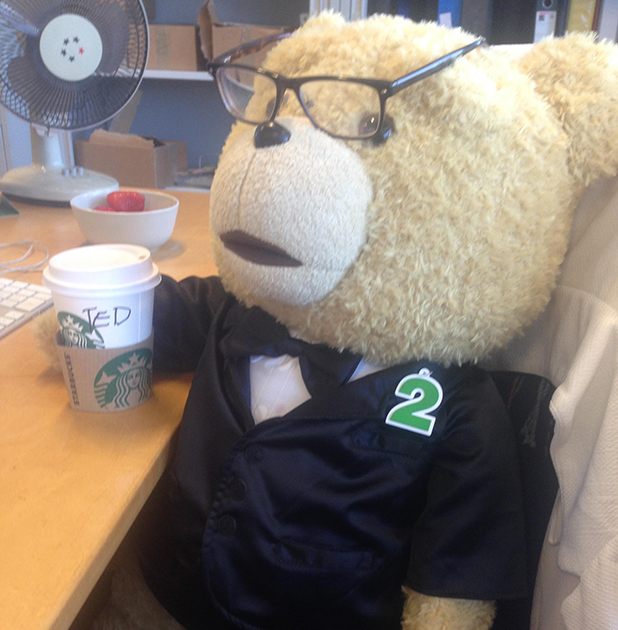 10am:
Morning meeting. Ted's full of ideas for the next issue of the mag. Unfortunately most of them are NSFW.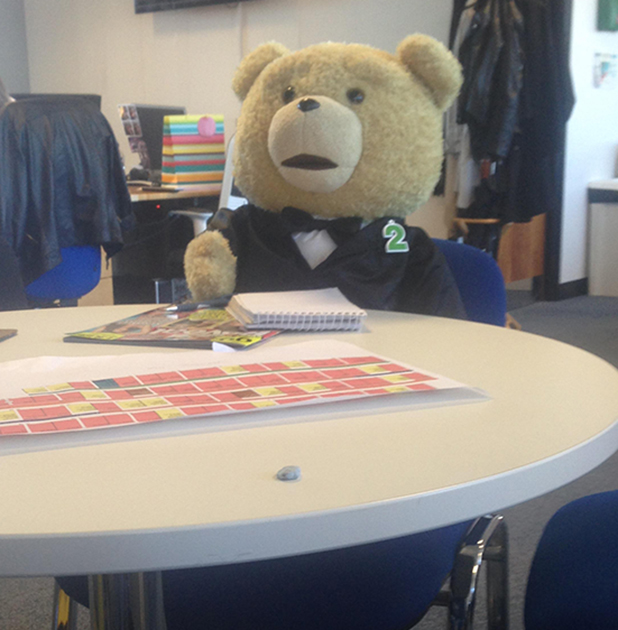 10.30am:
#TeamNiall. Ted's a bit mesmorised by One Direction's Niall Horan. Obvs. Who isn't?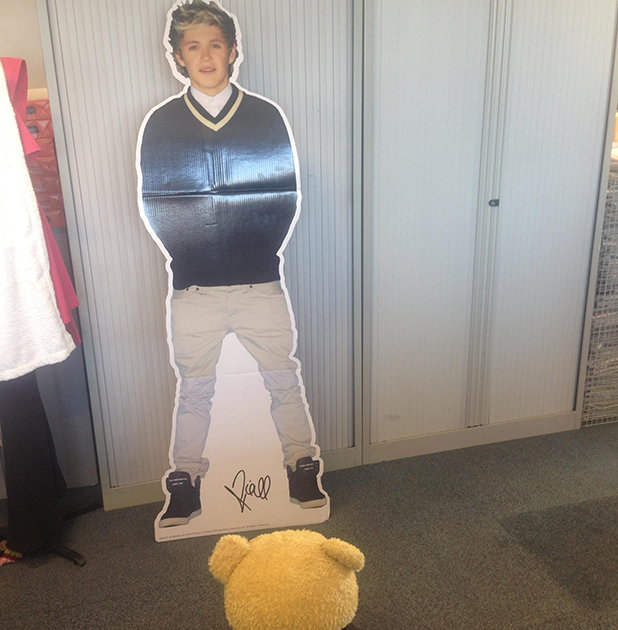 10.45
Now he's proving he's the best
man
teddy to replace Zayn. We prefer his 'What Makes You Beautiful' rendition to 'Best Song Ever'. But ssh. We told him they were both fabulous.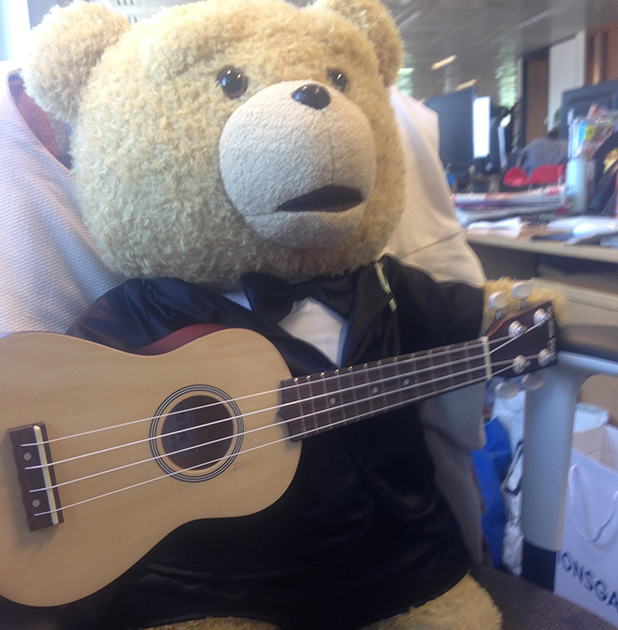 11am:
He's been tasked with filing. He's not enjoying it too much. He'd rather be downstairs in the studio working on this week's celebrity photoshoot.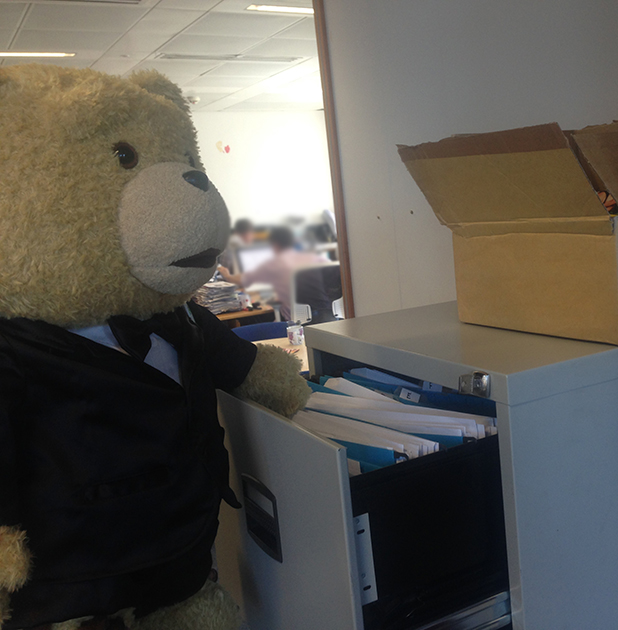 11.30am
Naughty Ted! We caught him trying to sneak down to the studio so he's been put on desk duty transcribing an interview. He's actually a v. fast typer.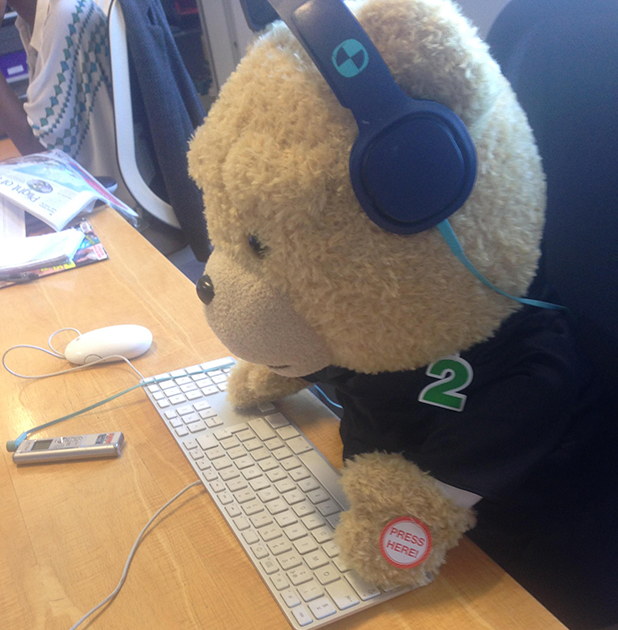 12.15pm
Meeting the other work experience students on our floor: Mr Cow and Miss Beaver. Teddy wins for snappiest dresser. Beaver for best hat.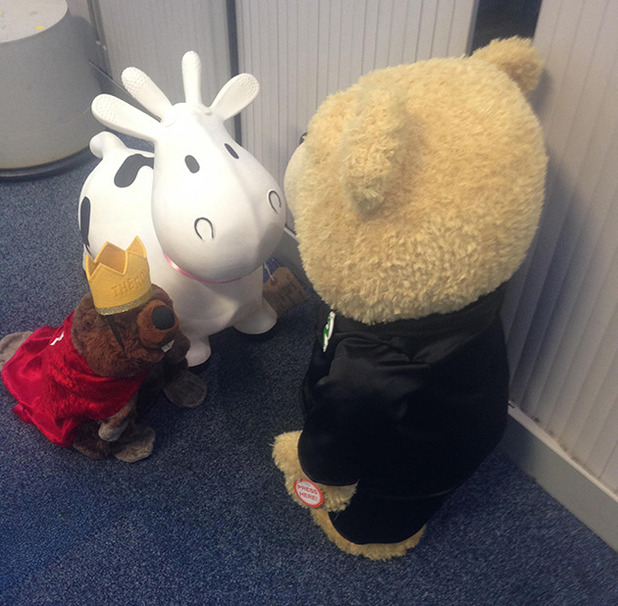 1pm:
Lunch time! Who knew Ted was a sushi fan? We never had him down as health conscious! He tells us that he wanted to get in shape for
Ted 2
so has been working out with a trainer. It's started to slip lately though.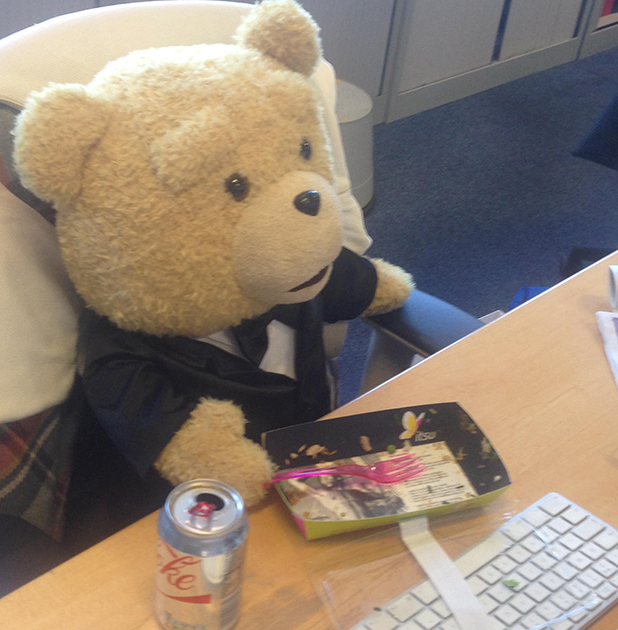 2.pm
After listening to us talk about
TOWIE
all morning, Ted's decided to give an old episode a go on iPlayer. We think that's shock on his face. #SchlongThong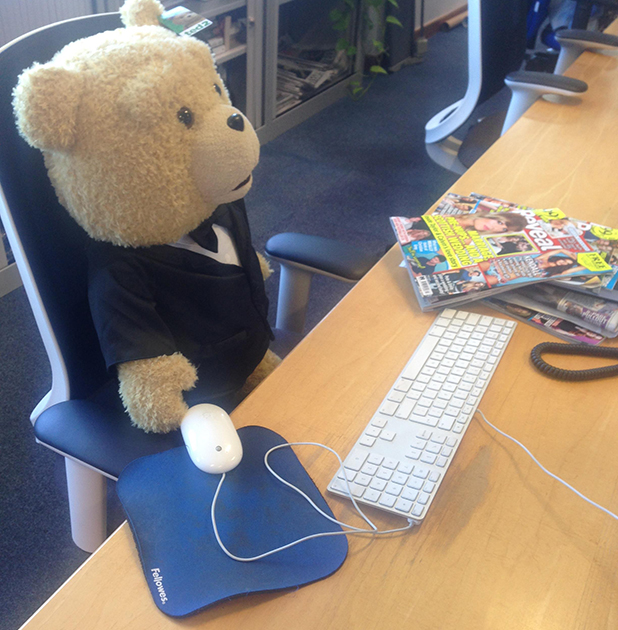 2.30pm
Bunking off! We caught Ted leafing through the new Fifty Shades of Grey book when he should have been answering the phone! He's been shocked into silence. Or perhaps he's taking notes… you've been warned, Tami-Lynn!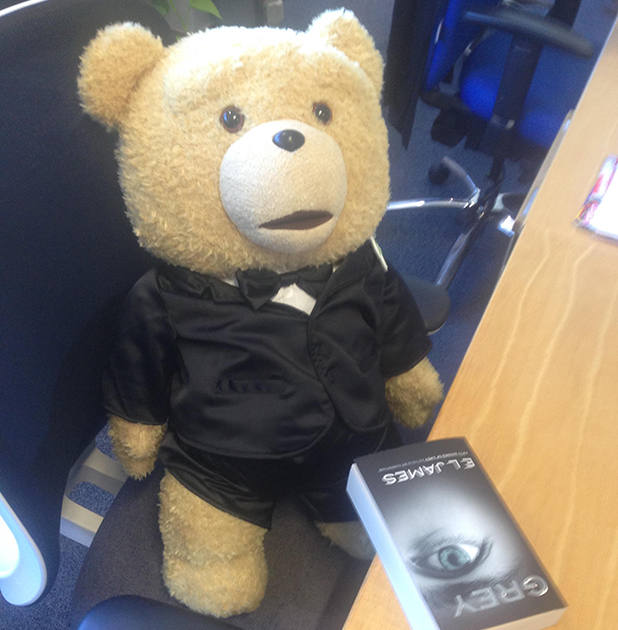 3pm:
Excitement for Murray v Federer at Wimbledon is building in the Reveal office! And Ted's getting in on it too! He missed the whole white clothing memo but he's so excited we don't have the heart to tell him.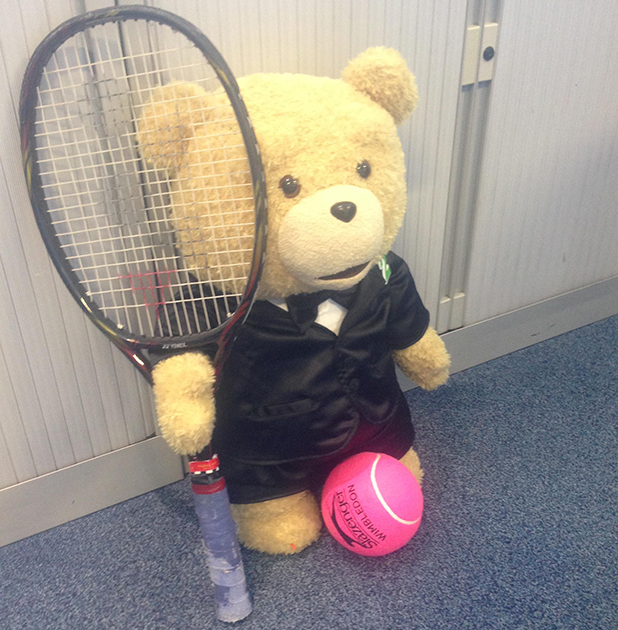 3.15pm
This teddy is a right scamp! We found him taking photocopies of himself! Thankfully his little trousers are sewn in place so there's no chance of any rude pictures floating around… We think!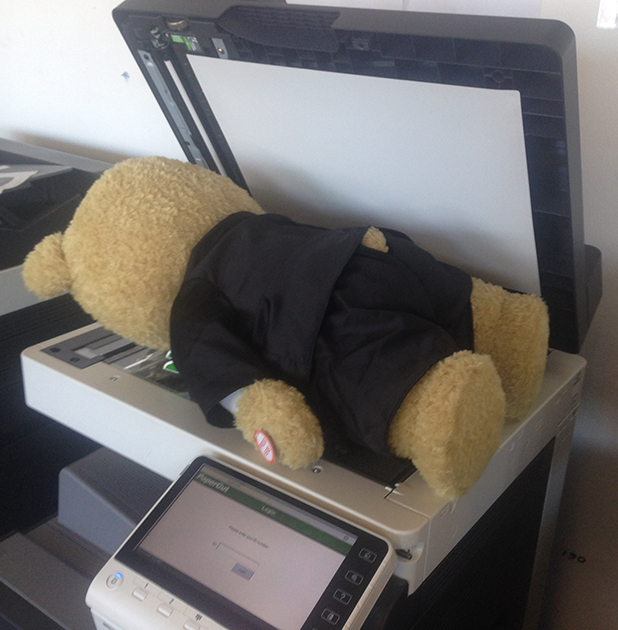 3.30pm
Admiring our
TOWIE
calendar and taking inspiration from James 'Lockie' Lock's rather buff bod. He's just told us he's signing up for the gym tomorrow as he's off to Magaluf next month.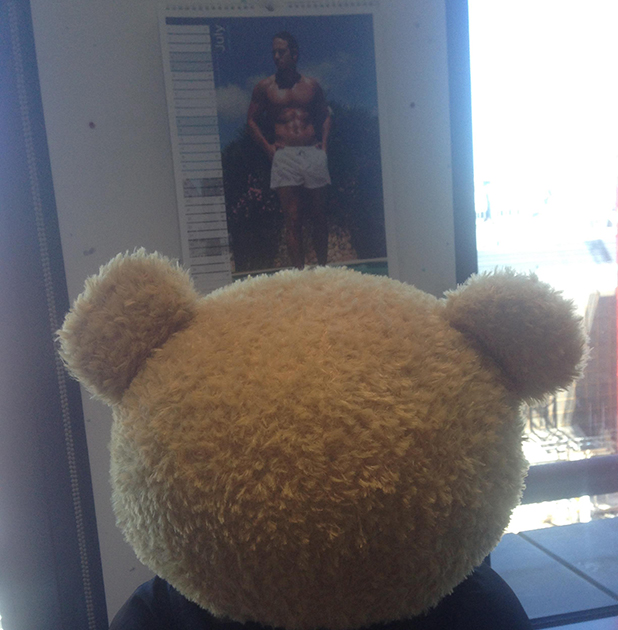 4pm
He's only been here a day but he's already signing an office birthday card and promising to take the birthday girl out for drinks. Cheeky!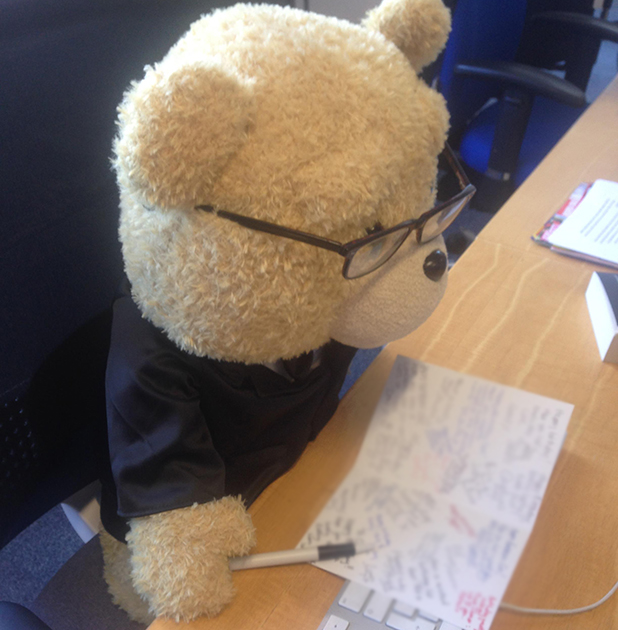 4.15pm
Bless. It's been a tough and long day for the little ted. We've just found him curled up under his desk fast asleep. Aww! Should we wake him before we head to the pub later?!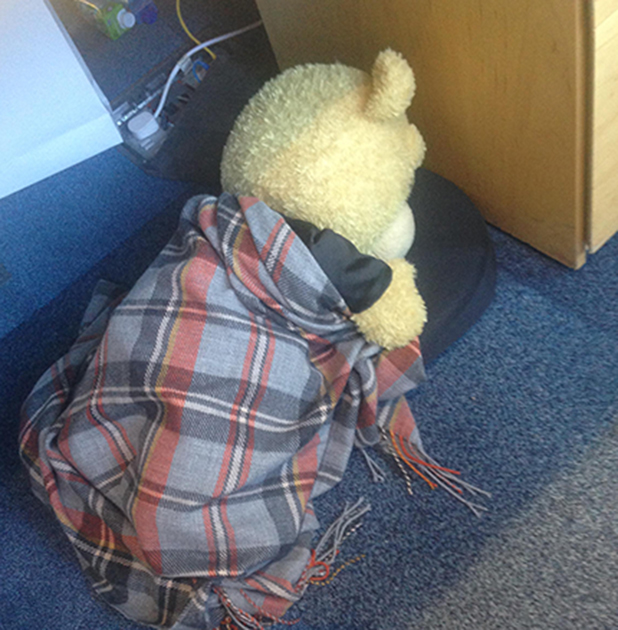 Ted 2 is cinemas NOW!