TOWIE's Gemma Collins has vowed never to speak to Bobby Cole Norris again following last week's row.
The fashion designer and boutique owner
threw a drink over Bobby after a fight at a pool party
where she accused him of not standing up for her, while he felt she'd thrown him under the bus.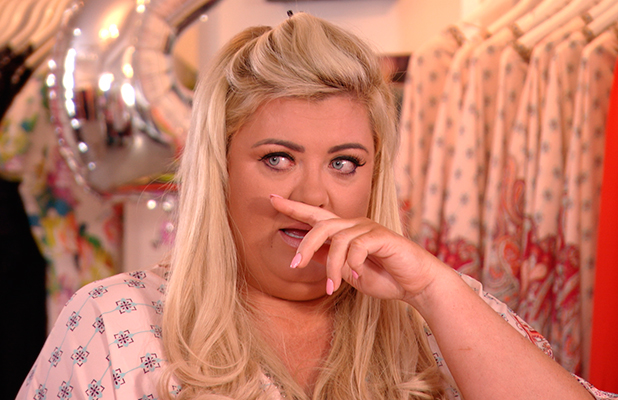 It all kicked off because of Gemma's on going tensions with Vas J Morgan and Lauren Pope. She went to talk to them – and then said Bobby had been doing impressions of Lauren.
Bobby retaliated by saying that had been Chloe Sims, not him and demanded Gemma tell the truth. Gemma walked off, Bobby followed her – and he ended up having a drink thrown over him.
Speaking on last night's episode as she celebrated her boutique's second birthday, Gemma became tearful as she said: "I'm so upset about it. Bobby had said to me, 'Whatever you do Gem, I want us to go over there but do not leave.' I was like, 'Bobby, I won't leave you.'
"Lauren and Vas steamed in at me so bad and Bobby kind of just stood there through the whole thing. I was speechless. I didn't even expect it. Even today, the whole day has been ruined. Bobby isn't here. It was just so upsetting the way Bobby didn't stick up for me."
Ferne McCann cut in to say: "The sad thing about this whole situation is Bobby. You are him are like brother and sister. I hope this isn't the last straw."
"No," said Gemma. "It is. To not back me up is the most hurtful thing. I don't have any fight left in me. That's when you know I'm done. I cannot fight anymore. That's how hurt I am. I will never speak to Bobby again."
Bobby responded to the pool party row via Twitter,
saying: "At the pool party when Gemma walked away I was calling her back so she could explain to Lauren what had actually happened. However, Gemma didn't return, but the truth is that she asked me more than once to do an impression of Lauren and I said I couldn't do it, but I attempted it and then Chloe did her impression.
"I was at no time trying to throw Chloe under the bus (not that there was much room with me already under it) but simply trying to explain the FULL story."
Ten reasons we want to be on TOWIE!