Almost a year after their X Factor auditions, we chat to Stereo Kicks about Louis Walsh, what they think of 1D, and their take on the show's new judge...
It's hard to believe that last summer, eight hopeful soloists – Jake Sims, James Graham, Casey Johnson, Tom Mann, Barclay Beales, Charlie Jones, Chris Leonard and Reece Bibby – auditioned for the 2014 X Factor as strangers.
Now, 10 months on, they're better known as
Stereo Kicks
. And after enduring drug scandals, love rivalry and a bitter fallout with their former mentor Louis Walsh, the boys have released their first single, Love Me So.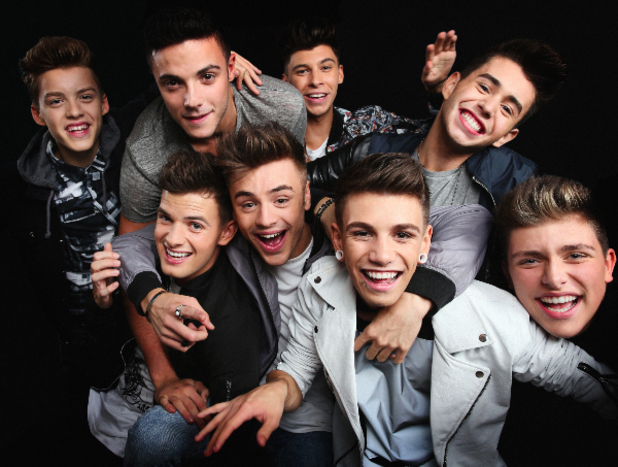 Congrats on your single, boys. What can we expect?
Casey:
Thank you. We're so excited but a little bit nervous about it.
Jake:
It's an emotional power ballad but it's not your typical generic boyband tune.
Reece:
I think naturally we're not like that. We're not just pretty faces, we can all sing. We're not just a band put together by Simon Cowell because we look good.
If you were to enter The X Factor again, what would you change?
Jake:
I think we'd insist that we all had a chance to show our abilities. James and Reece are great guitar players and I don't think we were able to show that.
Tom:
We asked if we could do something acoustic but they didn't want to show that side of us, which sucks for us.
We've heard you had a falling out with Louis. Do you still speak?
Jake:
No. We've deleted his number but there are no hard feelings.
Why delete his Number?
Jake:
We don't really care about talking to him to be honest. He doesn't offer anything to us. Once we left the show, we were no longer working with him.
Louis and Cheryl are rivals, did they bicker backstage?
Casey:
We didn't see any drama. Without taking sides, I disagree with Louis calling her lazy. Cheryl took the time to get to know her acts. Unlike Louis, who couldn't remember your names…
Jake:
Louis is fine. He has other ties. He had to mentor us. It was his job.
Casey:
People thought he had taken us under his wing, but he was our mentor on the show, and that was it. I don't think any of us care we're not in contact with him.
James:
We're not his responsibility. Unless you're signed to Syco [Simon Cowell's record label], you don't speak to the judges.
Have you listened to his new boyband? Are you a bit p*ssed off he's chosen them over you?
Jake:
No, we haven't heard them. What are they called again? Homeward Bound? HomeTown!
Now Zayn Malik has left One Direction, do you think you could overtake them in the charts?
Jake:
One Direction are still the biggest band in the world and they're absolutely killing it. They're amazing.
Casey:
They're selling out stadium tours so I don't think they're in any trouble or panicking. They're smashing it. We'd just like a bit of their fame!
Would you regret leaving if you were Zayn?
Casey:
He had five years of being part of the band and he had his reasons for leaving. I think he was entitled to leave.
Jake:
For us it's easy to say, 'I can't believe you left 1D', but nobody knows what happened. Good luck to him.
Zayn said he wanted to spend some time away from the public eye. Does it all get too much?
Jake:
We all knew the career path we wanted to take and we all knew what came with being in a band. We love all the screaming girls. They wait outside the venues, it's amazing.
Do any of you have girlfriends?
Casey:
Yes, I do. I'm going out with Betsy-Blue [English, from fellow X Factor band Only The Young].
Didn't Jake date her too?
Casey:
[Laughs] No. That was just banter.
Do you wish new judge Rita Ora had been on the Panel last year?
Casey:
I think we had a really great judging panel last year. Mel B, Cheryl, Simon Cowell – the boss, and erm…yeah.
Reece:
Rita will be strong and opinionated. She'll be great.
Rita versus Cheryl – who do you fancy the most?
Jake:
They're both nice but we'd all agree on Cheryl, I think…
Stereo Kicks' debut single Love Me So is out now