Fifty Shades of Grey isn't for everyone… and that was clear last night when disgruntled users hijacked a Twitter Q&A with the book's author EL James.
The chat had been arranged to allow fans the chance to quiz EL on the franchise and its latest addition,
Grey
, but among the legitimate questions were plenty of less than complimentary ones…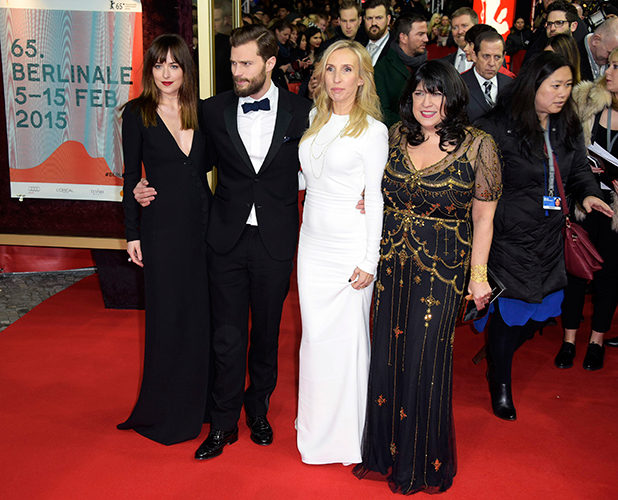 Twitter users hijacked the #AskELJames hashtag to bombard the author with questions about feminism and her writing ability.
Even former
Xtra Factor
presenter Matt Richardson got in on the action, tweeting: "#AskELJames. Is it liberating or restricting having the writing age of a twelve-year-old slash fiction author?"
Meanwhile, over in the US, former
90210
actor Trevor Donovan said: "If I stalk a girl and GPS her car, does that mean it's true love? #AskELJames."
Other examples included:
#AskELJames Which do you hate more
1) Consent
2) The English language
3) strong Independent women
4) All of the above

— Milly (@NouisTeacup) June 29, 2015
#AskELJames

does the E.L. Stand for ELiterate?

— caitlin stasey (@caitlinstasey) June 29, 2015
#AskELJames after the success of "Grey," have you considered re-telling the story from the perspective of someone who can write

— Andrew Vestal (@avestal) June 29, 2015
#AskELJames what's it like telling millions of women it's okay to be in an abusive relationship as long as he's rich.

Asking for a friend.

— matt (@reginaIdkray) June 29, 2015
#AskELJames
Is there a safe word we can use to get you to stop writing such drivel?

— Amanda (@Pandamoanimum) June 29, 2015
#AskELJames why did you think it was okay to teach young girls that a possessive partner who refuses to hear no was romantic?

— jess (mr. 305) (@woIfgangbogdano) June 29, 2015
#AskELJames I need advice on making a BIG romantic gesture. Should I put a GPS tracker in her phone and make threats if she tries to leave?

— Liam Dryden (@LiamDrydenEtc) June 29, 2015
That moment when #AskELJames hashtag is way more interesting than her books

— Laura.. (@5sose31d) June 29, 2015
#AskELJames are you aware that eyebrows can't actually do this pic.twitter.com/5Fc6PI67ug

— lauren (@lburgundy) June 29, 2015
#AskELJames if E.L.James asks for these tweets to stop, does that mean she really wants them to continue?

— Johnny Quid. (@Steelnicks) June 30, 2015
#AskELJames Is it only ok for Christian to stalk, coerce, threaten & manipulate Ana because he's hot, or is it also ok because he's rich?

— 50 Shades is abuse (@50shadesabuse) June 29, 2015
EL James
– who has more than 800,000 followers - ignored those sorts of comments and instead focused on legitimate queries about her books.