Avril Lavigne has made her first TV appearance since she was diagnosed with Lyme Disease last year.
The
'Complicated' singer fell ill and became bedridden in 2014
but it took eight months until doctors came up with a diagnosis, initially suggesting she had chronic fatigue syndrome.
"I was in Los Angeles and it was the worst time of my life," she told ABC News.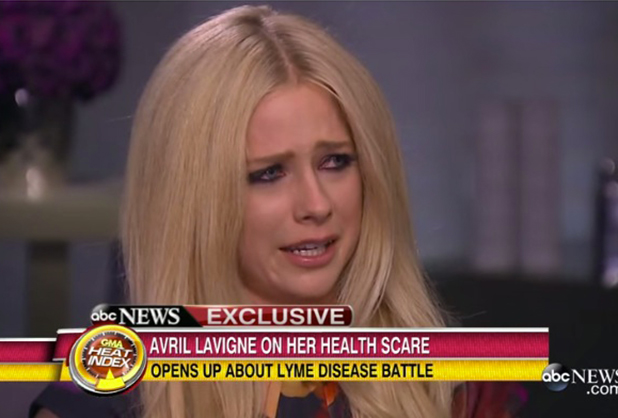 Avril broke down in tears as she recalled the confusion of her pre-diagnosis days, saying: "I literally became bedridden last October. I was seeing every specialist and the top doctors and they would pull up their computer and be like, 'Chronic fatigue syndrome' or 'Why don't you try to get out of bed Avril and play the piano?' It's like, 'Are you depressed?'
"This is what they do to a lot of people who have Lyme Disease. They don't have any answer for them so they tell them, 'You're crazy.'"
The Canadian popstar said she was suffering night sweats and flu-like symptoms and eventually, after researching her own symptoms, she sought out a Lyme Disease specialist.
Avril said she's currently taking antibiotics and getting lots of rest.
"I'm about half way through my treatment. I'm doing a lot better and seeing a lot of progress. The thing that is good for me to know and that I'm really grateful about is I will make 100 per cent recovery.
"For me it's like a second shot at life. I want to get out there and do what I love. I'm so excited for life after this."
Avril will make her return to the public eye at the Opening Ceremony for the 2015 Special Olympics World Summer Games in Los Angeles on 25 July.
Watch Avril on ABC News below: