TOWIE's Tommy Mallet has lashed out at co-star Ferne McCann following last night's episode.
Viewers of the ITVBe show saw
Ferne and Tommy's girlfriend Georgia Kousoulou exchanging words
on a feminist night out after
Ferne branded Georgia a "doormat"
in her relationship.
Georgia became tearful as she told Ferne she was sick of defending her "great" relationship, adding: "Your morals are disgusting."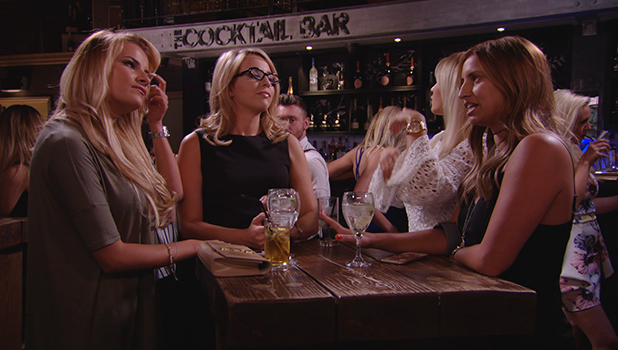 After watching the scenes play out on TV, Tommy had his say via Twitter. Referring to Ferne's past with ex-boyfriend Charlie Sims, he tweeted: "How can you call someone a doormat when you got cheated on and got back with your boyfriend?"
He also said: "Glad people can see both sides of why I lost my temper now..." Another tweet aimed at Ferne read: "How many relationships have you got to get involved in before it becomes a habit? Instead of a "mistake".
"I apologised about being rude to Ferne and she still insists to say I speak to Georgia like s**t..."
Ferne has not responded.
Things became heated between Tommy and Ferne after the Marbella cast holiday, where Tommy accused Ferne of upsetting Georgia by telling her she felt Tommy spoke to Georgia with no respect.
Back in Essex, Tommy confronted Ferne and told her to stay out his relationship. He also branded her "loose", something which outraged Ferne. She said this was character defamation.
Then, on last night's episode, fireworks flew between Georgia and Ferne when Ferne 'fessed up that she'd called Georgia a doormat.
She said: "From my point of view, sometimes I see you as the weaker person in your relationship."
Georgia was angry, saying: "My boyfriend doesn't talk to me bad! I am happy in my relationship, Ferne! You're saying my boyfriend speaks to me whatever way he wants and I'm this poor little innocent girl that takes it. Sorry, but that's disgusting. You can't stand in a feminist group being a powerful woman and then go completely against that. It's not fair. I'm sorry, Ferne, but I'm sick of defending my f**king relationship. It's not fair. "I would never slag you off or any woman in her relationship. I don't think it's right for you to say you're empowering women when your morals are disgusting."
TOWIE
airs Wednesdays and Sundays at 10pm on ITVBe.
Ten reasons we want to be on TOWIE!