Former Coronation Street star Bruce Jones has admitted he was scared of being famous and used to shake in the street.
The actor – who played Les Battersby in the ITV soap – spoke to
This Morning
earlier today about how life had "changed dramatically" since the height of his fame.
He's just signed on for benefits after losing his house.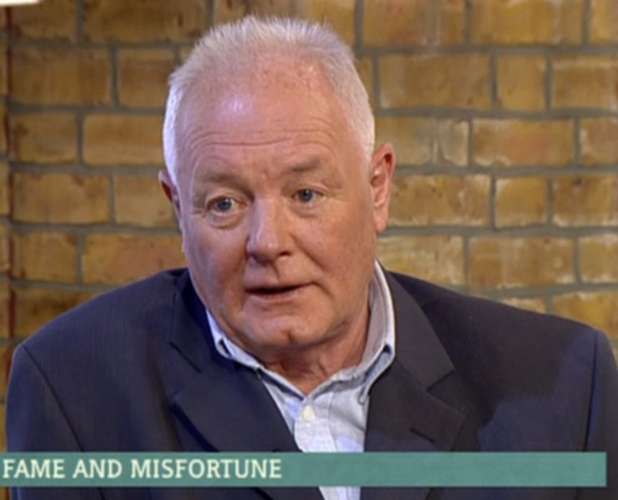 Bruce said: "I was from a council estate and dreamed of being an actor and to get to where I'd got to, that was fantastic. I had my dream as a child. And then due to a stupid newspaper report and stupid stuff really, bang…
"I don't really understand why it fell apart. Some of it was down to me. I was scared of being famous in a way. I really was. I used to shake in the street and I thought, 'This isn't how it should be.'"
Bruce was suspended from
Corrie
in 2007 following allegations he'd made offensive comments and spoken about future storylines while drinking with an undercover reporter.
He said today: "Life changed dramatically. It's not what it was. It's like going back to where I started the dream. You do lose friends but luckily enough I have got friends that have stood by me and they know who they are. They're there for me. And my wife is still there for me."
However, Bruce said he doesn't watch
Corrie
and regret the past: "I just think, 'it's happened, deal with it.' There is no good feeling sorry for yourself. I suffered four years of bad depression and I'm not going back there again. If I start thinking like that you will go back and downhill even further and further."
He added that his pride had stopped him signing on for benefits sooner, saying that perhaps he would still have his house if he'd swallowed it earlier.
"Pride is one of the biggest things in life. But you have to swallow your pride. Otherwise you will get hammered from this side, that side. The benefit system is there as a back up. You're not on there forever. You just want hat back-up."
Bruce's story is told in
Celebs on Benefits
on Thursday, 25 July at 8pm on Channel 5.
For exclusive competitions and amazing prizes visit Reveal's Facebook page NOW!