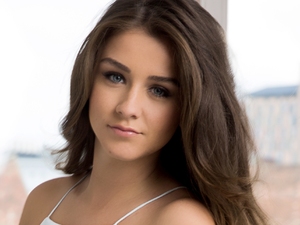 Brooke Vincent exclusively shares her fashion favourites, beauty and style picks and celebrity highlights with Reveal.
Hello everybody,
I hope you're all having a nice week and what a busy one it's been for me! I've just landed back home from the beautiful island of Ibiza.
Pre-holiday prep
So girls, let's face it, this pre-holiday stress we go through is a nightmare. The nail appointments along with hair, waxing and eyebrows, and the debatable question of, 'do I shave my legs the night before or when I get there?' It's a struggle, especially trying to fit it in around your day-to-day life and the beauticians' diary!
In all of the chaos though, I did find a new way of dealing with my nails. Basically, I used to wear acrylic nails but they made my nails very thin and bendy and I got very fidgety sitting there as they can take up to one hour and 30 minutes. Being in and out of the water and putting cream on your normal nail polish can chip easily, so I went with a special gel nail. This is not only quick and easy, it also helps strengthen and condition your nails without damaging them more. The best thing for me, is that it's instantly dry! As I said, I get very fidgety, I like to use my phone, mess with my hair or need the toilet at the exact time of me being finished. The fact I can just carry on with my day instead of worrying if they are fully dry or not helps me out! The lady that did mine had a lot of colours and you can also add glitter and gloss if you want. I loved my nails but the best thing was every single one of them was still immaculate, even after four nights in Ibiza! Here's mine - they look just like nail varnish: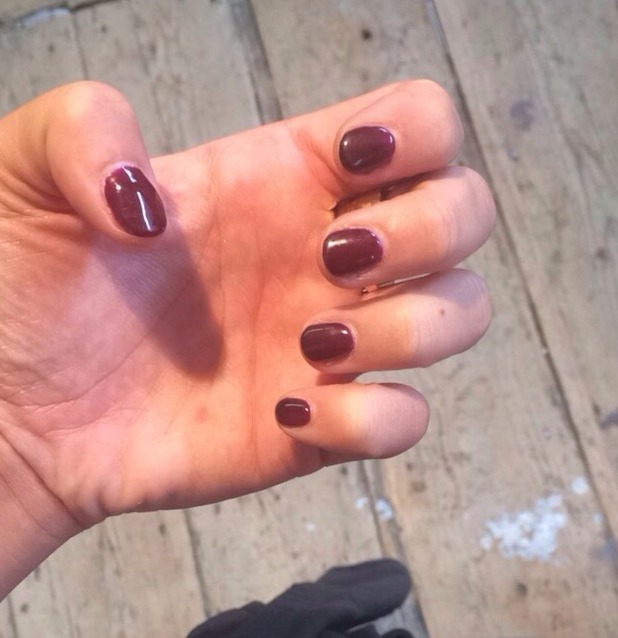 Ibiza Ibiza Ibiza
So there we have it, my second trip of the summer done and dusted. I love Ibiza, but I must say, by the last night I was very tired! I listened to a lot of house music this time, and I'm going to sound so boring now, but I don't always like it. All these mega DJs getting millions for just playing what sounds like one beat all night! Sorry to all the house fans! I'm more of a R&B, hip hop and garage kind of girl. I like to know the words to have a sing along! But I did enjoy it especially because you don't have to put a lot of effort into your dancing with house music - a nod of the head and a two step gets you a long way in Ibiza! We had such good fun, we do this trip every year so it's always good to get on the flight with everyone knowing our holiday has now started.
Ibiza fashion
The best thing I love about Ibiza fashion is pretty much that anything goes. ANYTHING! Last year when I went I just wore trainers and caps every day. But this year, I wanted to wear things a bit more 'holiday'. At home I wear caps and trainers all the time, so I went a little more dressy this year and I loved it. I love experimenting with different looks and outfit styles and Ibiza is one of the best places to do it. Looking about, I saw girls with super cool outfits, to super girly outfits, to just shorts and a T-shirt! Literally anything goes out there. The one thing I wanted to do, but didn't get a chance to, was shopping in the old town. The market stalls there are meant to be amazing. I love that whole boho crop top look and over there you can buy them so cheap!
My holiday look
Night one: I bought this dress last year and loved it, and funnily enough, I saw two girls on different nights with it on. I don't know if they've recycled them or they've started selling it again! I wore my high-waisted bikini bottoms with this so I could open the front of it as much as I wanted, because let's face it, underwear and bikinis have the same coverage yet you can get away with bikini bottoms. Ha! I then wore my hair up out of my face because it gets so hot with my hair down, and then I wore my crossover bag.
Here's my two friends Dave and Scott: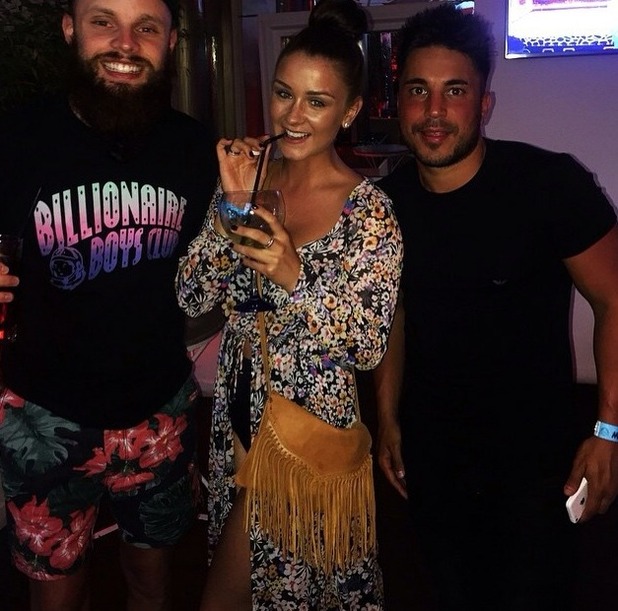 And here is a picture of me with my old friend, the lovely Dean Gaffney: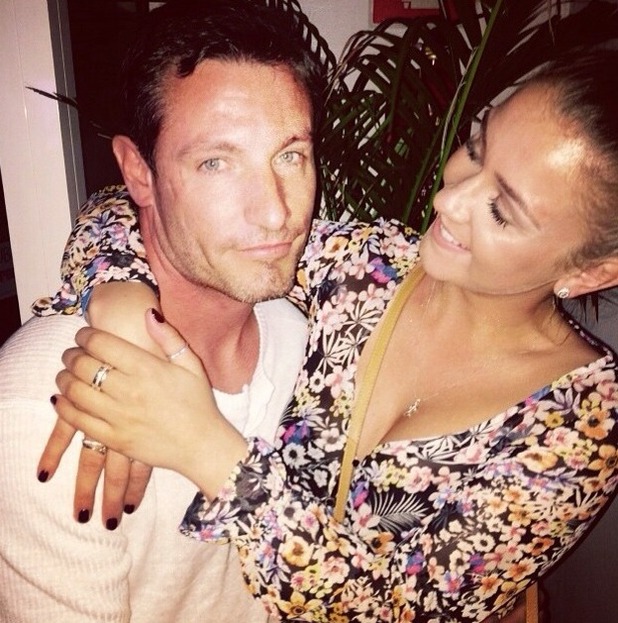 On the second day, I wore some orange floaty pants as I was going to a daytime pool party, and they were perfect for when the sun went down.
On the third night, I wore this amazing top and dress outfit. I loved how it went off my shoulder and just hung nice. On the night we were going, girls make sure they wear their funkiest outfit and I felt with just my dress on that wasn't enough. So I bought some bindi gems from the market and just went with it. I added my nose ring, which I must admit not many people liked, but I loved it. It just helps you feel a bit different than wearing just normal make-up. My hair was mostly down with a section through the middle, which I twisted and rolled into a bun.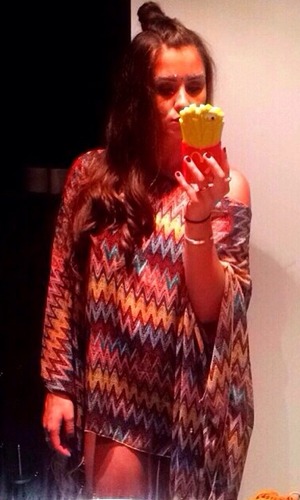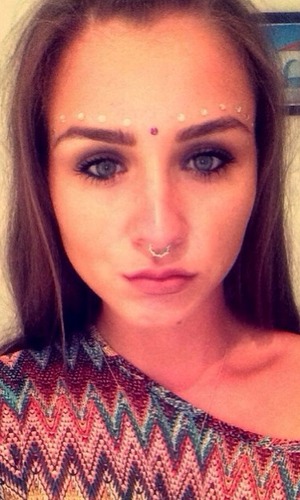 For the last night, I wore a maxi T-shirt dress that splits up to your bra strap. I wore some high-waisted bikini bottoms underneath that you could see from the side and when the wind got under it. I then put my cap on and had my hair down.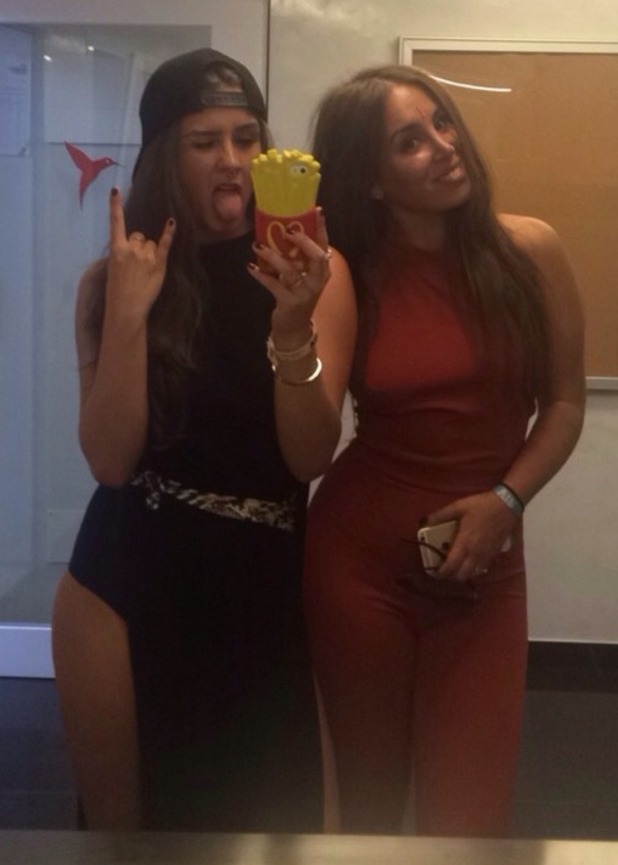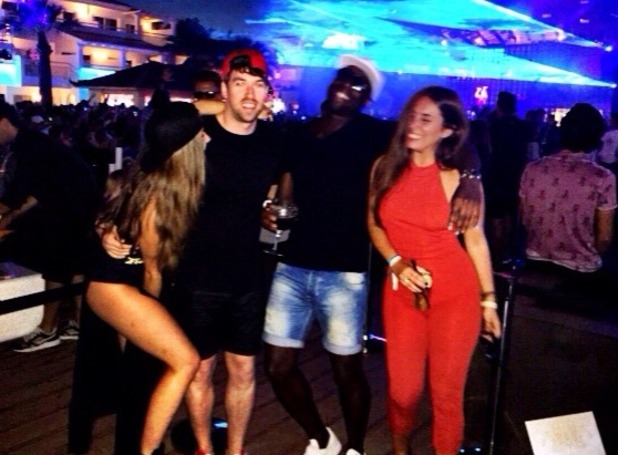 All in all, I had the outfits I wanted to wear planned out, but for the daytime, you're normally just good with some shorts and a top!!
Random!
I read a story about me 'cosying' up to a boy while I was in Ibiza. My friends and I found this very funny and a bit odd, considering I was pictured saying bye to my friend Clay and his lovely girlfriend Chelsea. Only, they seem to have not managed to put Chelsea in the picture too. It's funny when you see stories that are that are 1) untrue, and 2) if you were there at the time, you know how blown out of proportion those pictures were.
Useful things
Here's my quick packing checklist:
Bobbles - simple thing but I normally forget.
Hair clips.
Cross over bag - the last thing you want to be holding is a clutch all night.
Face wipes - just to refresh your face throughout the day.
Sun cream - I also used this as a moisturiser just so I know before I've left the apartment I'm protected from the sun.
Body oil with a good sun factor - I use the oil at night as well to give my legs a nice glow for the night out.
Hair conditioner - depending on what type of holiday, a hair mask would also be good to put on your hair in the morning and leaving it in all day keeps your hair from going dry in the sun.
After sun – keep it in the fridge.
Paracetamol - NECESSITY.
I hope you all enjoyed my Ibiza special!
Peace Up Reveal!
Brooke x
For exclusive competitions and amazing prizes visit Reveal's Facebook page NOW!