As the Love Island competition heats up, the villa's residents are starting to get more tactical and speaking to Reveal, Chris Baxter and Danielle Pyne admit they think Jess Hayes is the biggest game player.
Last night, viewers watched as
Chris B and Danielle became the first couple to be given the boot from the Love Island villa
. Power couple Hannah Elizabeth and Jon Clark (
who are now exclusively boyfriend and girlfriend!
) decided to evict the pair, claiming Chris and Danielle brought the least to the show.
Following their exit,
Reveal
caught up with Chris and Danielle to find out what they made of Hannah and Jon's choice, whether romance would have blossomed for the pair and who they think is playing the biggest game when it comes to coupling up.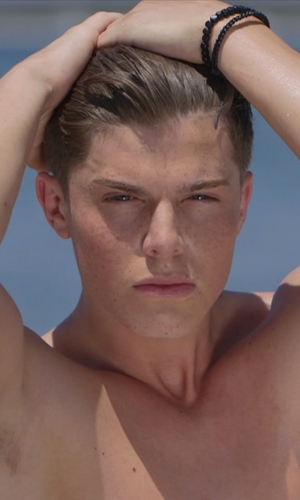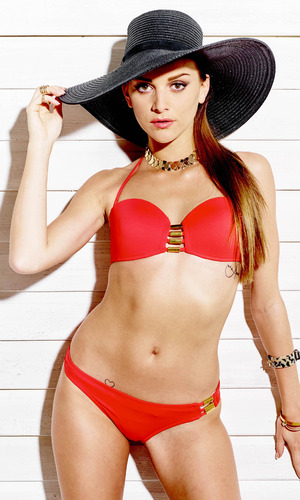 So, Chris and Danielle how are you feeling about Hannah and Jon's decision?
C: I'm feeling slightly, not frustrated, but I feel like I had a lot more to offer to the villa.
D: I, on the other hand, am quite relieved, really. I think two weeks in there was enough for me. I had a great time, but I was ready to go.
Chris, Jon said picking you was "the easy way out" for him as you were a late arrival and he didn't know you very well. Do you think that was unfair of him?
C: You can see it in two different ways. I'm always going to give him the benefit of the doubt, purely because he had a point, he hadn't known me long enough and it was an easy option for him. So it was fair enough of him to do that, but I don't think I would, I'd give someone more of an opportunity, but that's just me.
So, if you were in his shoes, would you have given the new contestants more of a chance?
C: If there's someone that has more to offer, then definitely. But Jon might not have seen me in that way.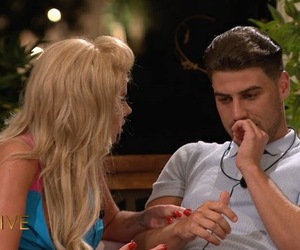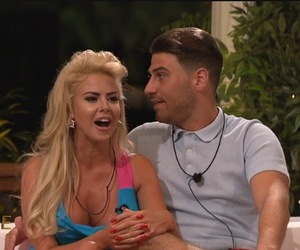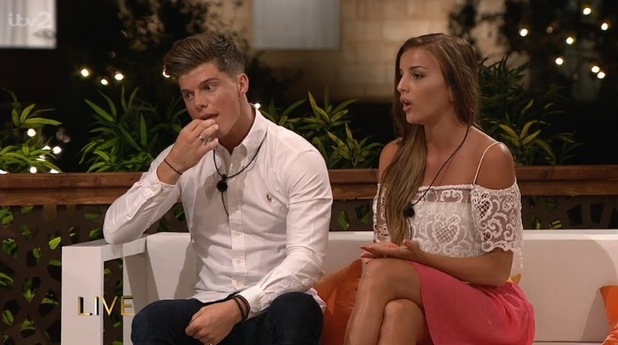 And Danielle, Hannah decided to pick you because you weren't "cracking on" with anyone in the villa. What do you make of it?
D: I was the least suited to the show in that way. I wasn't going to just go into a couple and start "cracking on" as she said. So for that reason I'm happy to go an she probably made the right decision.
Do you think romance could have blossomed between you both if you had stayed?
D: I think we kind of agreed we were better as friends. It was actually putting pressure on our friendship being in a couple, I think we agreed not.
Was there anyone else in the villa you think you potentially could have struck up a romance with, then?
C: I think if I had more time, the next recouple I would have gone for Naomi. I'm very similar to Naomi as I am with Danielle and I'm very attracted to her, so I think there definitely could have been a future with us.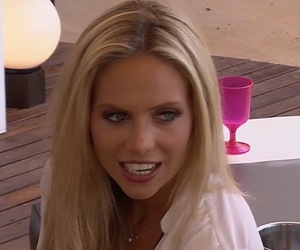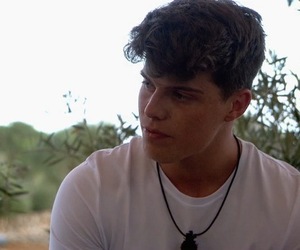 You wouldn't be threatened by Josh at all? He seems quite territorial when it comes to her?
C: Not really. I don't see Josh as much as a threat to be honest. I think she just went for him because he was probably the best looking guy there. It was an easy option for her, but then I feel like I would give her more of a good time. More conversation and not boring, immature chat.
And Danielle, what about you? Do you think anything could have happened with you and another of the guys?
D: Honestly, no one. I found Luis attractive in the villa but on a social level, it was limited. I didn't have that much to talk about. Personality is a lot for me and I can't just say to people I think he's good looking so it could go somewhere. I was in a situation where there wasn't really anyone I was attracted to.
It seems to be getting way more tactical now when everyone is choosing who to couple up with. Who do you think is playing the biggest game?
D: Jess.
C: I think everyone is being quite genuine, but if anyone is saying anything it would be Jess. She's obviously been around a few of the boys and she said if Omar wanted to kiss her, she'd kiss him back even though she didn't fancy him. She's just there for a bit of fun and to entertain people, in what I think, is a game-playing way.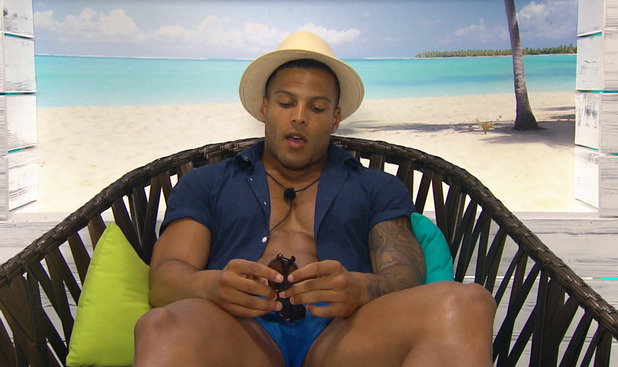 She's been caught out for lying on several occasions now, did that make you more wary of her?
D: To be honest, I never particularly trusted her in the first place, so it hasn't changed my perspective. Our friendship was fairly limited, I don't think she's a bad person or anything, but I would have never confided in her.
Who would you say is the most genuine out of everyone?
Both: Jordan!
C: I saw Jordan being put in situations where he could have easily gone along with it to make it an easy life for him but he didn't. I remember there was one time I heard him say something where he said he didn't necessarily agree. I don't remember what it was but he basically went against what the other person was saying, when it probably would have been easier for him to agree with them. For me, that's a big thing because a lot of people don't do that. He's so genuine. He doesn't have anything negative to say about people.
D: He doesn't try to be anything he's not. He accepts the fact he's slightly older than the other boys and sometimes they slightly overpower him and as a result everyone loves him.
C: And also I'm not saying this is a weakness at all, but when he cried, most people would hold that back.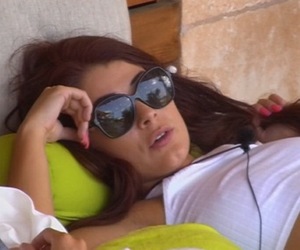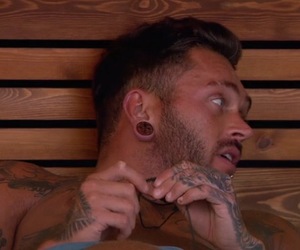 When it comes to leaving, it seems to be the people that come in later that are going first. First John and Tony - the twins - left, now you Chris, but the two new girls Daisy and Naomi seem to be pretty safe. Why do you think it's been different for them?
D: They were more genuine characters at the end of the day. The twins I don't think are particularly nice people, they made comments that were completely unnecessary. The girls didn't do that. They came in and were a bit nervous and they gave us the chance to go to them and get to know them rather than just steaming in like the twins did. It started off awfully with the twins.
C: I think what I saw with the twins is that they're just a generic lad with no potential. They think the world of themselves and that really shows with the way they act. They don't have confidence, so they use arrogance to make up for that. I think they're just really boring and like any other boy.
Last night, Max and Bethany headed into the villa, do you have any advice for them?
C: Be yourself, 100 percent. We've come out of here and we're actually really happy even though we might not have done what we wanted to have done. But we're happy because we're stayed true to ourselves.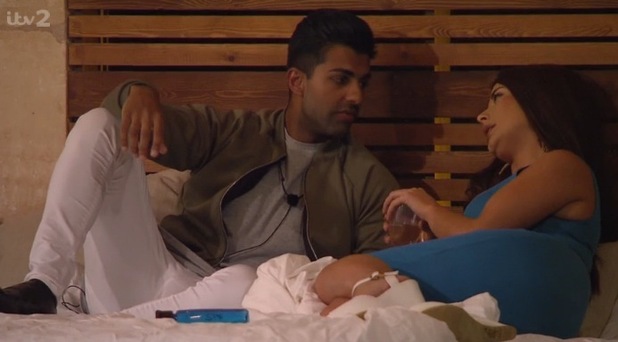 Who do you think will be next to get the boot?
C: Omar and Jess.
D: I don't think they've made the best of themselves from their time in the house. If it's down to the public vote, I can't imagine they'd have a huge amount of votes to stay in.
And who would you like to see win?
C: Jordan and whoever he couples up with next.
D: 100 percent, Jordan and his lady of choice.
Is there any girl you wouldn't like to see him couple up with?
C: Someone who is going to treat him bad, so someone like Jess. I just don't think she's in it for the relationships. That's fine, that's her choice, but for someone who is 31 years old and wants a relationship, I wouldn't put Jordan with her.
Love Island continues Sunday 21 June at 9pm on ITV2.
For exclusive competitions and amazing prizes visit Reveal's Facebook page NOW!