Elliott Wright has accused Danielle Armstrong of coming between him and Chloe Sims because she's unhappy in her own relationship.
A preview clip for tonight's episode of
TOWIE
shows Elliott ranting to Danielle's ex-boyfriend Lockie while they're out together in Marbella.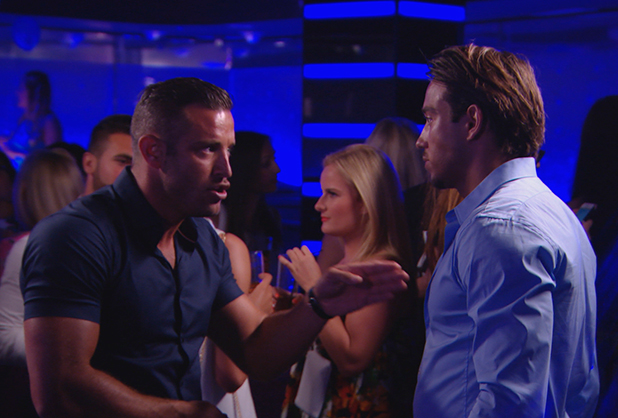 Elliott says: "It seems to me that Danielle is causing problems. Saying to Chloe that I'm cringy and she's not allowed to do anything without me, she can't go anywhere else, she's always got to be standing next to me, that I'm all over her kissing...
"It seems that she's very unhappy with the situation with you and she's miserable with that relationship so she doesn't want me and Chloe to have any time together. Listen Lockie, I am being straight with you, I ain't got time for it. Your girlfriend is causing a problem."
Elliott also told Lockie he thought Danni was being a hypocrite:
"You're relationship is muggy. She's sitting there telling you that you go out all the time and you have to move out of the flat and you ain't no good when all you're doing is f**king grafting," said Elliott.
"I ain't being funny but every time I see you out she is out with you. That's the pot calling the kettle black!"
Watch the conversation below:
We saw in last week's series premiere of
TOWIE
that Lockie had hoped to propose to Danielle while in Marbs but was shocked when she dumped him instead.
Danni accused him of not treating her well and said she was emotionally drained:
"You're so hard to talk to and you don't listen to me. It's just got to the point James where it's gone too far. I just feel like we can't be together right now. I just don't see how it could work. I'm so down. You've pushed me so far to a point where I can't see a way out of it. I just can't."
Meanwhile, we also learned former
couple Elliott and Chloe had spent the night together
after a drunken reunion. They split after filming for the last series ended with Elliott moving to Spain to launch a new restaurant and Chloe remaining in Essex, but sparks flew when they reunited this month.
TOWIE
airs tonight at 10pm on ITVBe.
Ten reasons we want to be on TOWIE!