Alicia Douvall says if she could go back in time she'd slap the surgeon who did her first cosmetic surgery procedure when she was just 17 years old.
The former glamour model appeared on ITV's
This Morning
today to discuss new statistics that showed half of under 25s would consider having plastic surgery.
Alicia had her first procedure at 17 (although claimed she was 18) and went on to have 350 other operations during her lifetime.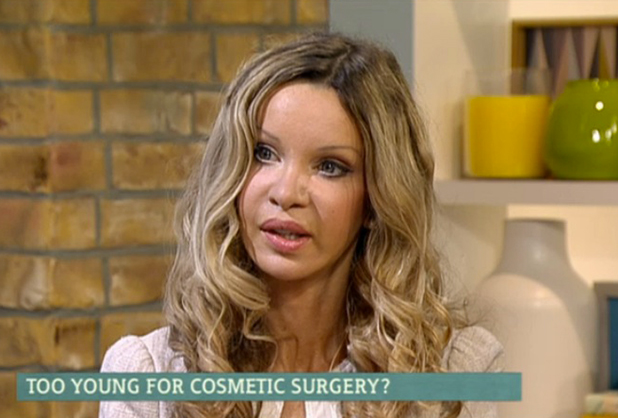 When asked what she'd do if she could go back in time, she said: "First of all I'd slap the surgeon around the face who did it, and I would've not had surgery at all. I feel so bad that I was that gullible to listen to surgeons and believed that I could have the results that they promised me."
Alicia, 36, told Phillip Schofield and Amanda Holden that she didn't think enough was being done to protect "vulnerable" young people who wanted to change their appearance.
"There is not enough being done to protect people like myself, vulnerable girls. When you have plastic surgery, when you sit in the surgeon's office, you're vulnerable to start with because if you're happy with yourself you wouldn't be there in the first place," she said.
"I think [the age limit] should be at least 21. I think the rules should be more vigilant I think the 'cooling off' period is a really positive step forward. But the aftercare just isn't there - and the before care - they don't explain it enough beforehand, like the implications of surgery and what can go wrong and that it's a commitment for life.
"Implants don't last forever, you have to have them changed, and also if you change one thing on your face, it's symmetry, so if you change one thing you'll get something else done… it's a train that you get on that keeps going and going, it's very hard.
"I know in my case I was the extreme and not everyone is like me but I have friends that are in the same situation as me, and I think in years to come we're going to find lots and lots of people like me."
Alicia - who has two children - was most recently seen on
Celebrity Big Brother
.
Alicia Douvall through the years:
Copyright: WENN
For exclusive competitions and amazing prizes visit Reveal's Facebook page NOW!