We all wish our gang was this cool.
This week sees the release of the
Entourage
movie and fans are in for a treat with a longggg list of celebs joining Jeremy Piven (Ari Gold), Adrian Grenier (Vincent Chase) and co.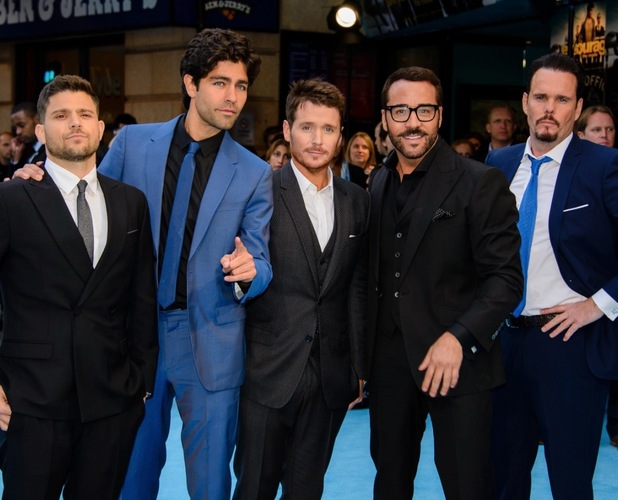 Along with lead roles for Blurred Lines model-turned Gone Girl acrtress
Emily Ratajkowski
and Sixth Sense actor
Hayley Joel Osment
(him responsible for 'I see dead people'), we've counted at least 18 other cameos.
Speaking to us at the premier in London's Leicester Square, footballing legend
Thierry Henry
- who has a cameo - said: "I'm a big fan of the show so when they asked me to be in it, of course I jumped at the offer.
"They're lovely guys, great to work with. There's lots of famous people in the movie, yes, but you don't have to be in it to enjoy it."
In fact, according to
Kevin Connolly
, who plays Eric: "Even President Obama is a fan!"
So who else make up the star-studded film?
Pharrell Williams
The singer/producer turns up at a party, complete with his trademark bowler hat.
Calvin Harris
Blink and you'll miss him, but the Scottish DJ has a role in a movie within the movie… if that makes sense.
Piers Morgan
The news anchor plays himself and interviews Vincent Chase and his entourage throughout the film.
Mark Wahlberg
Not only is he's the producer of the Entourage film, he's also the inspiration behind the series, so it's only right he plays himself in it – and gets in a plug for Ted 2.
Jessica Alba
Portrays herself as a swearing diva who's upset by the boys putting a picture of her bum on twitter, with #JessicaAlbasAss.
Thierry Henry
Ari Gold's neighbour, who doesn't have time to teach Ari's son football.
Liam Neeson
Pulls up to Ari gold in his convertible, tells him to 'go f*** himself', then speeds off.
T.I
The rapper is in a doctor's waiting room with his pregnant girlfriend, and makes fun of himself for having 'too many kids.'
Gary Bussey
The actor and former CBB winner also had a cameo in the series – but according to director Doug Ellin, Gary has no recollection of it.
Mike Tyson
The former boxing champ loves a movie cameo. Here, he's at Vincent Chase's party, hanging out with hot models. Naturally.
Entourage is in cinemas nationwide from 19 June