With the new series of TOWIE starting this weekend we're predicting the usual moans from haters: 'It's boring, it's dumb, these people are famous for doing nothing, why do you watch that rubbish' etc. etc.
We get that. Not everyone loves it and that's absolutely fine. Can you think of any TV show that is universally loved? No! That's why the TV has more than one channel. Don't like it? Switch over! We used to always tell friends, 'Oh, I watch
TOWIE
for work' until we realised: actually, we really quite like it. Scratch that. Love it. And we're quite happy to shout that from the rooftops.
So, let's give our side of the debate…
Be warned: it's long!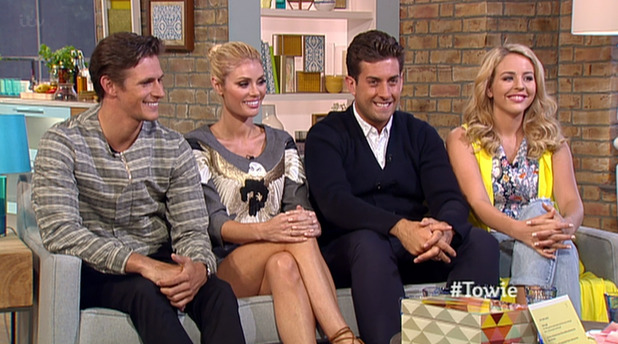 So for all those moaners who say, '
TOWIE
is fake, unreal, dumbing us down and trashy TV, making people famous for being famous…' our answer simply is: we don't agree and even if it was, SO WHAT?!
TOWIE
isn't trying to become the next
Newsnight
or
Question Time
. It is what it is: a show that entertains us and makes us smile. As narrator Denise Van Outen tells us at the start of every episode, these people are real but some of what they do has been given a little oomph for our entertainment.
We know it's scripted reality but that doesn't take away from the fun factor. We get it's not all entirely fly-on-the-wall gritty realism. The cast get it. The producers get it. We're all in on it!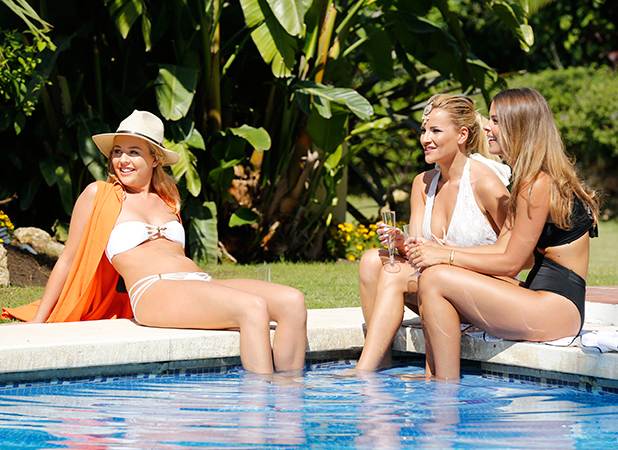 We happen to love the added glamour, fancy parties and exotic holiday destinations. It's pure escapism. Do we feel cheated that these things didn't happen naturally in the course of their lives? No! Not one bit! As we said before,
TOWIE
has its own audience. Don't like what it's about? Don't watch it!
Perhaps storylines are given an extra sparkle by producers but the things they go through are relatable. How many people have worried about a relationship? Fallen in love? Broken up? Fought with their best friends? Fretted about weight or appearance? We've seen health worries, job hunting, moving out of parents' homes. What they go through is what we all go through at some stage in our lives.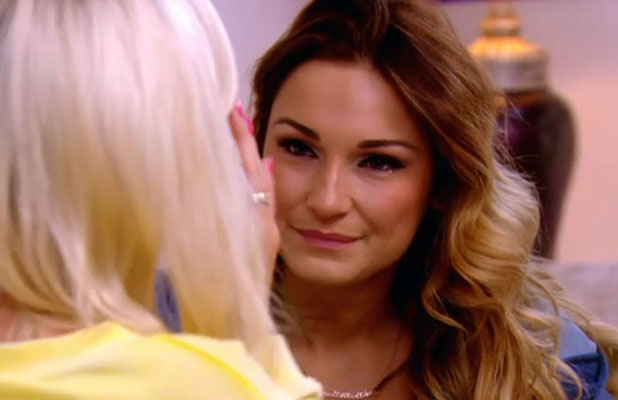 In all, the
TOWIE
cast really are just like us: they have the same frets and concerns in daily life. Okay, they may have better wardrobes and more money than most of us, but the things that are really important – love, family and friendship – are the same. It's kind of like watching your friends going through things.
Friendships are a massively important part of
TOWIE
. As is family. You just have to look at how many stars' parents or siblings have appeared on screen to realise that. People who don't watch
TOWIE
probably don't realise this: they think it's a show about pretty people going clubbing and sleeping with each other. Yes, that does happen at times but it's so much more than that. And we'll point out, unlike other shows on TV, there's nothing salacious about
TOWIE
. It's not vulgar or rude or TMI in the slightest.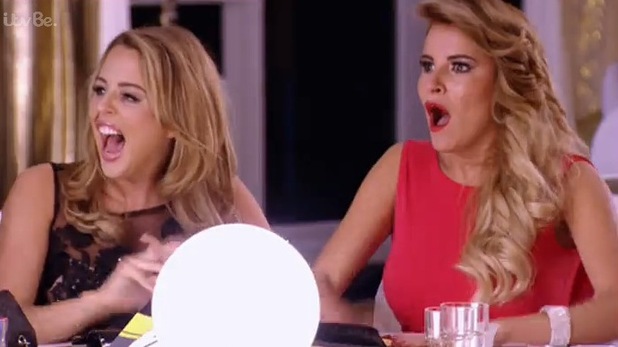 We get so invested in these people's lives, their ups and downs, their romances and splits. It's addictive. Partly because we can relate so much. And it may sound cheesy, but sometimes knowing someone else out there is going through the same thing is a comfort.
And everything isn't all shiny and wonderful. We've seen the worst days in these people's lives. Mark Wright's bar burned to the ground after he spent so much time, effort and money launching it. Sam and Billie Faiers attacked at a nightclub and left bruised and sore.
We live these experiences with them which in a strange way makes us, as viewers, feel even more connected and protective of them. And we grow with them. Each series we get more invested. We are rooting for these people. We want Fran Parman and Diags to live happily ever after, we want Jessica Wright to get her dream man. We want Gemma Collins to have that baby. We care about these people.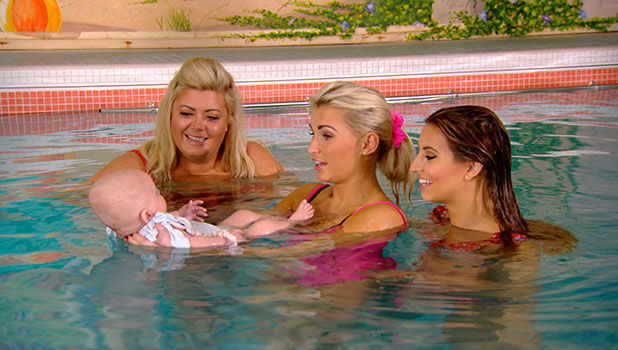 TOWIE
doesn't feel as out of reach as something like
The Hills
. We were never going to get an internship at Teen Vogue or party in the hottest LA clubs but what the cast get up to in Essex feels accessible. We could go visit Sugar Hut, we can shop at the same high street stores they do. It's not a million miles removed from our own lives.
These people are real and they live real, accessible lives. You just have to follow them on social media to know that. Unlike other celebrities locked away in gilded towers with an army of publicists stopping fans from getting to them, the
TOWIE
cast are there and available. Want to meet Lydia or Billie or Gemma? Pop along to their boutiques in Essex! They don't work there all day every day but when they are in, they tweet to let fans know so they can come along and chat.
Which brings us on to this point, we reckon it's a bit unfair to slate the cast for being talentless. Yes, they aren't Oscar-winning actors or Grammy Award-winning musicians or Nobel Prize winners but to say they're talentless is a tad harsh.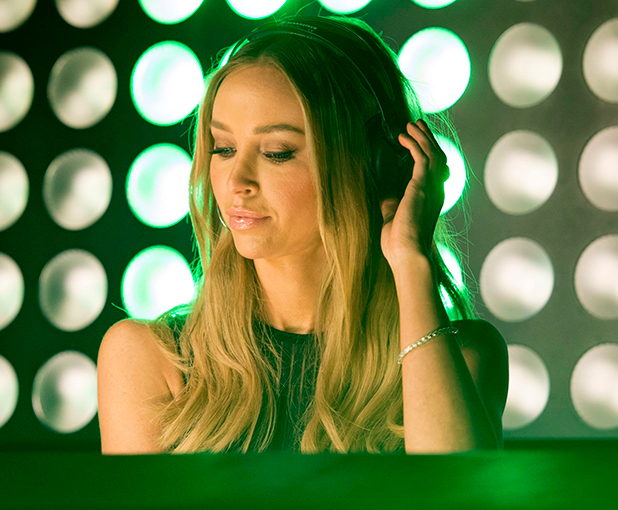 Talent comes in all forms and we only see a tiny portion of these people's lives onscreen. Did you know that Jessica Wright, Tom Pearce and Danielle Armstrong among others all went to university? Mario Falcone is a skilled tailor? Lauren Pope a successful DJ? Ricky Rayment worked in construction? Jasmin Walia was a mortgage advisor? Jake Hall ran a clothing company before joining the show?
Just because these parts of their lives aren't prominent on screen doesn't mean they don't exist. Producers have one hour to fit in a whole week's filming so of course they focus on the glam and drama! Would you really tune in to watch people filing their tax returns or responding to emails?
And to say the
TOWIE
cast don't have good business heads can definitely be questioned. Look how many of them have managed to carve successful brands and businesses away from the show. And we're not talking about appearing on other reality shows like
CBB
or
I'm A Celeb
.
Gemma Collins, Lauren Pope, Amy Childs, Joey Essex, Sam and Billie Faiers, Lydia Bright, Jessica Wright and Ferne McCann are just some of the many who have had fashion lines or boutiques (or both!) Elsewhere, Charlie Sims has a deli. Mark Wright's become a radio and television presenter. Lauren Goodger has a tanning and hair range. And arguably one of the most successful of all has managed to turn her
TOWIE
fame into a thriving business that has absolutely nothing to do with reality TV.
Lucy Mecklenburgh was just 19 when she joined
TOWIE
. She left the show and launched Results With Lucy, a phenomenally successful online fitness and nutrition brand that has branched out into healthy living books and bootcamps. There's even talks to bring the company to the US. That shows pure talent, surely?! Yes, she used her
TOWIE
fame as a platform but now she's more associated with her fitness empire than Sugar Hut.
The
TOWIE
gang may not have talent in terms of award-winning film roles or the like, but to say they are talentless is surely wrong. You don't launch a successful business without a brain on your shoulders.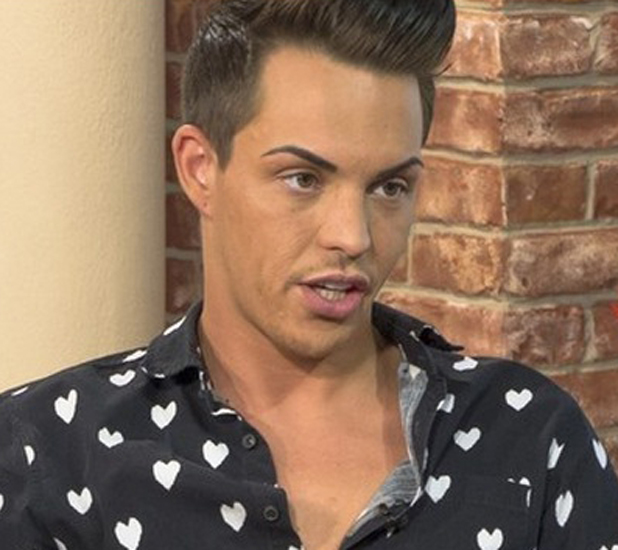 And you may not like them, but you can't deny the
TOWIE
cast have a massive audience and often use their celebrity for good causes, whether it be helping charities or raising awareness of issues that affect others.
Lydia Bright and her mum Debbie Douglas frequently discuss their experience caring for foster children, Mario Falcone has spoken about his past struggles with depression, Danielle Armstrong was open and candid about her miscarriage. Harry Derbidge has discussed his eating disorder. Sam Faiers has highlighted Crohn's Disease and trichotillomania. They can reach out to people in a similar situation and if even one person feels better or less alone or makes a change in their life because of them, then that's a positive thing.
Case in point: Bobby Norris has been actively campaigning for the blood cancer charity Anthony Nolan following his mother's diagnosis with leukaemia. He threw a party, televised on
TOWIE
, to raise money, thus bringing the charity's work to a whole new audience. And his appearance on ITV's This Morning earlier this year sparked a 750 per cent increase in the number of people registering as donors.
So, bottom line for us: not everyone will love
TOWIE
but for those of us who do, let's rejoice in it returning for another series! And enjoy every single episode! It's not aiming to win awards for intellect or brilliance. Let's just enjoy it for what it is: addictive and fun!
Ten reasons we want to be on TOWIE!