Geordie Shore star Holly Hagan has lost over three stone using her very own fitness guide, The Body Bible, and armed with her 12-week get-fit weapon, I put it to the test…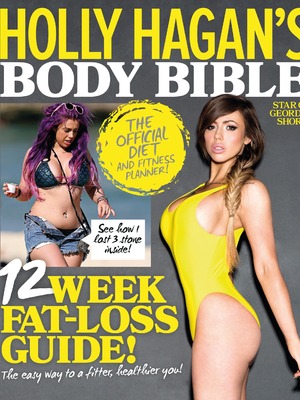 I'm back on it!
Finally feeling like a normal person again, I'm back on the
Body Bible
and half way through my fourth and final week.
I was pretty good at sticking to the diet plan when I was unwell, but after a few more days of being bed-bound than I would have liked, I did splurge a little.
Weekends really have been my downfall, haven't they?
Luckily though, being unwell hasn't had an impact on my results progress as I haven't lost or put on any more weight during my week off. That makes things slightly easier!
Following my third weigh-in just before I took my break, I lost another 1lb. Not as successful as my previous weeks, but taking my total weight loss to 6lb - just under half a stone. Not bad for three weeks graft!
Fingers crossed I can push for a little more for my final week. Y'know just to make my results that little more worthwhile.
So picking up from where I left off, here's the start of my seven day countdown...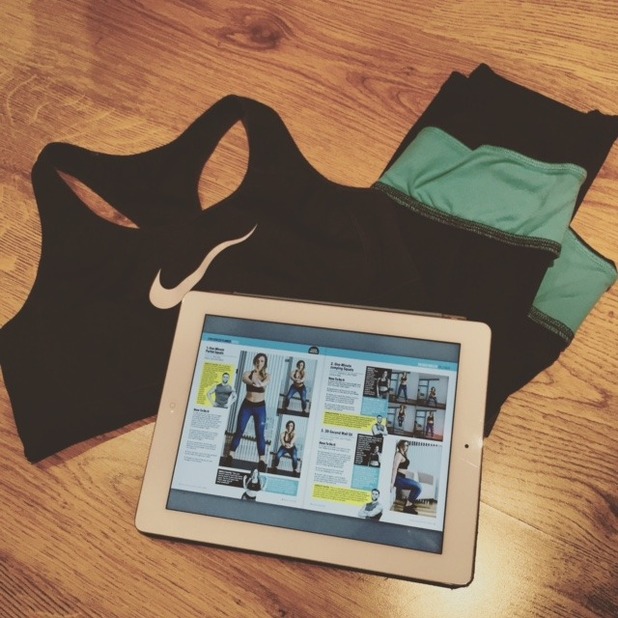 DAY TWENTY-THREE
They say you lose your fitness three times faster than you gain it and I hate to break it to you, but this is so so true.
While my body thought it knew what it was in for when Monday's workout came around, it's safe to say it got a little shock. It was like Day One all over again. Sad times.
Probably not the best workout to ease myself in with, Mondays, as I've said before, are the longest and easily the hardest. With two rounds of 11 exercises to go through, I managed to grin and bear it and sweat myself through. Lovely. Safe to say, I definitely didn't finish my workout looking as keen as I started!
Having said that, it was actually really good to be exercising again. I definitely missed the training during my week off. Be it half hour long or just ten minutes, doing something definitely makes me feel more productive and as much as I don't want to admit it, I actually do enjoy it. Don't get me wrong I prefer it much more once it's over, but there is a small part of me that likes to feel the burn! As Holly had said herself: "If it's hurting, you know it's working."
For breakfast, I opted for a bowl of cereal with strawberries (I had ran out of granola, so figured this was the next best thing), for lunch I had a salad and dinner, homemade spaghetti bolognese using wholemeal pasta (it was high carb day, so it's allowed), chopped tomatoes, mushrooms, red and green pepper, red onion and spinach.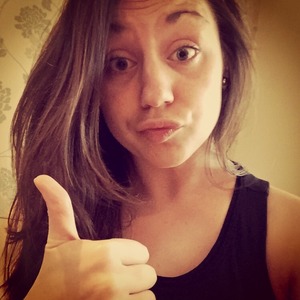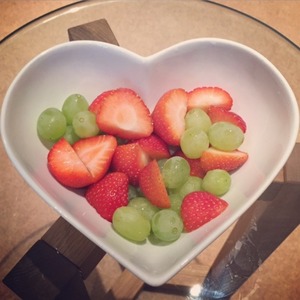 DAY TWENTY-FOUR
No carb day, come at me.
Scrambled egg just never seems as good when toast isn't involved, but it's still my breakfast of choice when cutting out the carbs. As well as my eggs, I had a small bowl of strawberries for brekkie too. For lunch, I made myself a tuna salad and it made a refreshing change to my usual choice of chicken and ham. Dinner was slightly more fun... I made courgetti. Who knew peeling courgettes into tiny strips and cooking them like spaghetti in pesto could be satisfyingly fun? I do now! (Can you tell I haven't left the house in a while?) I teamed that with broccoli, babycorn, mushrooms and fish. Not quite your burger and chips, but pretty tasty.
Tuesday's workout is a nice breather for the legs and boy did my pins enjoy the break. Today's workout is more focused on the abs, rather than squats and lunges, and it always feels good to be tackling that belly bulge of mine I love to hate. Nice and quick, it's only 5 exercises, leaving me plenty of time to curl up in bed and enjoy the finale of
Geordie Shore
. **Spoiler alert: Holly and Kyle are totally now Facebook offish.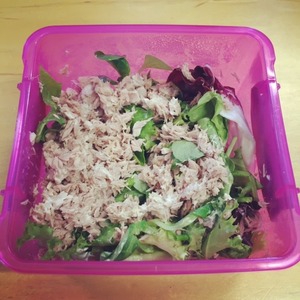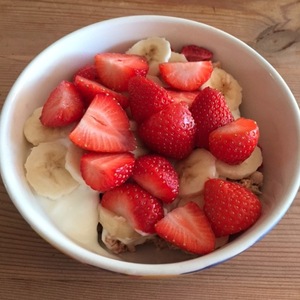 DAY TWENTY-FIVE
Waking up to breakfast on a Wednesday has been that little ray of sunshine for me during this
Body Bible
trial. Never feeling quite full from a day of no carbs, treating myself to all the carbs (yes, only the good ones!) the morning after is just the bomb.
My chosen poison? If you hadn't already guessed, granola.
Topping my bowl with natural yogurt, banana and strawberries, I was feeling pretty smug as I dug my spoon in. The simple things, eh?
For lunch, I was back on the ham salad, adding some red pepper to my bed of leaves - wild, I know. Dinner was meatballs. And while my family piled their plates with mountains of spaghetti to go with it, I ate mine alongside more salad instead. Gimme the leaves!
Saying that, it was actually really good and one of my favourite dinners so far. AND it was really filling. Turns out the healthy option can leave your belly smiling.
It was back to putting my legs through their paces for Wednesday's workout, although, luckily it's not quite as intense as Monday's gruelling training plan. I still was busting out my squats and lunges, but with just five exercises to get through, it was definitely more bearable and with two days of training again behind me, I was finding my feet again. 10 minutes later and my work was done.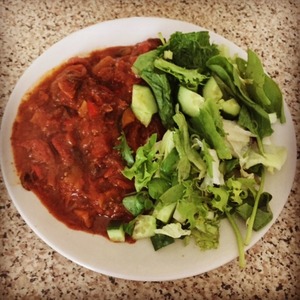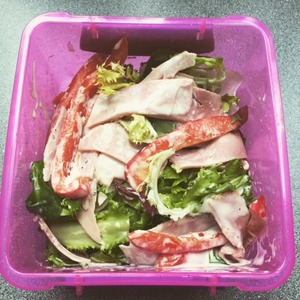 DAY TWENTY-SIX
Ah, I can almost see the finish line. Sunday brings the end of my
Body Bible
trial, so this morning I kicked off the final stretch by starting how I mean to go on.
Up at early doors, I was back in my gym gear and sumo squatting all before 6am. Again, today's workout was all about the legs and just to give you an insight, here's how me and my pegs spent our morning:
- One minute of sumo squats.
- One minute of high knees.
- One minute of sumo squats, holding each for 5 seconds.
- 30 seconds of jumping squats.
- 30 seconds of grapevine lunges (that basically means backwards lunges).
- One minute wall sit (which is a bit of a killer!).
Sadly, I had ran out of granola for breakfast. Sob! So I figured cereal would be the next best thing. I had that with natural yogurt and strawberries and blueberries on top. Struggling to find much in the fridge to put together my lunch for day, I ended up making a ham salad, again. Not very adventurous, but it does the job, right?
Now, I have just three days to go until I have officially reached the end of my four weeks testing Holly's
Body Bible
. I still have one no carb day and one cardio day to get through, before finishing up for good on Sunday. And I'm already fantasising about what goodies I can treat myself to for dinner then!
Next week, I'll share my final blog post, revealing my results from my mini get-fit mission and maybe, just maybe, those before and after photos...
Come at me, Sunday!
Read more on my Holly Hagan: The Body Bible blog:
-
Day Twenty to Day Twenty-Two: The final stretch... (well, sort of!)
-
- Day Fifteen to Day Nineteen: 5lbs lighter and the half way mark!
-
Day Eleven to Day Fourteen: The first weigh-in and aching limbs!
-
Day Five to Day Ten: Thou shall not give into temptation...
-
Day Two to Day Four: No carb blues and plenty more squatting
-
Day One: Why I'm putting The Body Bible to the test
For exclusive competitions and amazing prizes visit Reveal's Facebook page NOW!