Reveal marks Fearne Cotton's Radio 1 exit with her favourite Live Lounge moments.
Earlier this year,
Fearne announced, along with her pregnancy, that she would be leaving Radio 1
. Hanging up her headphones after ten years presenting live on air, today marks Fearne's last every day on Radio 1.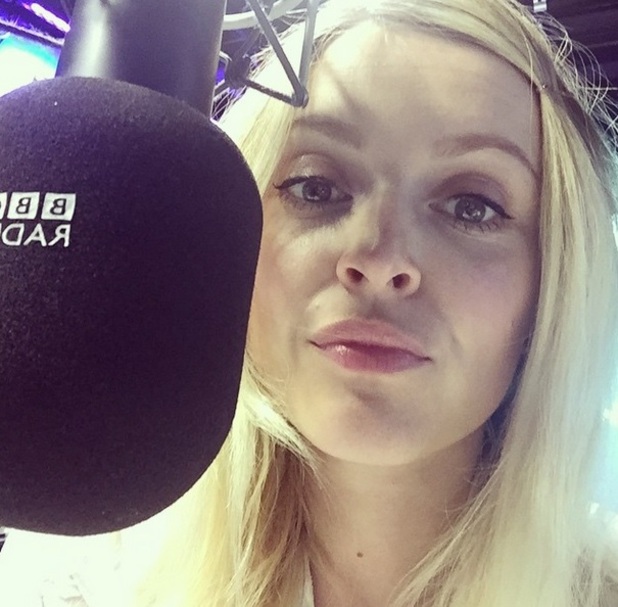 To celebrate her exit, Fearne has been reliving her favourite moments from Radio 1's Live Lounge all week. Not surprisingly there were way too many to choose just one as the best Live Lounge ever, so here's 10 for you to enjoy that made it into Fearne's all time faves...
1. Ben Howard - 'Call Me Maybe'
If you can make Carly Rae Jepsen's 'Call Me Maybe' sound actually quite sincere, then you know you are one talented man. Ben Howard did just that and created "possibly one of the greatest covers ever" according to Fearne. And we think she may be right, because let's be honest, when you think of Live Lounge, this gem from Ben Howard instantly springs to mind.
2. Kings Of Leon - 'Dancing On My Own'
You only need to listen once to Kings Of Leon's 'Dancing On My Own' Live Lounge and you'd be baffled to hear the rockers actually hate performing covers. Fearne revealed the band claims doing covers is totally "out of their comfort zone, but that didn't stop them from given the
Celebrity Juice
star shivers all over.
3. Tom Odell - 'Video Games'
While Tom's cover of 'Video Games' is just pure genius, it also holds a close place in Fearne's heart. Describing the Live Lounge as pure bliss, Fearne admits hearing this brings back "delicious memories" of her wedding day. She was lucky enough to have Tom perform this for her first dance and it being one of her all time favourite songs, Fearne described that moment as "the most amazing moment of her life". Aww!
4. Rae Morris - 'Stay Another Day'
While we may not be too familiar with Rae Morris, there's no denying that her voice is just beautiful. For her Live Lounge cover she mixed up East 17's 'Stay Another Day' (absolute tune) with the Christmas carol 'Silent Night'. Sounds like an odd pairing, but it weirdly works. So much so that Fearne admits when she listens to this, it "gets her every time". Tissues at the ready...
5. Kodaline - 'Same Love'
Don't throw away those Kleenexes just yet as Kodaline have another tear-jerker with their 'Same Love' Live Lounge. These Irish boys will just make you melt with their smooth vocals and this cover is a prime example of that. Fearne labels this one as "the one that makes her weep", but for all the right reasons of course. If you could sum up the hashtag #totesemosh, this would be it.
6. Ed Sheeran - 'Dirrty'
The 'King of Covers', Ed is always working in our favourite tunes into his own tracks, from 'No Diggity' to 'Drunk In Love' and 'Hit Me Baby One More Time'. There's no artist he doesn't dare to take on, so when he decided to channel his inner Christina Aguilera for his latest Live Lounge, we were all super-excited. Even Christina herself was, telling the 24-year-old he better "work it" and boy, he did.
7. Justin Timberlake - 'Mirrors'
Of course, JT was going to be up there in the Live Lounge all time faves because - well, he's JT! Fearne described Justin's acoustic performance of 'Mirrors' as the "slickest Live Lounge ever" with the new dad-of-one creating a mini-gig while showcasing his vocals. It marked Fearne's return to Radio 1 after taking maternity leave for her first child Rex and she said it was "a wonderful moment she will never forget". Oh, and that she "loves, loves, loves" this song. Us too!
8. Florence And The Machine - 'Take Care'
As if they needed anymore extra cool points, Florence And The Machine totally won everyone over with their cover of 'Take Care'. It was slick, it was super catchy and it oozed all the sass. We think we may even prefer it to the original... soz, Drake.
9. Ellie Goulding - 'Sweet Disposition'
Taking the credit for breaking Ellie Goulding into the big time, Fearne credits Dougie Poynter's girlfriend on her in-credible cover of 'Sweet Disposition' she performed way back in 2010. This was Ellie's first ever trip to the Live Lounge and Fearne recalled the blonde beauty being oh-so-nervous as she showcased her vocals while sat on a sofa next to a piano player. Who would have thought she'd now be an international superstar, tearing up the stage worldwide? Go, Els!
10. James Bay - 'Four Five Seconds'
For a last minute addition to the Live Lounge, James totally nailed it, right? Filling in for Lana Del Ray, James took on Rihanna, Sir Paul McCartney and Kanye West. No biggie. Fearne had been pushing for the 'Hold Back The River' singer to get in the Live Lounge and when he did, the Brighton boy certainly didn't disappoint.
For exclusive competitions and amazing prizes visit Reveal's Facebook page NOW!