Geordie Shore star Holly Hagan has lost over three stone using her very own fitness guide, The Body Bible, and armed with her 12-week get-fit weapon, I put it to the test…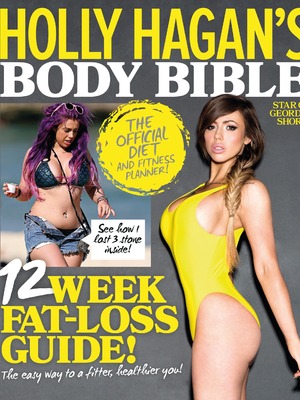 So I'm feeling a little chuffed with myself. I've only gone and lost 5lbs now... no biggie!
This week saw my second weigh-in and taking to the scales I was pleasantly surprised to see I had shed more pounds than week number one. Well, only one to be exact, but a 3lb weight loss brings my total up to 5lbs and it's been a long time since I've seen that much budge from my bod. Yay me.
Plus, it's nice to see the efforts I'm going to are actually starting to pay off.
I also had a bit of a morale boost this week as the leading lady herself Holly tweeted me to say well done. I've no idea if she's actually been reading my blog or not (and if she has I'm slightly embarrassed about her seeing my four-day Bank Holiday bing a while back - honesty is the best policy, right?), but still, it's nice for little ol' me to get noticed.
Cheers, Hols!
@katieestorey well done hun xxx

— MissHollyHagan❤️ (@HollyGShore) May 13, 2015
I promised this week would be the week to redeem myself and so far, I have to say I've been pretty good. Especially as I was still suffering from
that
Body Combat class. Lingering DOMS is so not ideal when your dealing with workouts every day.
Here's how I've been getting on...
DAY FIFTEEN.
My arms! It's been two days now since Body Combat and I still can't touch my upper arms thanks to the constant pain ringing through them. Even my scrambled eggs on toast couldn't make me feel better. Sad face.
The weekend had left me so tired and I was dreading today's workout, but it was high carb day, so that's a plus. For lunch I made the most of Sunday Roast's leftover chicken breast, making a chicken salad wholemeal pitta and it was delish. Definitely more enjoyable than salad - my lunch for the next three days. Dinner was just as satisfying, a lamb and vegetable curry with brown rice and quinoa. I know I had my fair share of hearty meals over the weekend, but Monday's dinner plate was more than enjoyable. I was going to bed one happy and nicely full girl. But not before forcing myself to exercise...
Luckily my arms were given the night off as Monday's workout is pretty much leg based. It took a lot to get me in my gym gear as all I wanted to do was curl up in bed, eat chocolate (I didn't - it's been two weeks since my last chocolate fix. Sob.) and head to the land of nod. After two rounds of 11 gruelling exercises, though, I did feel slightly better for getting my sweat on - even if I was totally and completely cream crackered by the end.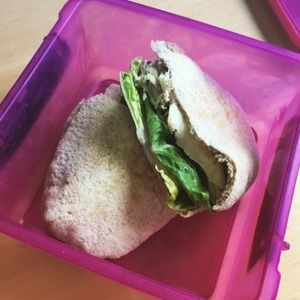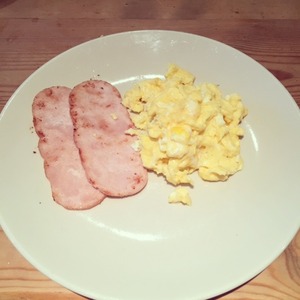 DAY SIXTEEN.
Word of the day: Hungry. Hungry, hungry, hungry, hungry, hungry.
I wasn't sure what came over me, but I wanted to eat everything in sight. Hunger is so distracting and I spent most of the day longing for a packet of crisps and a huge baguette, as well as convincing myself a good ten times that helping myself to the donuts that arrived in the office was not a good idea. Must stay away.
Tuesday brings with it no carb day and despite attempting to fill myself up with scrambled eggs and two turkey rashers before work, it just didn't do the job. By 10am I had already polished off my box of grapes and was even contemplating cracking on with my ham salad early. Usually I'd have no problem snacking on a chocolate bar, or biscuits or Dairylea Jumbo Tubes (yes they smell a bit, but they're the best thing ever), but it turns out snacking just isn't as fun when it's healthy. In the end, I begrudgingly opted for a packet of raspberries to keep me going until dinner.
Before then, I crammed in my workout and it came as a bit of a shock as my tender arms (yes they were still sore) were so not ready for burpees and pressups. Still, I carried on like a trooper and back to just 6 minute rounds, it was over before I knew it.
Then it was salmon and stir-fry veg for dinner, watching Big Brother and crawling into bed hoping my hunger pains woud eventually bore off.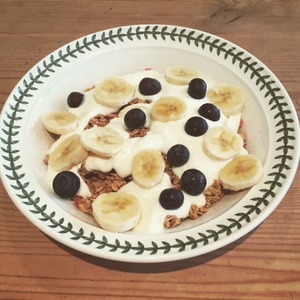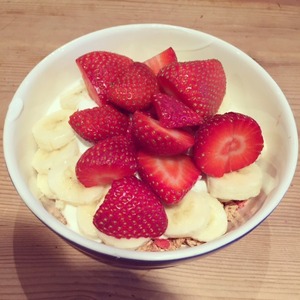 DAY SEVENTEEN.
To say I was excited for breakfast was an understatement. I literally couldn't have filled my bowl fast enough. On the menu was granola, natural yogurt, bananas and blueberries and it was oh-so-good. I actually think breakfast is becoming my favourite meal of the day now.
Not only did my brekkie put a smile on my face, but finally, my arms were pain-free. Hallelujah! Wednesday was already becoming a good day and even another salad for lunch wasn't going to ruin it.
It was back to working on my legs for today's training plan and it's fair to say that now, I think I have perfected the squat. After all, I think I've done about 425478534243542 of them.
Dinner was chicken with green veg and my poor mum obviously thinks I'm wasting away so she bought me vegetable patties to go with it. "It's just to bulk up your dinner a bit," she told me. The patties were basically cabbage and onion and kind of tasted like your guilt-free, gluten-free, veggie version of a hash brown. And being a hash brown lover myself, I so wasn't going to say no.
For all of you wondering what it looks like, think a flattened onion bhaji. I should have taken a picture really, but I totes forgot. Soz.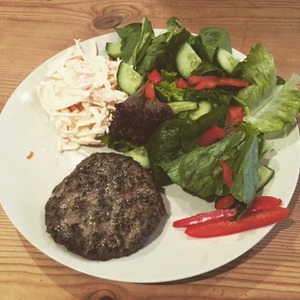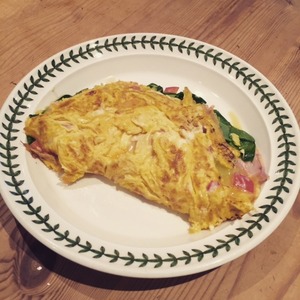 DAY EIGHTEEN.
Thursday kicked off with just as good of a start as Wednesday thanks to my bowl of granola goodness. This time I went for banana and strawberries. I don't think I've ever eaten so many bananas as I have lately.
I was up early this morning to cram in my workout before heading off to work as my evening consisted of a major pampering session before my cousin's wedding this weekend. We're talking exfoliating, tanning, nail painting, the works. A few squat jumps and planks later I was sitting on my train to work, doing my daily morning scroll of Twitter, Facebook, Instagram and of course, the Daily Mail. At least I get to use the excuse "it's for work purposes" now!
Three guesses as to what I had for lunch. You only needed one, right? Salad. Today's was sweet-chilli chicken with red pepper and spinach. Note to self: Must get more adventurous with lunchtime dishes.
Dinner was even more of the green stuff, but this time it made a bed for my burger. No burgers aren't quite the same without the bun and all the toppings, but it does feel pretty good still eating it. Especially when you don't get the not-so-great burger bloat after!
DAY NINETEEN.
It may be Friday, but sadly I've lost that 'Thank God It's Friday' feeling because of the party-pooper that is no carbs. I had an early start at work today, so I found myself up at 5am cooking an omelette to bring with me for lunch. That's madness, no? Watching my eggs cook, I did stand and think to myself: "God Kate, you've changed." Still, I'm sure I'm going to appreciate my tasty so-not-salad lunch later on today, oh yes.
Splurging out I went for ham, red pepper and spinach fillings and if I do say so myself, it looks pretty darn good. Just call me an omelette pro!
This weekend I'm off to watch my cousin tie the knot, but I'm still determined to get my workouts in before I go. Tonight's workout is only 5 rounds, so that's more than do-able but tomorrow is Saturday and that means a whole lot of cardio is on the agenda. 40 minutes worth to be precise. And when you've got to be sat down before the bride takes to the aisle at 1 o'clock, fitting that in as well as getting ready - which we all know needs a good couple of hours - it's not going to be easy.
I guess there goes my Saturday morning lie-in...
Read more on my Holly Hagan: The Body Bible blog:
-
Day Eleven to Day Fourteen: The first weigh-in and aching limbs!
-
Day Five to Day Ten: Thou shall not give into temptation...
-
Day Two to Day Four: No carb blues and plenty more squatting
-
Day One: Why I'm putting The Body Bible to the test
For exclusive competitions and amazing prizes visit Reveal's Facebook page NOW!